Lots of hazelnuts and chocolate come together to make this creamy, mousse-like, no-bake cheesecake.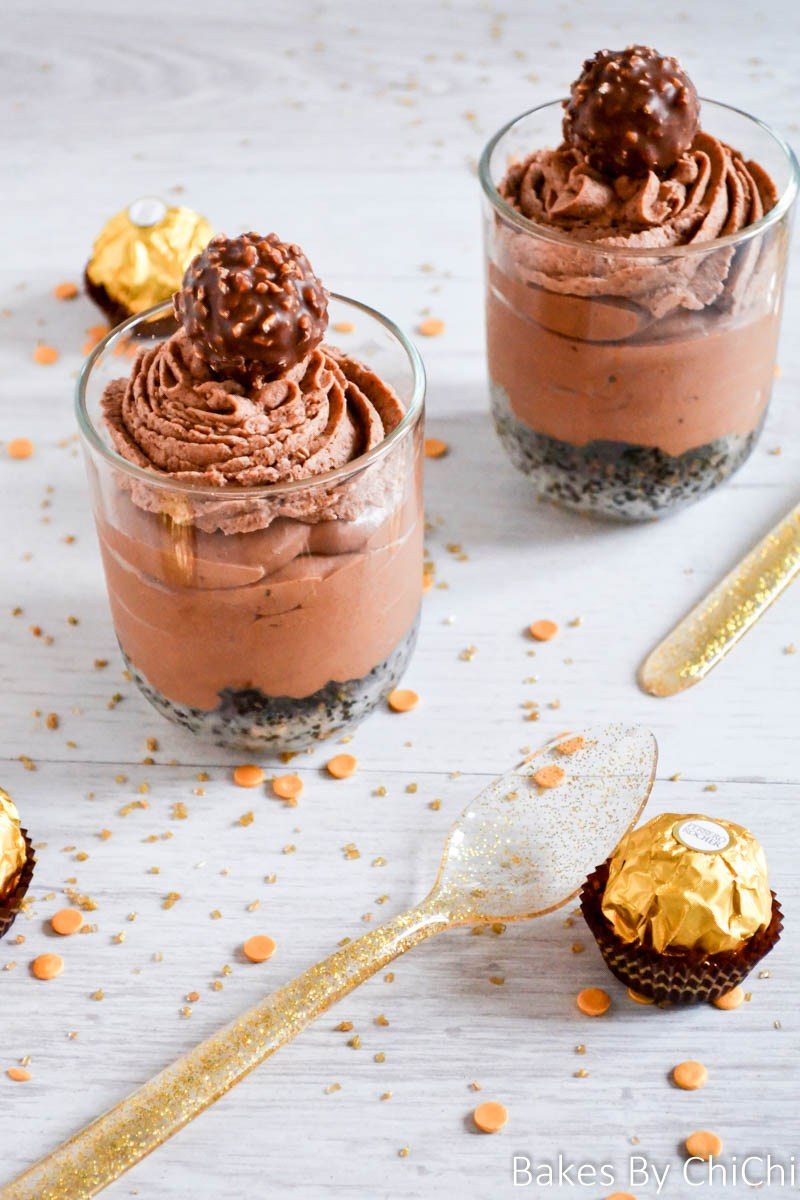 This no bake Nutella cheesecake is packed full of hazelnut flavour. It starts off with an Oreo hazelnut crust, then a layer of Nutella spread and finally a Nutella cheesecake layer. Finish off with whipped chocolate swirls and top with Ferrero Rocher.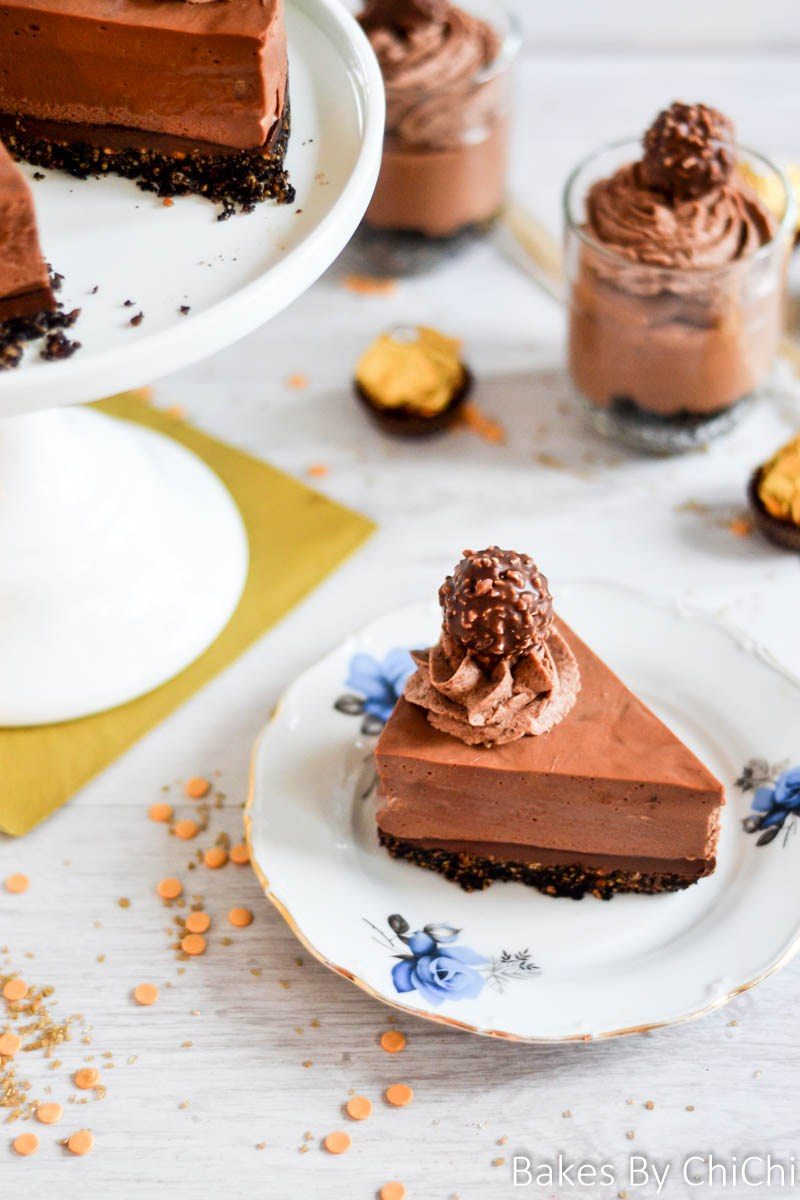 I love easy to put together desserts.
Originally, I was going to make just an Oreo crust, then I noticed a bag of hazelnuts I bought in the cupboard. To enhance the flavours of the hazelnuts, I roasted them.
Place them on a baking tray in a pre-heated oven and then roast for about 10- 15 minutes, checking regularly to make sure they aren't burning. I checked mine every 5 minutes. Wrap the hazelnuts in a kitchen towel and rub the nuts in towel to remove loose skins. Cool completely. Crush Oreo cookies and roasted hazelnuts in a food processor. Mix the crumbs with melted butter and press into the base of an 8-inch springform tin. Chill for 10 minutes.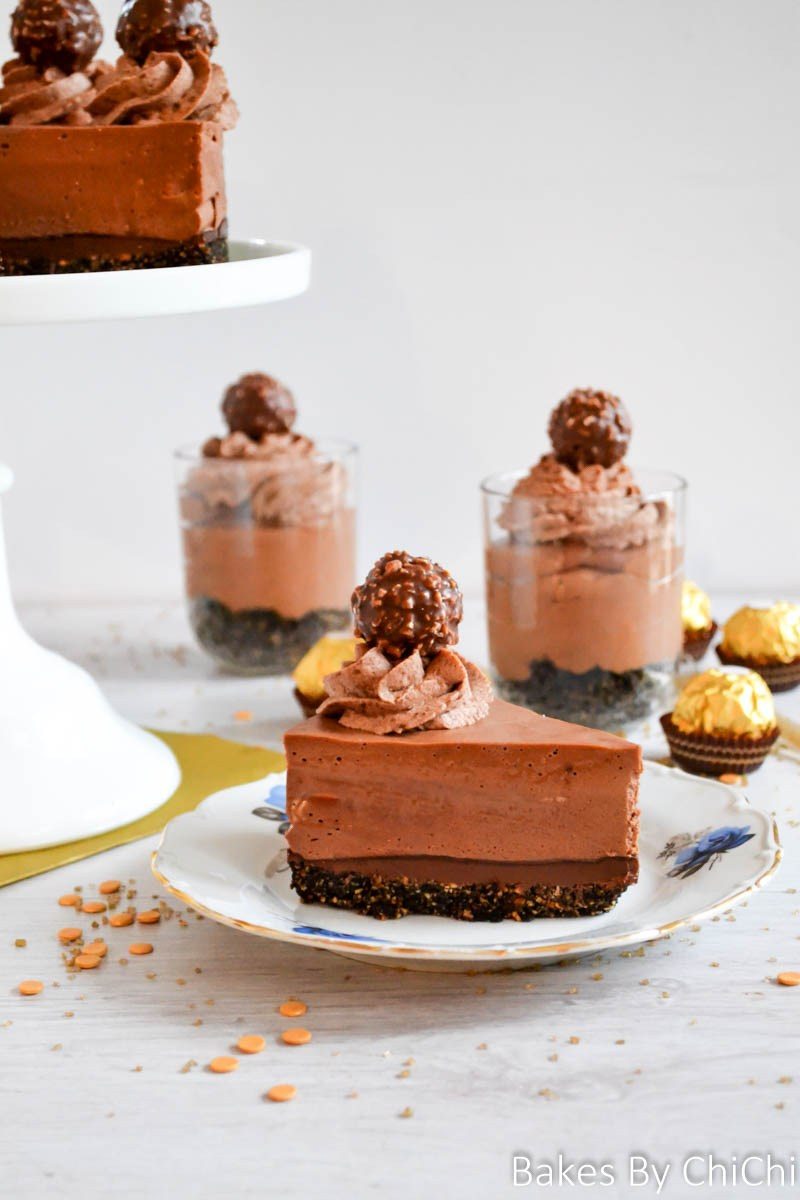 Spread a layer of melted Nutella over the base. Beat cream cheese and sugar, until smooth. Add Nutella and melted chocolate to the cream cheese mix. I used the small 200 g jar of Nutella. And to give the nutella cheesecake a more chocolatey flavour, I also added melted chocolate. Pour the cream cheese filling over the Nutella and chill for overnight. Once the Nutella cheesecake has set, beat together some melted chocolate and whipping cream until stiff peaks forms. Pipe swirls over the cheesecake and pop Ferrero Rocher chocolates on top of the swirls.
There was some cheesecake batter left over, which I used to make 2 individual cheesecakes in a jar. I am a collector of Nutella jars. After the last morsel of Nutella has been scraped out, I wash the jars and store them to be re-used. Those jars are the perfect size to use to make desserts in a jar.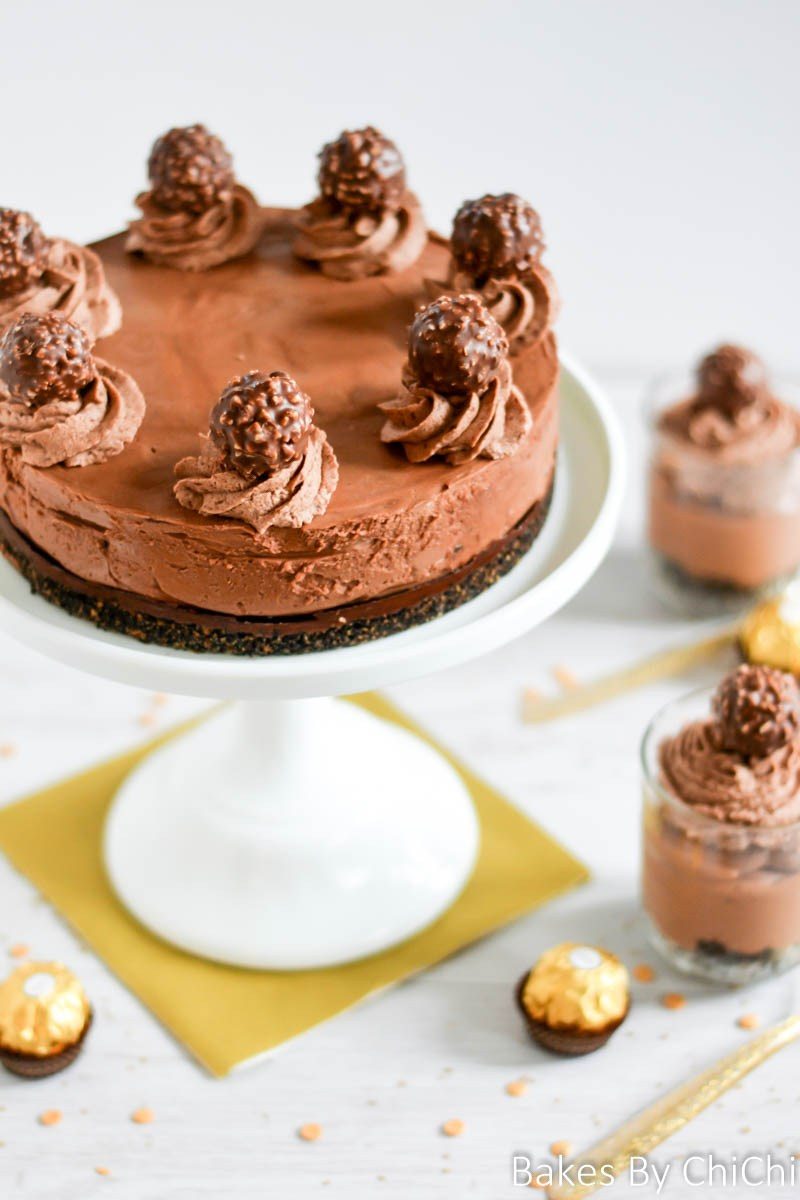 This nutella cheesecake is so good. It's creamy, rich and packed full of flavour.
Click here for the crust recipe.
Print
No-Bake Chocolate Hazelnut Cheesecake
Lots of hazelnuts and chocolate come together to make this creamy, mousse-like, no-bake cheesecake.
Author:

ChiChi Dodoo

Category:

Dessert
Crust
Click the link above for the crust recipe.
Filling
500 g

cream cheese (room temperature)

130 g

caster sugar

1 1/2 teaspoon

vanilla extract

200 g

1 small jar nutellla

100 g

melted milk or dark chocolate

250

ml whipping cream

60

ml water

12 g

1 small packet gelatine powder
Whipped chocolate cream
100 g

melted milk or dark chocolate

125

ml whipping cream
Instructions
Nutella Filling
Whisk together gelatine and water in a small bowl and allow gelatin to bloom. Microwave the bowl of gelatin for 15 seconds or more until melted. Leave to cool slightly.
Melt 2 tablespoons of nutella ina microwave for 30 seconds. Spread over the hazelnut oreo crust. Leave in the fridge to chill whilst you prepare the nutella cream cheese filling.
Beat together cream cheese, sugar and vanilla extract in a bowl until smooth. Add nutella and melted chocolate, then beat until combined.
Whip cream in bowl of stand mixer or using a hand mixer until soft peaks form, then add melted gelatine. Beat cream until stiff peaks form and then gently fold into nutella cheese mixture.
Pour filling over the nutella spread and smooth over top with spatula. Cover and put in fridge to chill for 4 hours or overnight.
When you are ready to serve. Melt chocolate at 30 second intervals in a microwave until melted. Leave to cool and beat together with whipping cream, until peaks form. Using a star tip, pipe swirls on top of the cheesecake. Top with ferrero roche chocolates.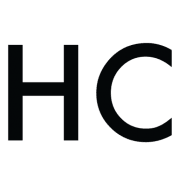 ChiChi Dodoo
Originally, from Ghana in West Africa, Chichi lives and works in London, Uk with her family. A sudden unusual love and passion for all things cake and baking introduced her to the world of blogging. ChiChi is the writer and photographer behind the blog Cakes By Chichi where she shares recipes, tutorials and photos of food she has made.