No sugar added pineapple margarita made with fresh pineapple juice, tequila, triple sec, lime and lemon juice.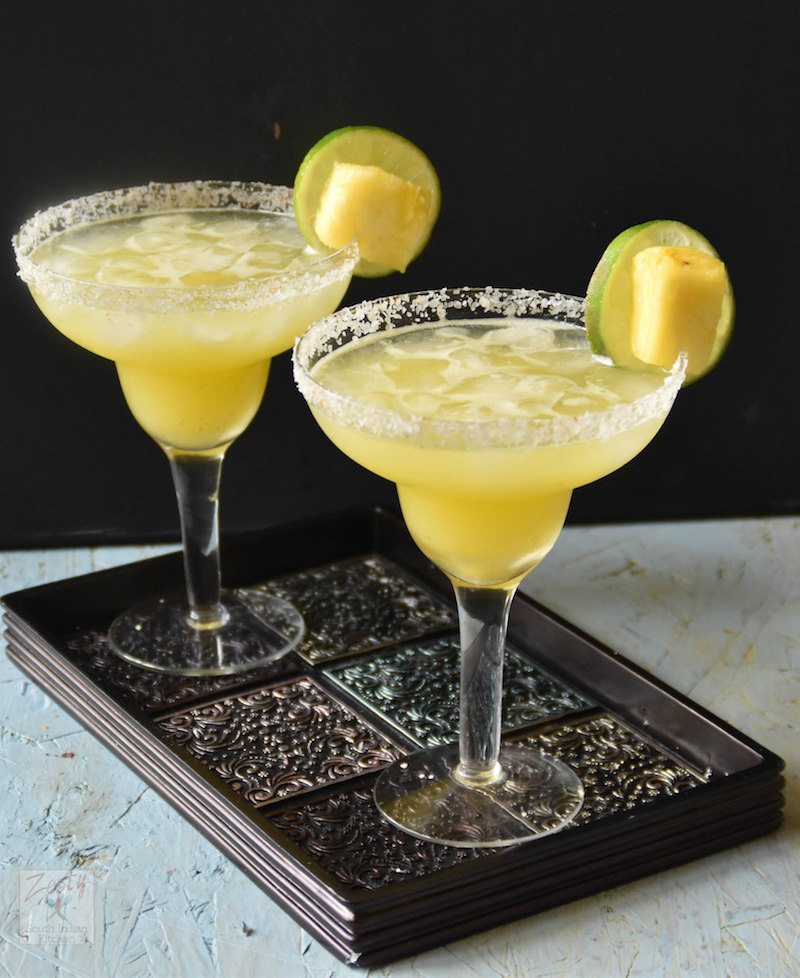 I am margarita fan, and love to try all different types of margaritas. Previously I have made quite a few varieties of margaritas and tried this Pineapple margarita this weekend. It is a cold but sunny day. The reason behind the making of pineapple margarita is I got a huge pineapple for 99 cents. Trust me it is usually $1.98, so when I saw it for 99 cents, my hands automatically picked one and put it in my cart. With fresh pineapple juice, I made pineapple margarita.
The best thing about this recipe is that it does not have any simple syrup. The only natural sweetness comes from pineapple, how good is that? If you don't have enough lime, add lemon juice!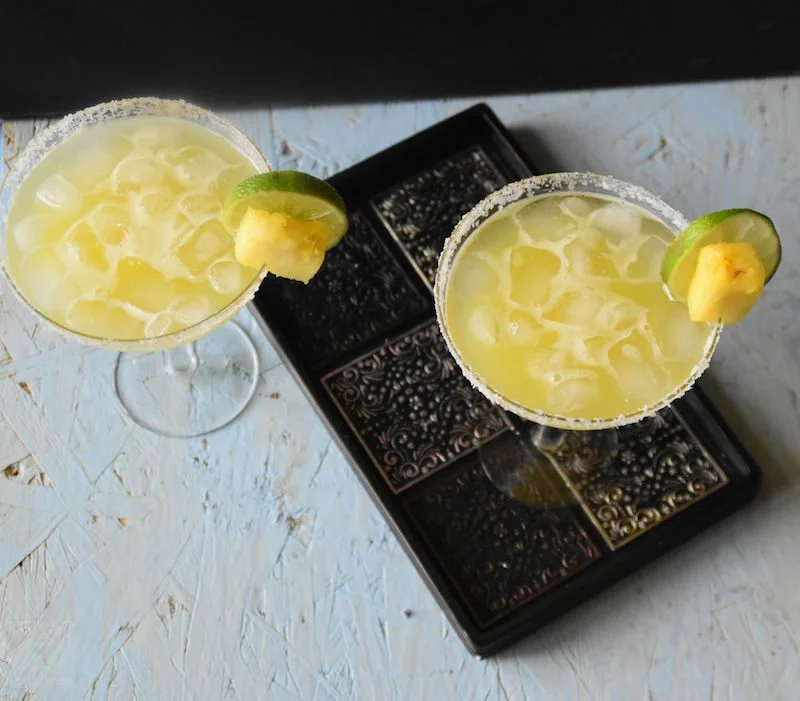 I first extracted juice from Pineapple then mixed in with lime juice, lemon juice, tequila, triple sec and serve with ice and fresh pineapple pieces. I feel when we add coconut and pineapple to anything it suddenly shifts to exotic Tropical Island food or drink. This Pineapple margarita is same you can enjoy all year long. Since I added this margarita to my recipe list, next will be a cucumber margarita.

There is never a bad time for a little tequila. I think if you add Tequila, Triple sec and your favorite fruit juice, lime and lemon juice you are going to get the best drink. You can make this delicious drink for a get-together, party or even little happy time with you and your loved one. Just grab everything and mix and chill it fridge for later use and mix in with ice and enjoy.
No Added Sugar Pineapple Margarita
Ingredients
2 ounce Tequila
2 ounce Triple sec
4 ounce Fresh pineapple juice
1 ounce lemon juice
1 ounce lime juice
salt and chili powder for rim of glass
Instructions
First make fresh pineapple juice using a cup of chopped pineapple
In a cocktail shaker, mix tequila, triple sec, pineapple juice, lime juice, lemon juice and served over ice with fresh pineapple piece and lime wedge.
Enjoy!
Recipe Notes
First make Pineapple juice by blending 1 cup chopped pineapple and strain if you want.