Mayssam Samaha discovers that her favorite mozzarella experience from Florence can actually be relived over and over again in New York City.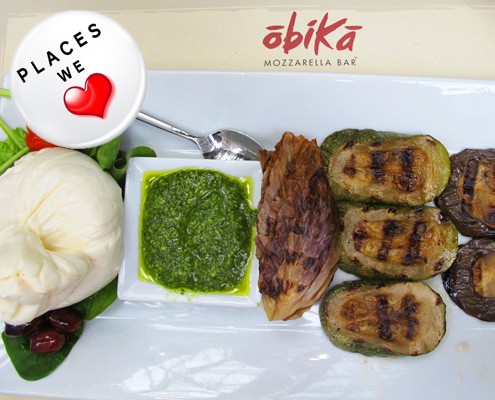 The first time I walked into an Obicà mozzarella bar was in Florence, Italy. We came upon it by coincidence really. I had been in Italy for about 10 days by then and if there was a theme to that trip then it was definitely mozzarella di buffala. My friends and I couldn't get enough of it and were consuming massive amounts of it on a daily basis. So you can imagine our elation when we "discovered" a mozzarella bar hidden in a gorgeous inner courtyard in Florence while casually strolling down a random street. I later found out that that "random" street was in fact Via Tornabuoni, a famous fashionable street and that the courtyard was inside the historic Palazzo Tornabuoni.
The whole experience was magical, being in that courtyard tasting some of the best and freshest mozzarella di buffalla with a glass of Chianti. After checking their website, I realized that I could relive that delicious experience closer to home! Among their 13 locations was one in New York and it was definitely on my list for my next trip to the Big Apple. I have now been there several times and although it's not quite like being in the courtyard of a Palazzo in Florence, the mozzarella still manages to retain its magical properties.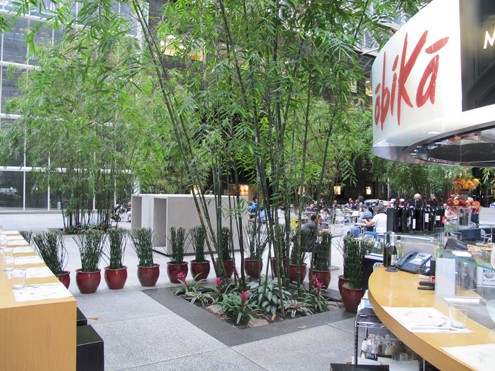 The 4 different mozzarellas are imported from Italy, along with several other Italian cured meats, pestos and specialties. The mozzarellas come from selected producers and are all handmade using milk from the water buffalo. My personal favourite is the Stracciatella with its sweet and creamy taste and almost liquid consistency. The idea is to choose one of the mozzarellas (or a tasting of 3) which you can accompany by a number of different sides, from salads to cured Italian meats to caponata (a Sicilian eggplant dish). However, the last time I was there, the waitress informed me that they had just received some burrata the night before. The whole concept of Obicà revolves around high quality Italian ingredients and their freshness, which is easy to source when in Italy but in New York?
I am happy to report that they manage to succeed and the proof was in that burrata! Burrata is a highly perishable cheese that is made with mozzarella cheese on the outside and filled with a mixture of mozzarella and cream and this one was so fresh and incredibly delicious drizzled with the vibrant green pesto.
So if like me you get a craving for fresh mozzarella di buffala but are unfortunately nowhere near Italy, then Obicà is definitely the next best thing. Order a glass of Chianti while you're at it and it just may transport you to the courtyard of a Florentine palazzo… if only in thought.
Obicà Mozzarella Bar
www.Obica.com
590 Madison Avenue (entrance at 57th Street and Madison Avenue)
The IBM Building, ATRIUM
New York, NY 10022
Tel.: 212 355 2217
Monday to Friday from 7 am to 6 pm
Saturday from 8 am to 6 pm
Sunday from 9 am to 6 pm
Mayssam Samaha
Born and raised in Lebanon, Mayssam lived in New York City before finally settling on Montreal as her home. She is constantly roaming her great epicurean city - and the planet! - for delicious culinary discoveries. From Michelin-starred restaurants halfway across the planet to the latest hole-in-the-wall down the street, Mayssam doesn't discriminate and wants to taste it all!