This is a slightly more complex version of a paloma, a classic Mexican cocktail with tequila, lime, and grapefruit soda or grapefruit juice. With added vanilla and honey, this drink is warmed up just enough for a cool evening.
By Bowen Close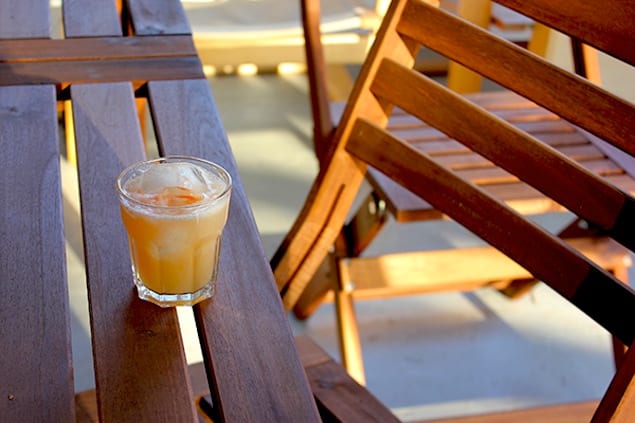 If you, too, are lucky enough to live in a place where the weather patterns are beginning to shift in a way that changes everyone around you, you should put this on your list. You should make it in the evening and drink it outside when it's first just barely warm enough to do so, preferably on one of these evenings that reminds you how wonderful it is when there's still sunlight after dinner. It won't matter at all that, out of practice and extraordinarily optimistic, you'll end up a bit underdressed for the temperature. Or that you haven't put the cushions on the porch chairs quite yet. Won't matter one bit.
This is a slightly more complex version of a paloma, a classic Mexican cocktail with tequila, lime, and grapefruit soda or grapefruit juice. I've been seeing variations on bar menus and in articles for the last year or two, and while I disagree with many of them about it being interchangeable with a margarita (a paloma being more of a high-ball style cocktail and a margarita being, aside from hallowed and never interchangeable with anything, as far as I'm concerned, a far stronger and more tequila-forward cocktail), I love the general concept and started thinking about ways to make it a little more interesting. Inspired by what I saw on a few bar menus, I added honey and vanilla, plus a dash of bitters at the end. The honey and vanilla add a creamy sweetness that tones down the grapefruit, and the bitters add a complexity that rounds out the flavors quite nicely.
And if you happen to find yourself with some smoky mezcal that needs drinking, I can quite heartily suggest that substitution for the tequila. Paloma, you've met your match.

Updated Mexican Cocktail - A New Paloma
Makes 1, easily scalable (in fact, this would be a great cocktail to make for a large group of people – stir in a pitcher instead of shaking, making sure the honey dissolves completely into the other liquids)
Ingredients
2 oz. reposado tequila or mezcal
½ oz. lime juice
2 oz. grapefruit juice
1 tsp. vanilla
1 tsp. honey (preferably a grassy, more vegetal honey – but any type will do)
Bitters, for garnish
Instructions
Combine the tequila, lime juice, grapefruit juice, vanilla, and honey in a cocktail shaker with a few ice cubes and shake heartily until all ingredients are combined (make sure the honey is integrated – this can take a bit of extra shaking).
Strain into a cocktail glass with a few cubes of ice, and add bitters. (No need to mix in the bitters – they may float on the top, which I find quite lovely, especially if the drink has foamed a bit on top.)
Bowen Close
Bowen Close believes that food should make people happy and healthy, and loves bringing together people with creative, delicious food made from the heart. She loves making farm-inspired, flavorful dishes with sustainable ingredients - whether that's a big plate of roasted veggies, a towering chocolate layer cake, or a cocktail utilizing backyard ingredients - and collects recipes and other food-related stories on her website, Bowen Appétit. She is a chef, cooking instructor, and food writer living in Southern California with her husband and fully stocked pantry.