Nanette McLain gets inspired by The Boss at Toast in Ashbury Park, New Jersey.
By Nanette McLain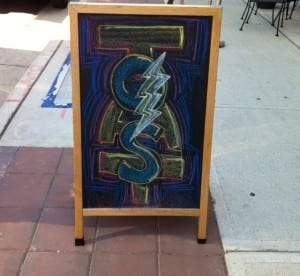 My iPhone has been a game changer; and three features led me to my most recent restaurant destination: unlimited googling capability, directions for the otherwise directionally challenged and my clever system of categorizing restaurants by location in the contacts of my phone.  I have expanded this well-organized system beyond the five boroughs of New York City, adding Asbury Park to my ever-increasing contacts. On this particular occasion it was the Bamboozle Music Festival that drew me to the Jersey Shore and Asbury Park boardwalk. Not the Jersey Shore of Atlantic City or Seaside Heights synonymous with MTV and the suspiciously sun-kissed tan of the Jersey Shore, but instead Asbury Park known for its musical history represented by The Stone Pony and a native of New Jersey – Bruce Springsteen. Waiting for the bus to carry me to the festival I quickly googled area hotels and found a bed and breakfast.  With a cursory review of the address and directions I found it unexpectedly close to a restaurant I had visited before and had added to the contacts of my phone.
An evening of music is followed by a morning brunch at Toast located within walking distance of the Asbury Park boardwalk. This is my second trip to Asbury Park and my second trip to Toast.  The motto of this restaurant is Peace, Love and Pancakes; and it is the red velvet pancakes I enjoyed on a previous visit that compelled me to return.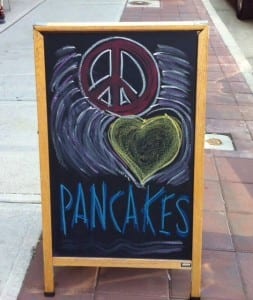 The brunch menu at Toast is diverse; however after careful deliberation I choose the stuffed French Toast and the spinach, feta and mushroom omelette served with wheat toast and breakfast potatoes or home fries as I know them. Reluctantly, I pass on the red velvet pancakes; however I know if the individuals at the table next to me order them I will weakly surrender to the charm of the red-hued pancakes.
I first try the stuffed French Toast made with challah bread stuffed with sweetened cream cheese and topped off with fresh, sliced strawberries. Syrup is provided; however not required as the combination of challah bread and sweetened cream cheese is flavorful enough. The French Toast could be heavy and filling but the smooth, sweetened cream cheese and fresh strawberries are a refreshing combination.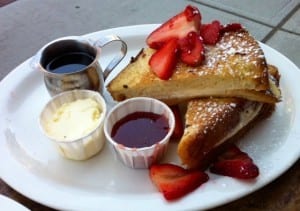 The omelette is tasty.  The feta cheese is a nice addition to the spinach and mushrooms. Accompanying the omelette is home fries.  My experience with this breakfast dish is not always consistent.  Sometimes my home fries are nicely seasoned. Sometimes they are crisp and golden brown.  Sometimes they are neither, and sometimes they are both.  To my delight, the Toast home fries are the later.  The small, diced potatoes are nicely seasoned and each is crisp and golden brown to be savored one at a time.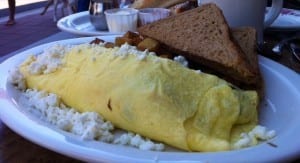 Lastly, capturing what makes Toast special is my review of two otherwise simple, standard items served with brunch.  I did not anticipate that the toast and coffee would deserve recognition, but at this Asbury Park restaurant destination they do.  The toast is crisp and lightly buttered.  With strawberry jam it is exceptional.  Four halves served.  Three eaten, and glad I didn't order the pancakes.  The coffee is fresh and meets in the middle of freshly brewed at home and prepared by a barista.  Beginning to end the dining experience at Toast is deserving of a first, second or third visit.  To quote The Boss, "Everybodys got a hungry heart," and undoubtedly it's hungry for Toast at Asbury Park.