Navratan korma is a simple but delicious medley of nine different vegetables or nine different ingredients slowly simmered in a rich and creamy sauce.
By Sukanya Ghosh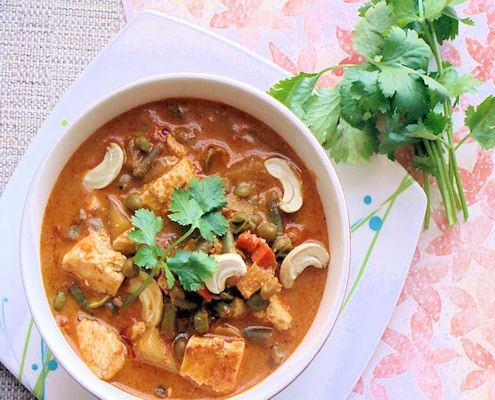 In today's futuristic world where we dream of matrix's, where every thing goes nano-tech, beyond our imaginations, sometimes beyond our comprehension too, I am urging you to have a sneak peek into the past. If history ever appealed to you – look some 500 years back to when the Mughals invaded India. In Delhi the shahi khansama or the royal chefs of the Mughals were struggling hard to please the tantrums of Badshahs / emperors overcoming their worst nightmare that the local food and produce would fail to appease them.
The mighty and powerful warriors who were also great food connoisseurs, needed gosht (meat) in every form and sherbets for their delightful and colorful evenings. But they managed to invade a country which was vegetarian for the most part… and I am sure that left them quizzical enough whether they did the right thing at all.
Soon folks were sent across the mountains to Afghanistan or Persia, to bring melons, dry fruits and pomegranate so that the shahi bawarchi khana could once again revive with the rich flavors of royal Mughlai cuisine. With the advent of another century or so, many things changed with more prominence of local flavors in art, culture and cuisine. In Akbar's time there was probably also a wide paradigm shift because of Akbar's tolerance towards Hindu and other religions. His passion for knowledge and art attracted many Hindu Kings who later constituted the nine courtiers of Akbar or navratan or nine gems in his court. His proximity and affinity towards Hindu Kings might have influenced the shahi khansama to dish out some vegetarian delicacies soaked in the flavour of Royal Mughlai cuisine and thus the "navratan korma" might have born rechristened after Akbar's nine courtiers or nine gems.
See Also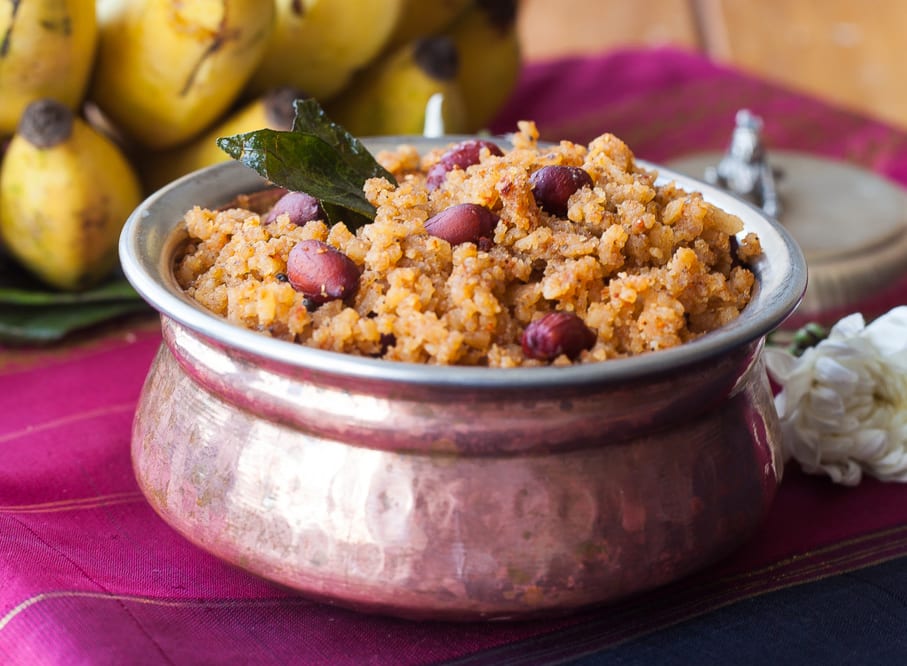 Korma are made the same way following the traditions of balti or dum pukht style of cooking whereby the meat or vegetables are first braised in high heat and then let them simmer in rich gravy enclosed in sealed pots over a slow fire. Centuries later, this kind of slow cooking has eventually give rise to new genre of dishes which followed the aromas of erstwhile rich legacy of Mughlai cuisine with few changes influenced by the time and the culture.
Navratan korma from the court of Mughals
Navratan korma is simple but delicious medley of nine different vegetables or nine different ingredients slowly simmered in rich and creamy sauce
Ingredients
Vegetables : 1 cup (150g) all cut into small cubes
I prefer potatoes, carrots, green beans, cauliflower florets over capsicum and green peas. Corn will be nice too.
Paneer : ½ cup (75g) cubed
Pineapple : ½ cup (75g) cubed
Dry fruits : ½ cup (75g) A mix of raisins, almonds and walnuts
Cashew nut paste : 2 tbsp
Pomegranates seeds : 1 tbsp
Tomato puree : 1 tbsp
Ground spice mix : 1 tbsp ( roast a bay leaf, few cardamoms, cinnamon stick, mace, cloves and nutmeg, ground them to a fine spice mix)
Mawa or milk solids : ½ cup (75g)
Milk : 1 cup (250 ml)
Cream : 1 tbsp
Ginger paste : 1 tbsp
Butter / ghee : 1 tbsp
Salt to taste
Instructions
Warm the butter in a pan, and add the ground spice mix. Saute for few seconds and add the paneer in it. Roast it lightly, and take them out. Keep aside.
Add the vegetables and braised them in butter over a high heat till they absorb little brown hue.
Lower the heat and add ginger paste, saute and next add the tomato paste or puree. Let them sweat over a slow heat for few minutes, stirring occasionally.
Add the cumin and red chilli powder and saute for couple of more minutes.
Add the cashew nut paste and cook on slow heat for 5 minutes. Check the salt and seasonings.
Next add the pineapples and dry fruit mix and mawa or milk solids. Saute for few more minutes on low heat.
Add the milk and try to keep the temperature below curdling.
Simmer on low heat for another couple of minutes or till the vegetables become tender or cooked through.
Add the fried cubes of paneer, mix them well and finish it with cream.
Sprinkle some pomegranate seeds and garnish with cilantro leaves.
Serve the navratan korma over a bed of white rice or pulao or with kulcha and naan.
Notes
Paneer is Indian cottage cheese
Sukanya Ghosh
Sukanya writes the blog Saffronstreaks, a food and travel blog where she experiments in the kitchen spiced up with interesting food stories and gourmet travelogues. She loves to cook with fresh produce, enjoy both spicy and sweet and her many dining out experiences become cherished memories. Sukanya is from India but now lives in North Carolina, USA.