PARTNER POST: May 26 is National Pinot Grigio Day. We're celebrating with Cavit Wines by sharing refreshing spring and summer recipes that pair perfectly with Pinot Grigio.
Kick off the summer with the this red, white and blue Memorial Day Cheeseboard and a bottle of wine.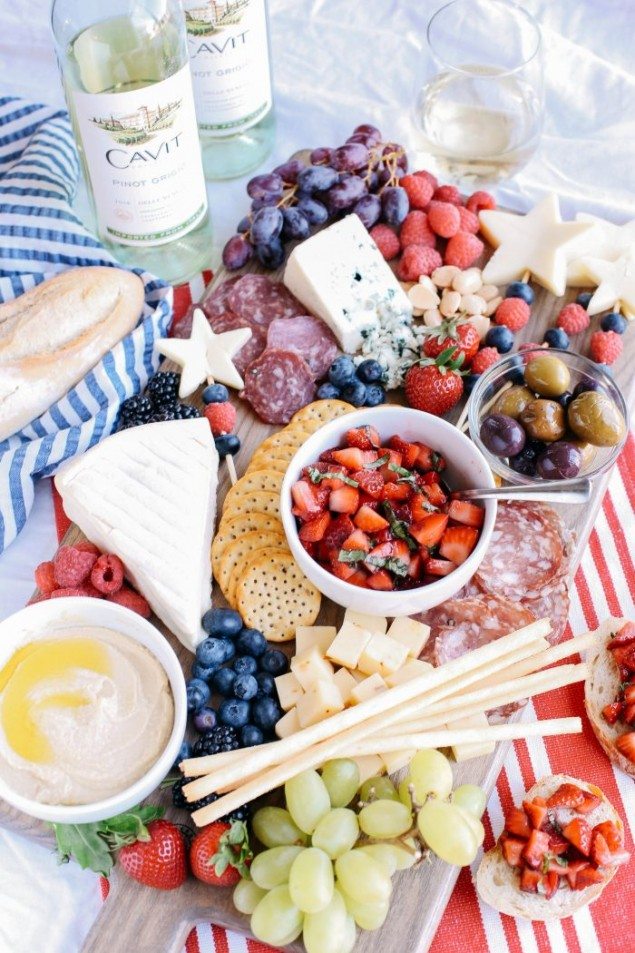 Can you believe Memorial Day weekend is right around the corner?! Not only does it officially kick off the summer, but I love spending this holiday relaxing by the water with friends and family! We almost always head to the lake every Memorial weekend and this year I really wanted to impress my family with the perfect summer cheeseboard complete with a little something I knew everyone would love!
The best part about cheeseboards are they look so much more complicated than they actually are to put together! Zero cooking involved, always a huge crowdpleaser and they make the most beautiful centerpiece on any table. Cheeseboards are one of those staple items that are a must when getting together with my friends because what could be better than cheese + wine + summer + more wine…..yeah you get the idea.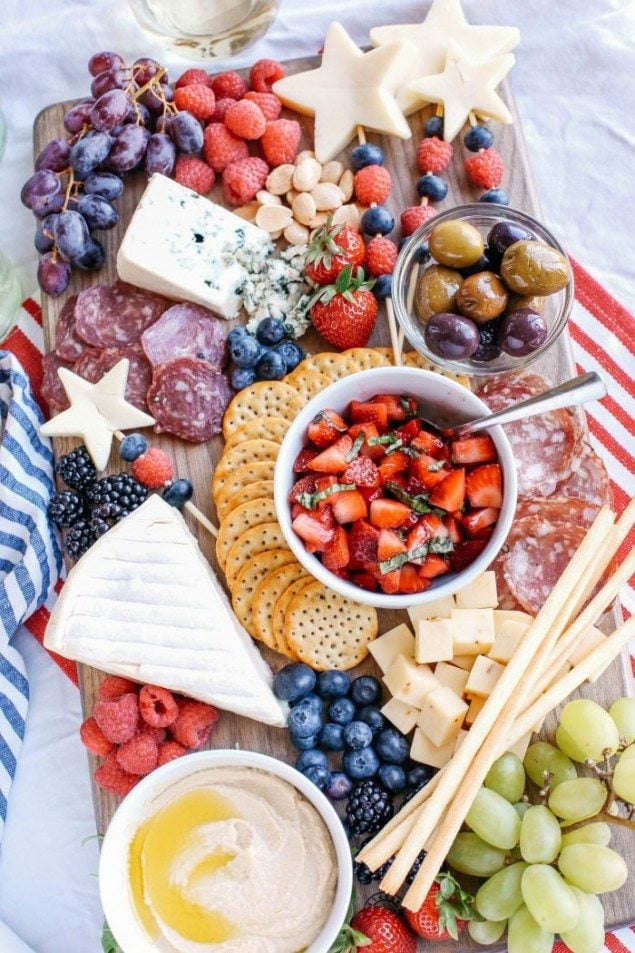 For this festive cheeseboard I really wanted to make it as patriotic as possible so I focused on vibrant reds and bold blues as focal pieces on the board. Fresh fruits are one of my favorite things to snack on during the hot summer so I added an assortment of berries and grapes along with a delicious strawberry bruschetta. Not only does the bright red from the strawberries really POP on the cheeseboard, but this recipe is super easy to make and tastes absolutely delicious paired with wine and a fresh baguette! You can find the recipe for my strawberry bruschetta below!
Speaking of wine, did you know that the FIRST ever National Pinot Grigio Day is coming up next Friday, May 19th?! Now if that's not something to celebrate then I don't know what is. Pinot Grigio has always been my go-to white wine and I LOVE Cavit pinot grigio because of how light, crisp and refreshing it is! It's the perfect addition to summer sangrias and is always a favorite when people get together. That's why I had to pair it with this cheeseboard!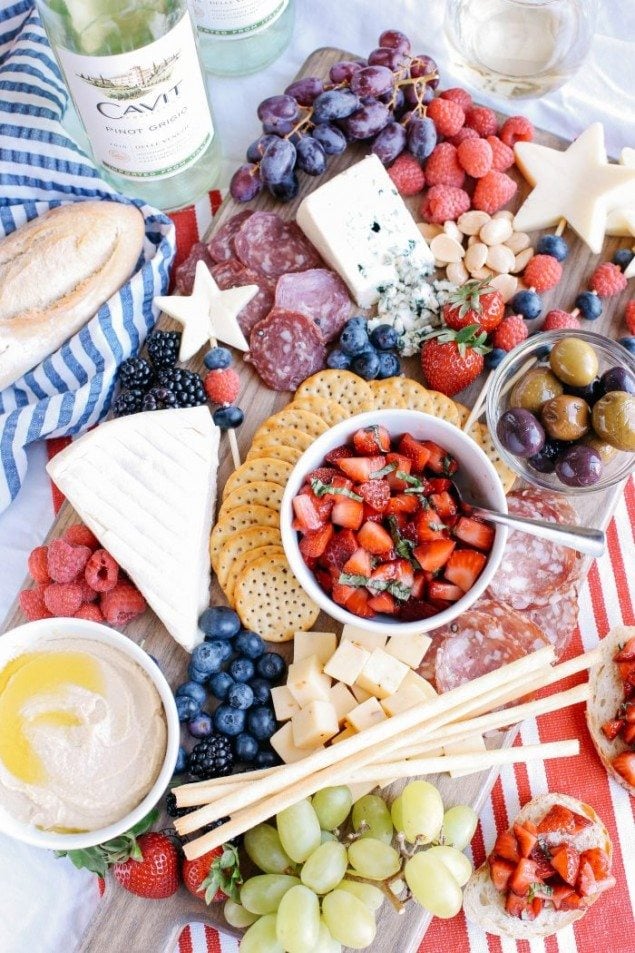 Along with the fruit and strawberry bruschetta, I also included an assortment of cheeses. Cheeseboards are for crowds so of course you want to have something for everyone! I always try to include a soft cheese like brie, firmer cheeses such as aged cheddar or Monterey Jack, along with a strong blue cheese just to give a nice variety. Feel free to have fun with your cheese too! I always like to cut the cheeses into a variety of shapes to add texture and make the cheeseboard more fun. As you can see I used cookie cutters to make stars out of the cheese and put them on skewers with some red and blue fruit to keep the patriotic theme going – so easy and really festive!
So now that we have all our "sweet" elements nailed down, let's get into all things savory! For this I added some of my favorite charcuterie such as summer sausage, spicy salami and prosciutto along with a bowl of olives, garlicky hummus and some Marcona almonds. Then just throw in some crackers, fresh bread and your favorite bottle of wine and you have yourself the perfect cheeseboard!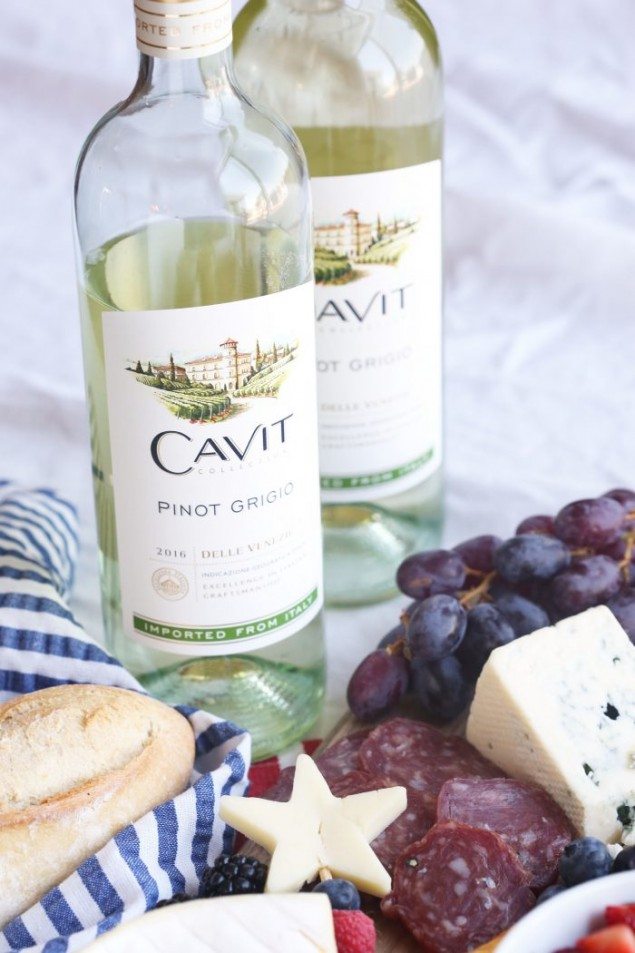 Print
Strawberry Bruschetta
Made with fresh basil, balsamic vinegar and a little honey for some extra sweetness, you can never go wrong when serving this to a crowd. I always like to add a little creamy goat cheese to my baguette slice and top it all with this bruschetta.
2 cups

fresh strawberries (chopped)

2 Tbsp

balsamic vinegar

1 Tbsp

honey

¼ cup

fresh basil leaves (thinly sliced)
Instructions
In a large bowl, combine strawberries, balsamic vinegar, honey and fresh basil, mixing well. Serve immediately on toasted bread slices with your favorite cheese, or let bruschetta marinate overnight. Enjoy!
Kelly Hunt
Kelly is a DC based food blogger with a true passion for cooking and a love for photography. Her blog "Eat Yourself Skinny" has been featured on such sites as Cooking Light Magazine and Women's Health and she shares how maintaining a healthy lifestyle can be fun. As a home cook, she loves to put a spin on classic favorites by substituting calorie-loaded ingredients with healthier alternatives that still taste delicious.