Nachos with Quinoa and Pico de Gallo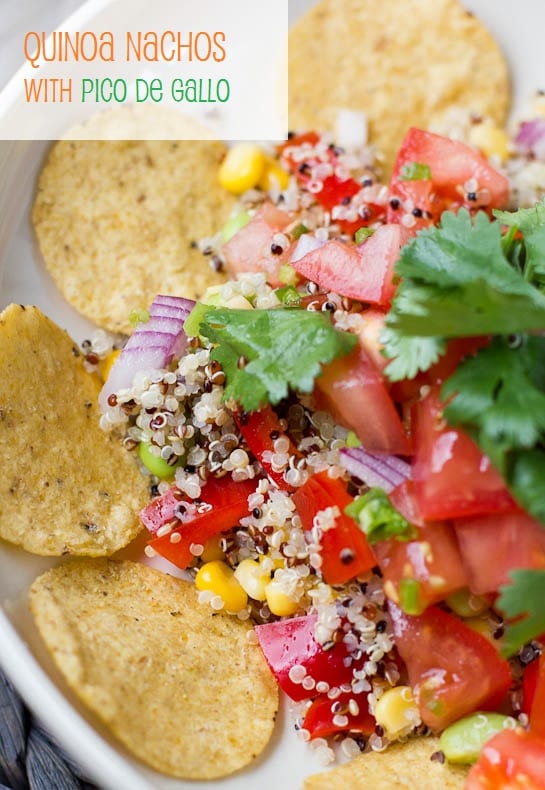 These Quinoa Nachos are super tasty and nutritious. Omit the corn chips if you prefer, but always top with tomatoes, coriander (cilantro) and jalapenos in the form of Pico de Gallo, a Mexican salsa.
By Martyna Candrick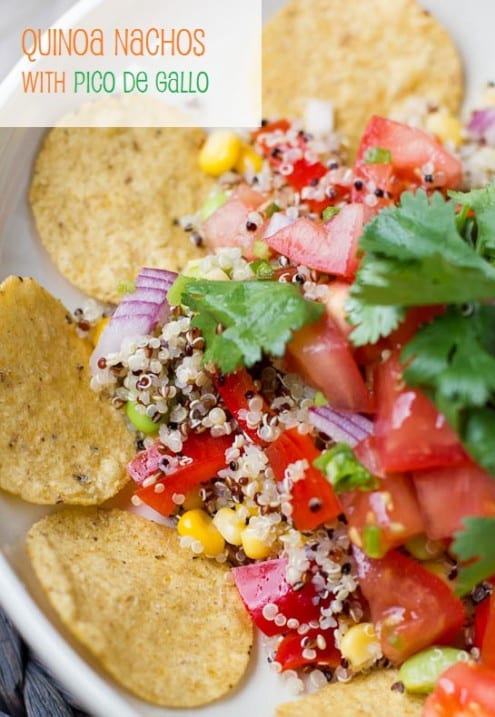 These Quinoa Nachos with Pico de Gallo are a great starter, main meal or a salad lunch. You can make the quinoa and salsa a couple of days ahead. Feel free to add other fresh veggies to the mix: cucumber, raw zucchini, blanched green beans or tinned red kidney beans.

Nachos with Quinoa and Pico de Gallo
These Quinoa Nachos are super tasty and nutritious. Omit the corn chips if you prefer, but always top with tomatoes, coriander (cilantro) and jalapenos in the form of Pico de Gallo, a Mexican salsa.
Ingredients
For the Quinoa Nachos:
? cup quinoa
? cup water
½ cup frozen soya beans
½ cup unsweetened corn kernels
½ red capsicum [red pepper], diced
For the Pico de Gallo:
2 vine-ripened tomatoes, diced
1 tbsp finely chopped red onion
1 sprig coriander (cilantro), chopped finely, half the leaves set aside !For garnish
¼ fresh jalapeno chilli, finley chopped, (omit or add more to tatse)
1 tbsp extra light olive oil
juice of 1 lime
To serve:
organic unflavoured corn chips
Instructions
To make the Quinoa Nachos:
Rinse quinoa thoroughly under cold running water. Transfer to a small saucepan and add the water. Bring to a boil over medium-low heat and cook for 15-20 minutes or until the grains are tender. In the last 5 minutes of cooking add frozen soya beans. Drain both over a sieve and set aside to cool.
Transfer cooled quinoa into a large bowl. Add corn kernels and capsicum. Prepare your pico de gallo.
To make Pico de Gallo:
In a medium bowl mix together the tomatoes, onion, coriander (cilantro) and jalapeno. Add olive oil and lime juice. Mix well.
To serve:
Spoon quinoa mixture into the middle of a serving plate or bowl. Top with pico de gallo and extra coriander leaves. Serve with corn chips on the side.
Martyna Angell
Martyna is a Polish-born Australian recipe developer and food blogger. Her creativity and passion for good food shines through in many of the delicious and easy to prepare meals which she cooks, styles and photographs for her blog, Wholesome Cook. Fresh cream-filled eclairs are her only weakness.