Sawsan Abu Farha combines the classic Lebanese Manousheh with Naan for a comforting Mid Eastern breakfast dish.
By Sawsan Abu Farha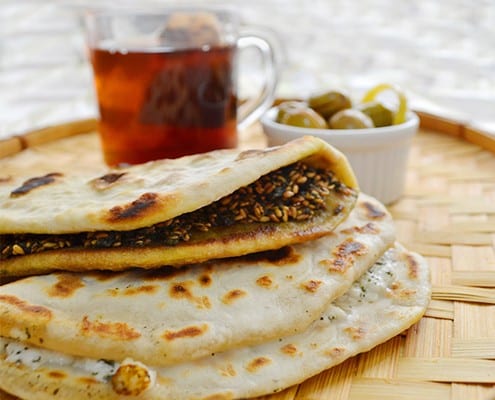 Manousheh is a Lebanese flat bread topped with one of a variety of ingredients: za'tar(Za'atar is generally prepared using ground dried thyme, oregano, marjoram, or some combination thereof, mixed with toasted sesame seeds, and salt, though other spices such as sumac might also be added), cheese, labaneh (strained greek yogurt, similar to cream cheese in consistency and to sour cream in taste) and eggs are the most famous ones. However you can find restaurants and bakeries serving turkey and cheese, eggs and sausage, and nutella manusheh side by side with the more traditional ones
The easiest way to describe it is – a single or double ingredient topping middle eastern pizza.
Being someone who is fond of naan bread , it is hard to beat soft warm naan with that depth of flavor from the yogurt and slight smoky flavor from the little charred points. I decided to merge the two (naan and manousheh) in one breakfast creation that is quick and easy to make on the stove top .
I usually make the dough the night before and allow it to rise in the fridge overnight and all I have to do is take out of the fridge and allow it to come to room temperature. In 15 minutes freshly perpared naan/manousheh is served without the trouble of turning on the oven or driving over to the bakery.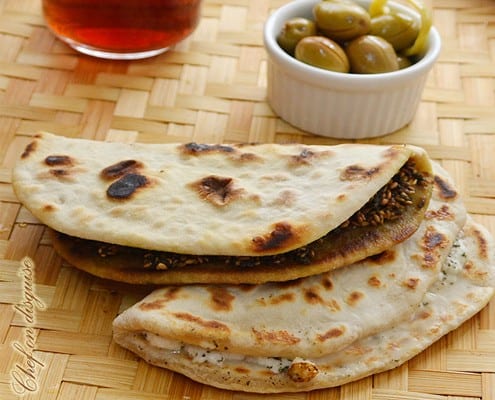 Print
Naan meets manousheh
Sawsan Abu Farha combines the classic Lebanese Manousheh with Naan for a comforting Mid Eastern breakfast dish.
Author:

Sawsan Abu Farha

Prep Time:

2 hours

Cook Time:

10 mins

Total Time:

2 hours 10 minutes
Naan manousheh

2 teaspoons

(

10 g

) dry yeast

1

2 cup (125ml) warm water

1 tablespoon

(

14 g

)sugar

1 cup

(

280 g

)greek yogurt

1 cup

(

250

ml)boiling water

5

and 1 2 (

700 g

)cups flour

2 teaspoons

(10ml)oil

2 teaspoons

(

10g

) salt
Topping
Za'tar (ground dried thyme, oregano, marjoram, or some combination thereof, mixed with toasted sesame seeds, and salt, and sumac)
Akkawi cheese with dried mint
Instructions
Preparation of the naan manousheh
Proof the yeast (Mix it with the warm water and sugar and wait for it to bubble)
Whisk the yogurt and the boiling water together then set aside until they cool down
Add the yeast mixture and 3 cups of flour and mix with a wooden spoon until the mix is homogenous.
Cover and leave in a warm place for 1/2 an hour
Next add the salt and oil to it and start adding the remaining flour half a cup at a time while kneading until you get a soft smooth pliable ball of dough (you may not need all the flour)
Knead for 5-7 minutes until satiny and elastic.
Cover the bowl with oiled plastic wrap and keep it aside in a warm place until it doubles in volume (one to 1.5 hours. you may also keep it in the refrigerator to rise slowly overnight)
Turn the dough out on to well-floured surface, punch out the air out gently with your knuckles, and divide the dough into 6 or 8 portions (depending on the diameter of the pan you are going to use for cooking),
Start heating the pan you are going to cook the naan in, using medium heat.
Roll the dough out into thin discs and keep them one by one on a floured baking sheet covered with a damp towel until you've rolled them all. Or stretch them by hand into teardrop shapes. They fluff up, so the thinner you can roll/stretch them, the better. (you can prick the dough discs with a fork to prevent them from forming big bubbles)
When you have the pan to the heat level you want (medium), put a disc of dough on it, it will start forming bubbles almost right away.
After 2-3 minutes, brush it with butter, turn it over and spread the topping of your choice on the cooked side that is now facing upward
Wait for the bottom to get blistery spots, then fold it on half.
Allow it to cook for one more minute on this side then flip it, cook for one more minute..take it off the heat.
If you don't prick the dough with a fork it may puff up
Sawsan Abu Farha
Passionate food explorer Sawsan Abu Farha lives in Jordan and enjoys mixing east and west in her kitchen aiming to get the best of both worlds.Juggling work, motherhood, blogging and a passion for food and food photography, she shares her journey in her blog "Chef in disguise".