Naam, a Taste of Tahiland in Macau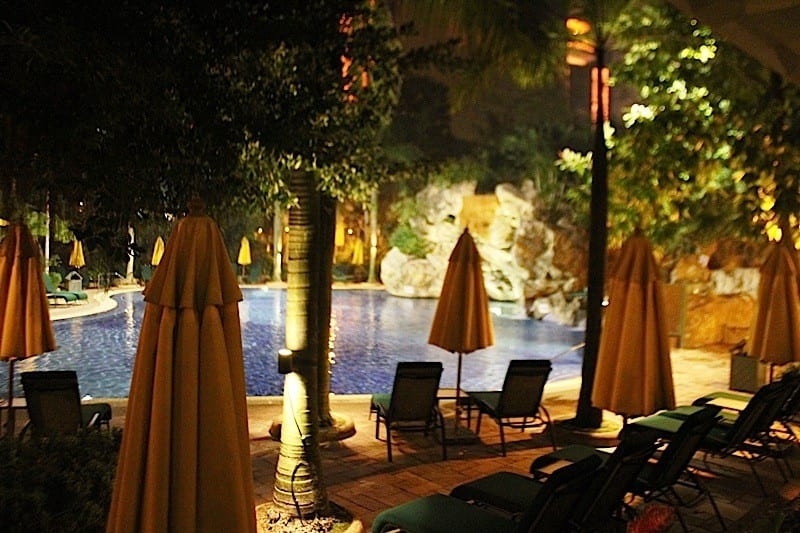 One of the best Thai restaurants in Macau, is located at the Grand Lapa Hotel, overlooking the luxurious tropical garden and the beautiful hotel pool.

By Ambra Meda
Naam, one of the best Thai restaurants in Macau, is located at the Grand Lapa Hotel, overlooking the luxuriant tropical garden and the beautiful hotel pool.
The setting is anything but perfect, romantic but not posh, elegant but not sophisticated. We ask for a seat on the couch, facing the central dark stone pond that stands in the middle of the room, symbolizing "Naam", the Thai word for "water".
The menu is an authentic array of traditional dishes. We let our waitress drive us: "Anything you recommend is fine,  just something with coconut."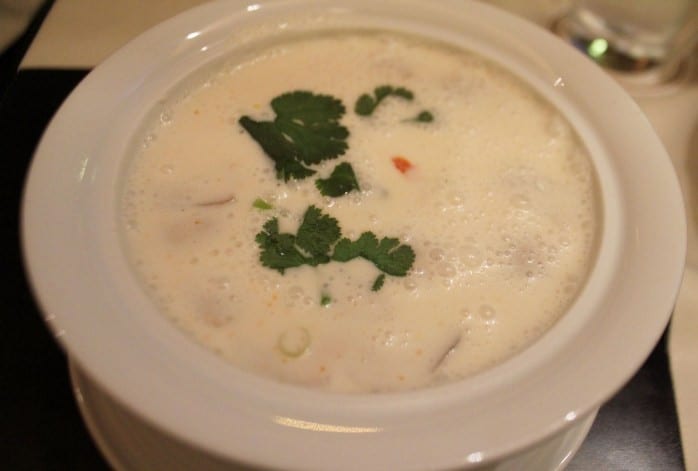 Right after ordering a glass of  Cabernet Shiraz, a typical Tom Ka Ghai arrives as a starter. Enticing! This herb coconut soup with chicken and mushrooms is truly incredible. The broth is creamy, encompassing. Its sweetness teases our tongues, dissolving at the end leaving a piquant after flavor. We drain our bowl before the steamed rice arrives. We know we're supposed to pour the remaining liquid over it, but it's so delicious we simply cannot wait.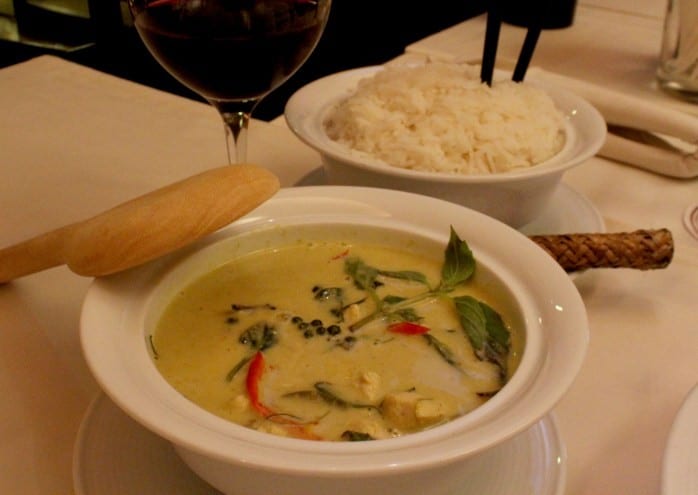 Our first entree is the Gaeng Kiew Waan, a green curry with chicken, green tomatoes and red peppers. The dish is amazing, but we forget to ask for the "mild" version and realize that in China, when it comes to spices, the word "medium" is a euphemism. Even though our mouths are on fire, it's too good to abandon.
"How is everything?", our waitress asks.
We answer simultaneously, pretending to be serious connoisseurs of spicy curries: "Great!" Unfortunately our eyes, wet and almost pouring tears, betray our words.
She starts laughing: "I'll get you something to recover your palates."
After a few minutes she's back with a plate of chilly watermelon. Juicy and sweet slices of fruit prepare our taste buds for the next course.
Nuea Wagyu Yang, an abundant platter of grilled beef, comes with raw carrots and a sweet, liquid sauce, that reminds us of barbecue, but with a hint of sun dried tomatoes and herbs.
The marbled meat, laid on a bed of chopped lettuce, is grilled to perfection. Its simple but full flavor doesn't need any seasoning, and we find our chopsticks picking the slices from the plate and making their way to our mouthes without stopping at the saucer.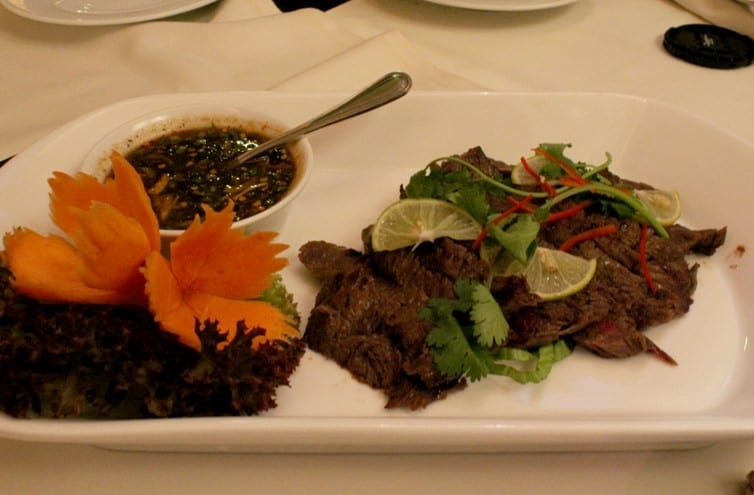 When it's time for dessert, the menu is truly original. We have never heard about any of the items listed, except the Mango Sticky Rice.
We are tempted to opt for an exotic option, but when we ask our waitress, she seems assertive. "The Sticky Rice". "…But what about this read bean sweet cream?" "The Sticky Rice." We have no alternative. Once again she's right.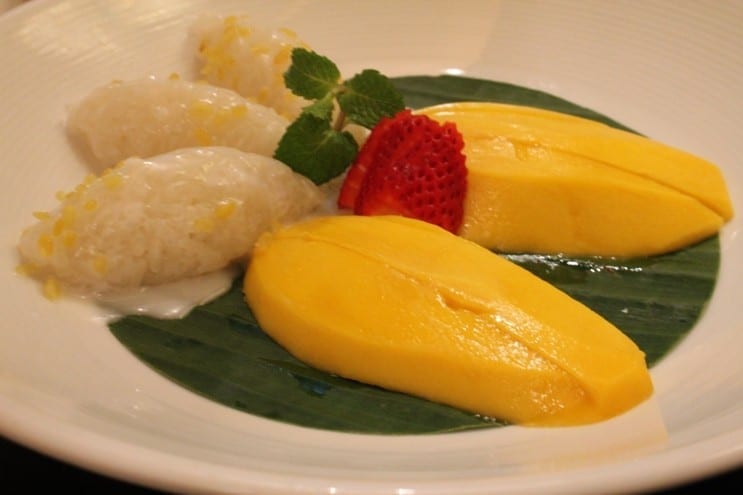 Not only is the fruit pulp fresh and delicious, but the rice pudding has a great consistency: neither gelatinous nor too compact, but glutinous in the inside and delicately moist on the surface, damped with a light and milky honey, and enriched by flakes of lemon peel.
We exit alongside falls of running water and tropical plants. The warm, charming mist of Macau softens the romantic atmosphere. The environment surrounding Naam is just as enchanting as its food.
Ambra Meda
It is often said that Italians don't eat to live, but live to eat. And to Ambra, philosophizing about food is no different than discussing art. She grew up as a devoted lover of all things Italian, from pumpkin gnocchi to pistachio gelato. After moving to the United States she discovered the pleasures of a new world of food. She eats, travels and writes for Still Served Warm.