Tamara Novacoviç with a first report from her recent trip to the lovely Italian region of Tuscany.
By Tamara Novacoviç
A few weeks ago I returned from a three-day trip to Tuscany. In three days I visited four cities. In this post I am giving you the tour of the two: Florence and Bologna.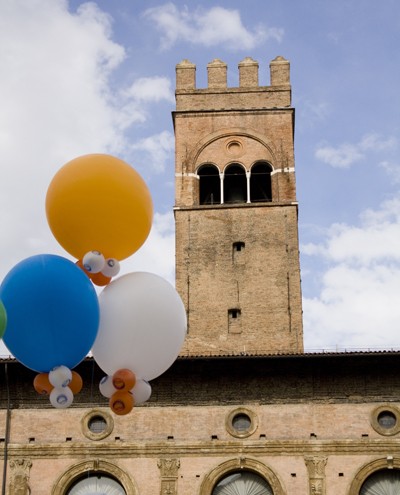 I fell in love with Tuscany numerous times, most recently while reading the book and later watching the movie "Under the Tuscan sun", but never actually been there, until several days ago. When you drive through the Tuscan land, vast fields dotted with vineyards and typical Tuscan-style houses catch your eye and make you immediately fall in love with this part of Italy. Plains alternate with hills and mountains. Not a single inch of land stands bare and unused. This is an area of gorgeous landscapes, rich artistic legacy, cities who stand witness to masterpieces of human mind and hand.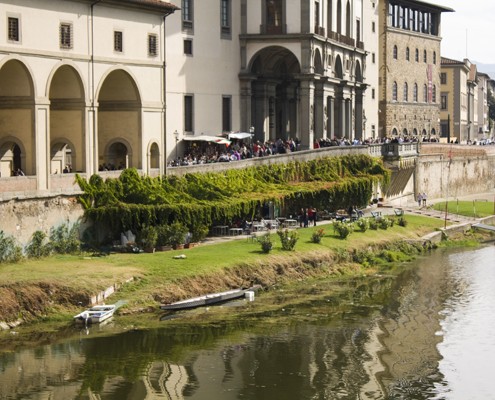 On our first day, we visited Bologna. It's a city on the outskirts of Tuscan area and lies between the Po river and the Apennine Mountains. It is a home to the oldest university in the world and I got a feeling it is somewhat a city of young population. Students everywhere. As we pass through a corridor that will lead us to Piazza Maggiora, we encounter numerous students having demonstrations, reading books, putting up tents, cooking food and offering pamphlets.
Italians are very stylish, I encountered so many men in suits and women in unique clothes, I enjoyed looking at them. Another thing that immediately caught my eye were, of course, gelaterias. Ice cream shops where you can buy the best ice cream in the world. The real ice cream, called Gelato Artigenale. After having the best ice cream, we decide to rest our feet and sit at a local caffee Zamboni, where I order the best coffee in the world-so creamy and thick it seems surreal.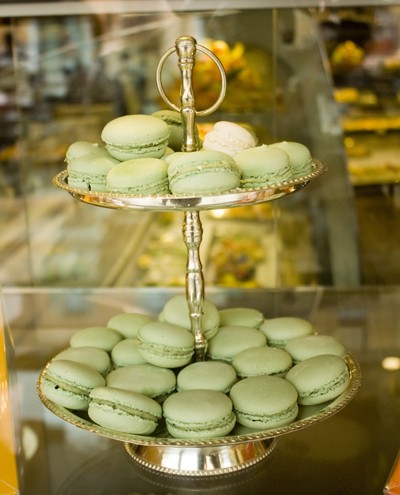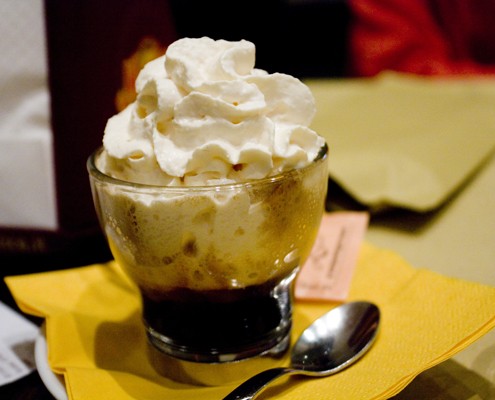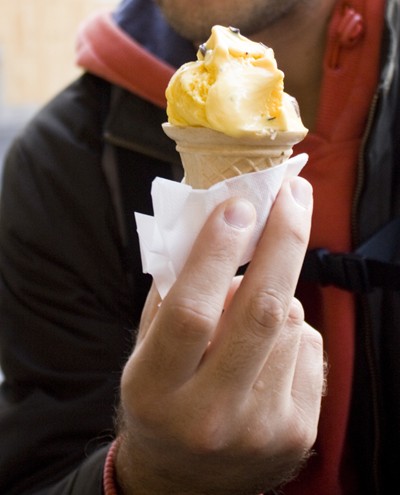 The next morning the alarm rings at 7 a.m. We are off to an early start, there is so much to see in the Tuscan capital, Florence.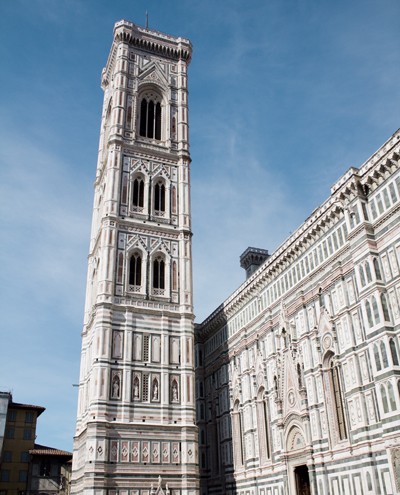 There is so much to say and write about this city, but the best is to see it with your own eyes… I tried to bring it as close to you as I could through the photos. Florence truly is a gem, cultural capital of Europe, a place where history has the biggest value, where people are proud of their heritage and try really hard to preserve it, a place where human masterpieces come to life, the birthplace of Renaissance.  A city where many glorious names lived and created: Michelangelo, Dante Alighieri, Petrarca, Medici family, Boccaccio, Botticelli, Galileo Galilei etc.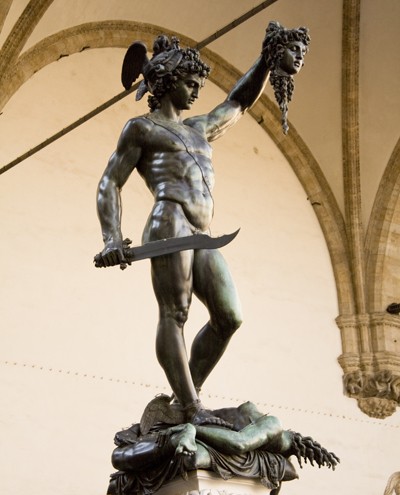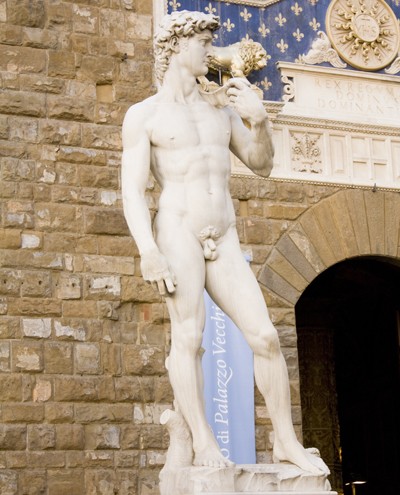 We start our tour at Ponte Vecchio, a Medieval arch bridge that has a romantic look and feel to it, over the Arno river. Once occupied by butcher shops, today you can see jewellers, art dealers and souvenir shops along it. Unlike all other bridges in Florence, this was the only one undestroyed by Germans during World War II.
Florence is not a huge city of wide streets and squares, it is a city of playful architecture, narrow alleys, stone blocks that hide and reveal the beauties one step after another. A 5 minute walk gets us to Santa Croce cathedral, which keeps mausoleums of famous names like Dante, Galileo, Michelangelo. Dante's statue greets us there and our feet keep going towards the Piazza della Signoria, where we meet with sculptural masterpieces like replica of Michelangelo's David, Cellini's Perseus with Medusa's head in his hand, the Fountain of Neptune. A large procession marches through the square, under the keen eye of numerous tourists and attentive eye of the Italian police-carabinieri. Some on motorcycles, some on horses. The number of tourists is unbelievable and this is so during the entire year. They come here to see and witness the peak of human knowledge and creativity. The locals try hard to get through the sea of tourists on their motorcycles and bicycles and they do so with utter patience. I guess they are used to these crowds.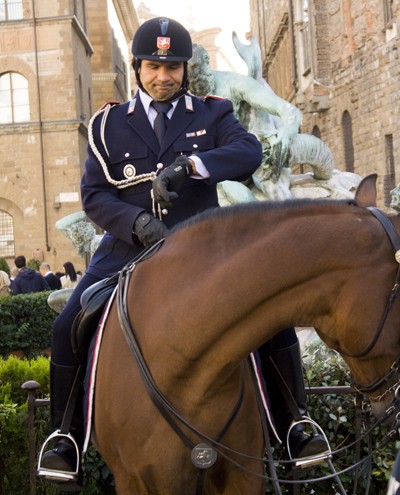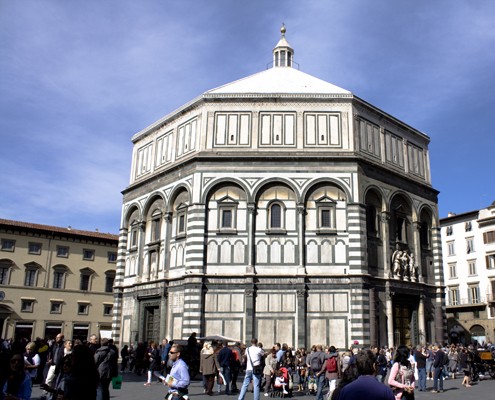 We soon walk to the Piazza Vecchio, pass the Ufizzi Galery (one of the oldest museums in the world) and to the huge Florence cathedral Duomo. It is most famous by its dome engineered by Filippo Brunelleschi. The cathedral's baptistery has beautiful bronze doors. The east pair of doors are a major tourist attraction and are called "the Gates of Paradise". If you like to photograph, you will feel like you won the lottery once you come to Florence.
Local artists sell their work on every corner and every square. Foreign immigrants sell pictures and run after groups of tourists, offering them goods at very high prices, which you then negotiate and lower. On the streets you can see clothes shops, exclusive and expensive ones, the ones that offer more acceptable prices and the ones that sell fake bags and clothes, all kinds. But be careful about the time: Italians like to take the afternoon off and have a break, so they close shops for several hours and reopen at about 5 p.m. On Sundays, the shops are closed.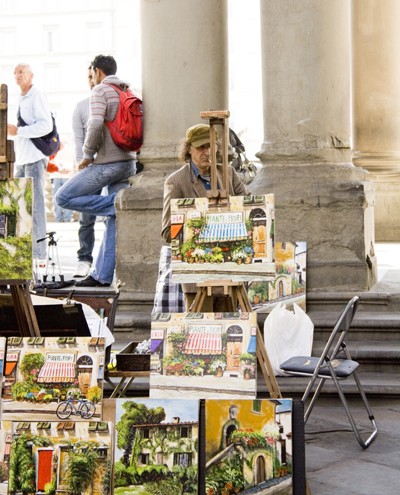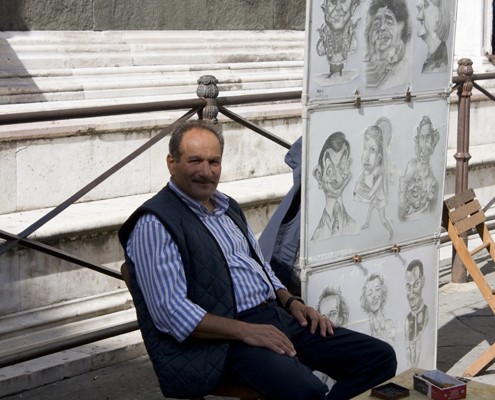 We soon arrive to Dante Allighieri's house. In front of it, a man dressed as Dante himself recites his Divine Comedy. The book stands in front of him and people can choose any sentence, any passage which he then recites. He knows it all by heart. When he's done reciting, he is awarded by some cents or euros you put into his hat on the floor. Near Dante's house is the church where he met his love Beatrice, who inspired his work.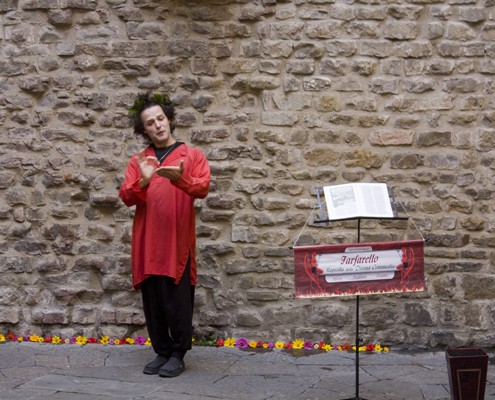 We take another walk to the local market San Lorenzo.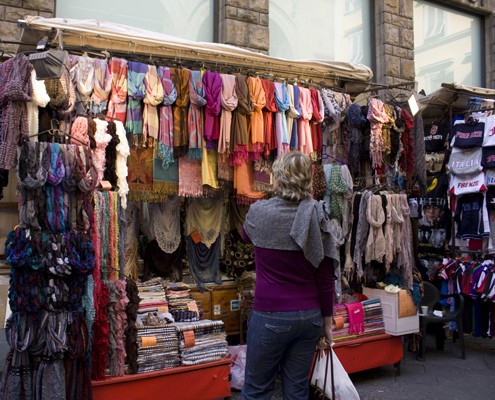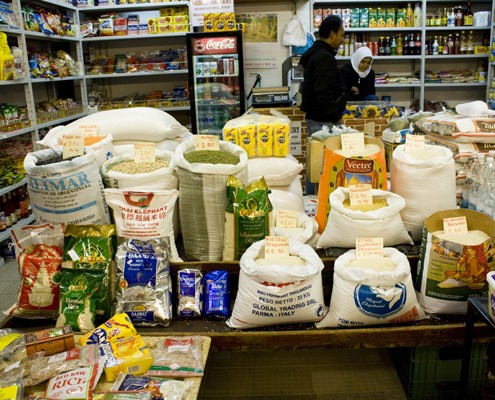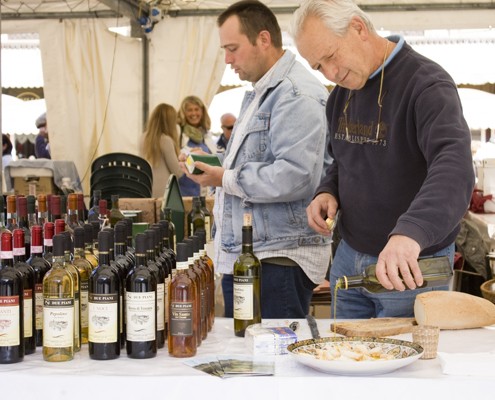 I have to admit it's a bit like you're in Chinatown (smile). Chinese people everywhere,selling local goods. But you will encounter some born and bred Italians selling all sorts of cheese and beautiful wines. The market is great, the product offer so vast you really find yourself in a dilemma. What to choose, what to buy. I ended up with some Parmigiano Reggiano, balsamic vinegar cream, chocolate almond cantuccini, vin santo (a wine liqueur), sweet red wine Lambrusco, blends of different Tuscan spices, blocks of chocolate, chocolate covered arancini. I truly enjoyed this experience. You can taste different cheese, wines and many other local products before buying them.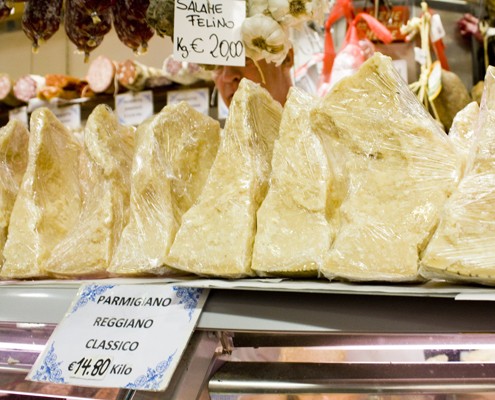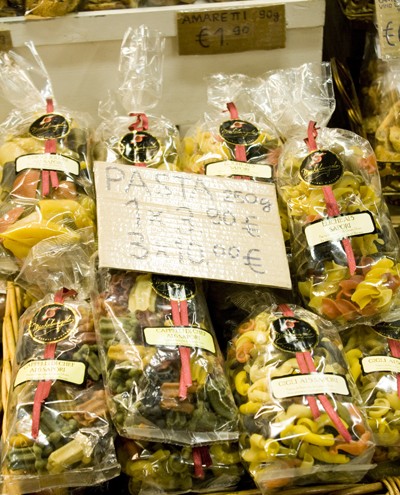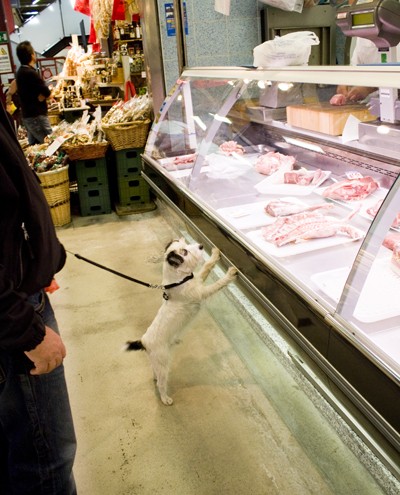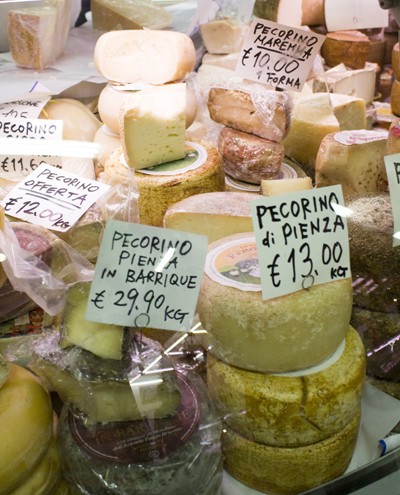 Now comes the time to take a break. You eventually get tired of all the walking and shopping (smile).We sit for a meal in one of the local bistros in the heart of Florence and order pizza, pasta with pesto genovese and lasagne. I must say that the food there is pricey and not so great. Honestly, I ate much better pizza, pasta and lasagne in my hometown in Croatia. This is something I was warned about: restaurants in the centre attract tourists because of their location and marketing, but they offer food of mediocre quality and too high prices. For the real Tuscan meal you have to find something not so tourist-oriented, like houses in surrounding villages that offer authentic cuisine and wine tasting. Unfortunately, we didn't have this planned nor had enough time for it.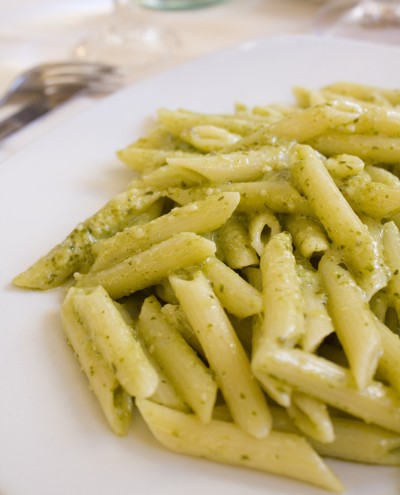 But I gotta tell you, a cup of coffee after such a meal makes everything better and shinier. If there's one thing that the Italians mastered, then it's the coffee. I thought I had tried the best one the day before in Bologna, but then I thought the same for this one in Florence, and the same for the one in Pisa and Lucca the day after.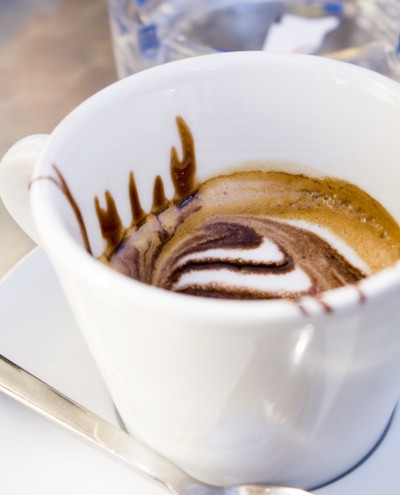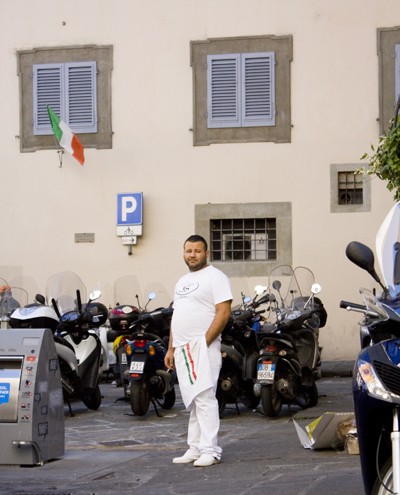 We still find some free time before the bus picks us up to visit Galileo's museum. We ask one of the locals for the directions and eventually figure out the way. Italians mostly don't speak English at all, or speak very little of it, they generally don't care about the language. But it is said that they speak the language of passion and love. One of my food blogger friends (and fellow Honest Cooker) is Giulia from Jul's kitchen, who lives in Tuscany and judging by her beautiful blog and impeccable English, you don't get the feel that Italians speak poor English. Of course, we cannot generalize, but I was somewhat surprised when I got there. I thought everyone spoke great English like Giulia (smile). Unfortunately, by the time we get to the museum, it is already closed. Oh well, next time, I guess. We will be back, we touched Il Porcellino, the statue of a pig that is said to bring luck to the ones who touch it and it brings you back to Florence some day.
In the end, we make a stop at Piazzale Michelangelo, the famous square with a magnificent panoramic view of Florence. If you get there at sunset, you'll feel particularly romantic.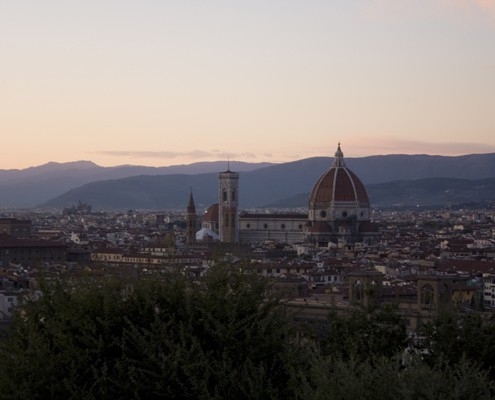 I'll be back soon with the rest of Tuscany's delights!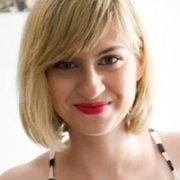 Tamara Novakoviç
Tamara Novakovic is a passionate self-taught cook, food blogger, freelance food writer and photographer behind bite-my-cake.blogspot.com. Her life journey has led her through Faculty of Humanities in Zagreb, Croatia to discovering passion for making cakes. She is currently a weekly food columnist for Croatian newspaper V magazine and food magazine Repete.