Mussels and Fennel Cooked in White Wine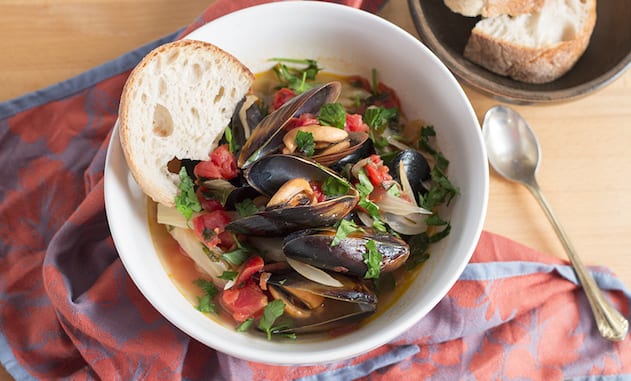 Mussels are simple to steam in a flavorful broth and enjoy with a few vegetables and a crusty loaf of bread to soak it all up.
By Rebekah Hubbard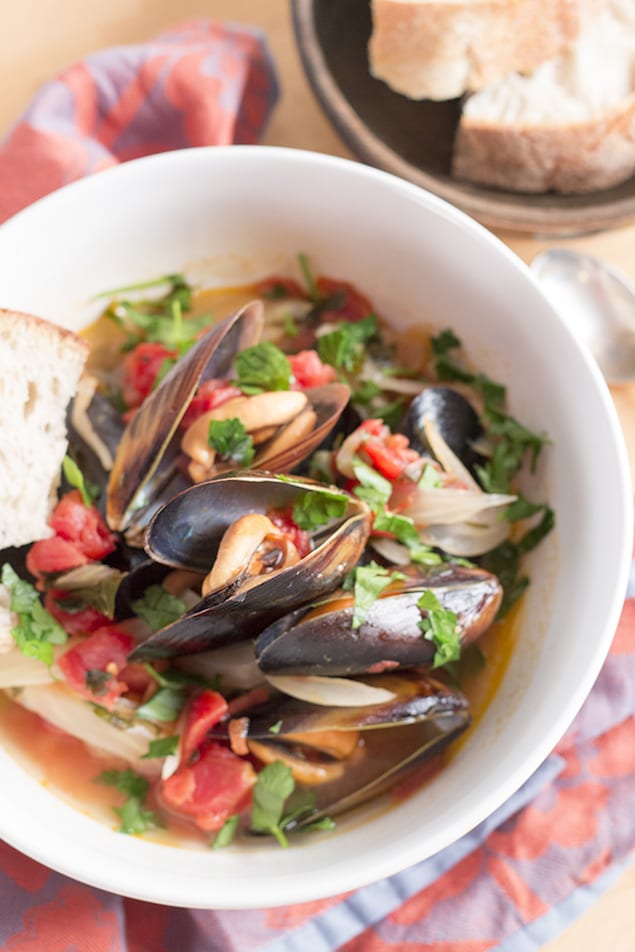 Seafood can be daunting to cook at home. It's mysterious. It's uh… fragrant. It's sometimes a little more pricey. But the best part is that most seafood does best with really simple preparations.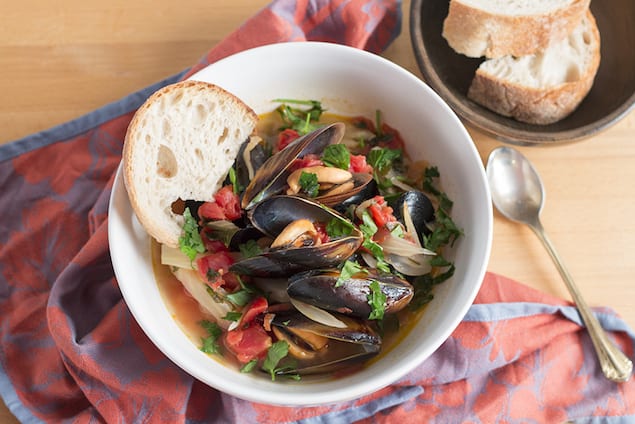 See Also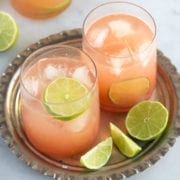 These beautiful things were another Lenten dinner for us. They are simple to steam in a flavorful broth and are great to serve with a crusty bread.

Mussels and Fennel Cooked in White Wine
Mussels are simple to steam in a flavorful broth and enjoy with a few vegetables and a crusty loaf of bread to soak it all up.
Ingredients
1.5 lbs. mussels
⅓ cup flour
2 Tbsp. oil
1 small fennel bulb, thinly sliced
3 cloves garlic
1 can crushed tomatoes, drained (the regular size – 16 oz I think?)
1 cup dry white wine
3 Tbsp. roughly chopped parsley
1 tsp. kosher salt
1 Tbsp. lemon juice
¼ tsp. red pepper flakes
Additional salt, freshly ground black pepper and more parsley for topping
Bread for dipping
Instructions
To begin, place mussels in 3-4 quarts of cold water with the flour. Allow to soak for 30 minutes. After 30 minutes, discard their "beards" (pull off with your hands) and discard any mussels that haven't closed up tight.
Heat the oil in a Dutch Oven or large saucepan. Cook the fennel and garlic for about five minutes, then add the tomatoes, wine, parsley, salt and lemon juice. Bring to a boil, then add the mussels to the pot and stir. Turn the heat to medium (or, a light simmer) and cover, cooking for about 10 minutes. Discard any mussels that haven't opened back up.
Serve in bowls, making sure to get plenty of broth and veggies in each along with the mussels. Sprinkle with red pepper flakes and any additional toppings desired.
Rebekah Hubbard
I'm the writer and photographer at PDXfoodlove.com. I love living in Portland, Oregon and the lifestyle in the beautiful Pacific Northwest.