Sponsored Post: We've teamed up with Farm Promise to bring you versatile recipes featuring their wholesome, delicious pork raised to not only sustain us, but the land too.
This is an easy to prepare and flavorful dish that combines boneless pork chops, white wine, garlic, herbs and cream. It can be ready in as little as 30 minutes.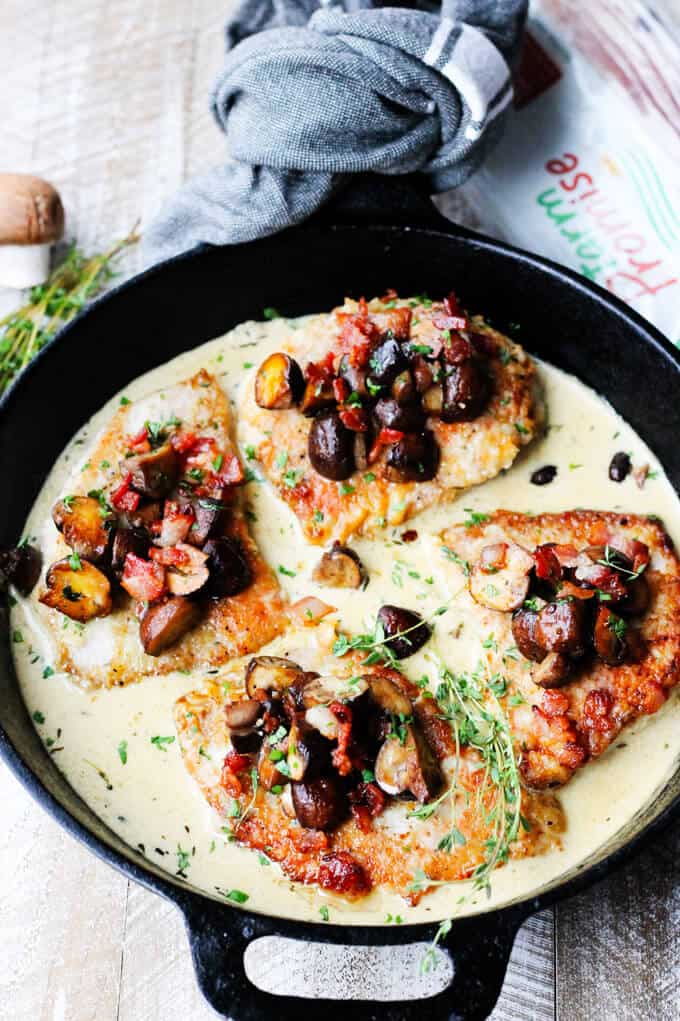 When I was growing up back in Poland pork was a staple of my diet. In fact, I think that pork is the most popular type of meat in Poland. Every Sunday, you'd hear the chorus of moms banging their pork cutlets in the kitchen to tenderize it for breaded cutlets.
This was the most popular way of preparing pork for kids. This seemed to be a win for moms and kids alike. Reason being, because they're delicious and nutritious – lean protein is an excellent protein choice for a balance diet that every kid (and adult for that matter) needs.
As an adult I've expended my appreciation of pork beyond just breaded cutlets. Yet, because of this love for breaded pork cutlets I've developed a special relationship with pork chops. And it's because of this reason that I've decided to use boneless pork chops in this amazing recipe for pork chops in white wine cream sauce.
You'll see, the addition of sautéed mushrooms and bacon bits really elevate this dish. These sautéed mushrooms reminds me of the ones my mom used to make. And bacon…let's be frank here, everything tastes better with bacon.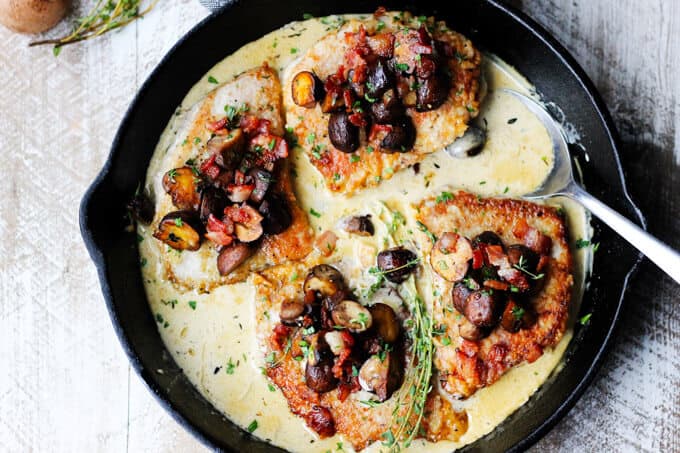 The only thing I really struggled with when moved to New York, was finding good quality pork. It's because of this very reason that I ended up not making pork dishes as often as I'd like to. That's why I was so excited when I was turned on to Farm Promise in my local ShopRite.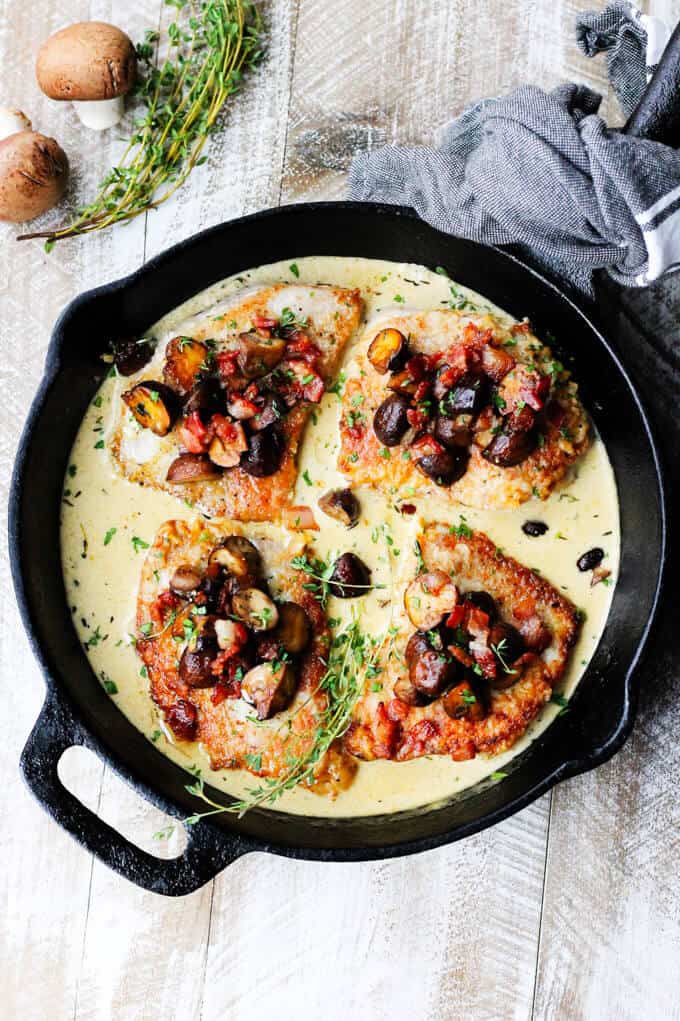 There are actually a couple of reasons why I wanted to use Farm Promise pork for my recipe; and here they are:
Farm Promise pork is humanely raised by family farmers in Pennsylvania; no gestation crates, no growth promotants or hormones and fed a vegetarian diet;
Farm Promise is committed to providing wholesome quality pork while carefully safeguarding and sustaining both the land and livestock;
Farm Promise makes cleaner food accessible (at local ShopRite) and affordable (talking about "awesome"!)
All the pork is born, raised and harvested here in U.S.A.
And last but not least, it tastes super delicious.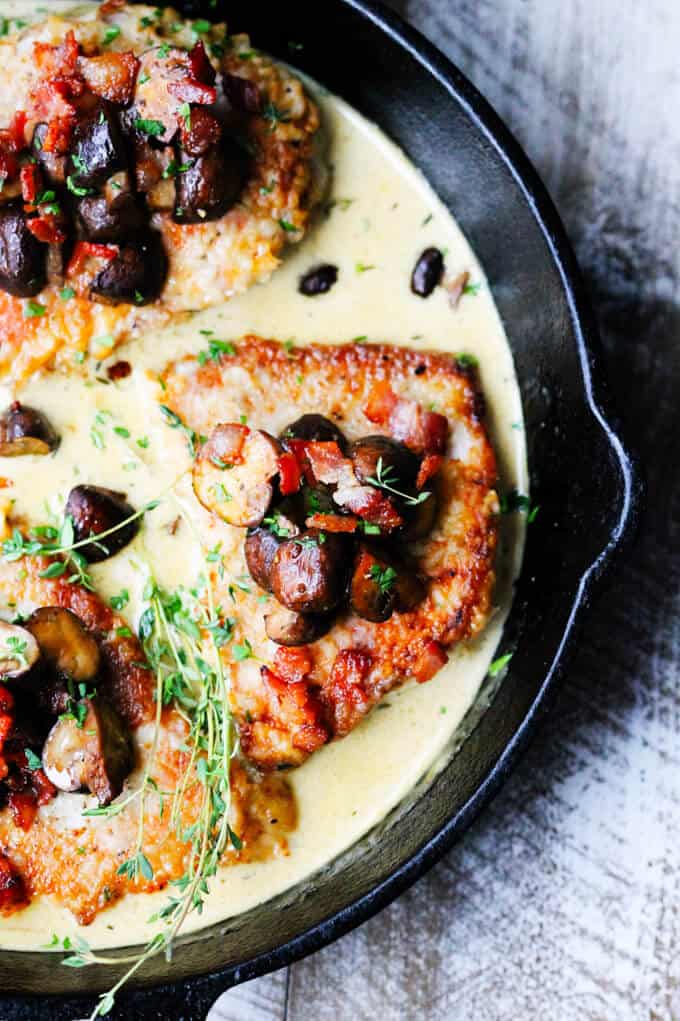 I prefer bone-in pork chops for dishes from the grill or simple chops with the glaze, but I prefer boneless pork chops for dishes using a sauce. This white wine cream sauce is so decadent and delicious that you'll just want to slice through your succulent meat and smother it in this sauce. That's why Farm Promise Boneless Pork Chops are perfect for this dish.
The next question you may ask is which ones are better for this recipe: thin or thick cut boneless pork chops? Pork cooks very quickly; therefore I prefer a thick cut for this recipe.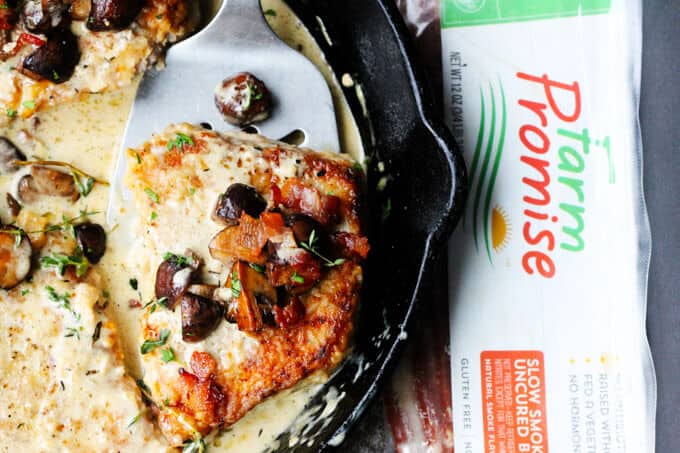 Here is my secret to perfect, tender and juicy pork every time: BRINE IT. I use simple solution of 3 tablespoon of kosher salt + 3 cups of water and then I brine it for at least half hour. You can prepare the brine even 4 hours before cooking but a half hour is a must.
Here's how I prepare my brine. I boil the water and dissolve the salt into 1 cup of hot water, and then I add ice cubes to cool it off. Once the ice cubs are dissolved I then add the remaining water and mix it. Then I put my chops into a large Ziploc bag and pour the brine over them. Then zip it and place the whole bag into a big bowl. If you do this half hour before cooking your pork chops, then just leave it on your counter. You don't want your meat to be super cold when you start cooking it.
If however, you're brining your meat for couple of hours, then use your fridge to ensure your meat stays fresh and then take the bowl out of the fridge a half hour before cooking.
I used quick dissolving flour to coat my pork chops, because I like the crust it creates. But you have the option here to either use an all-purpose flour or make it gluten free and skip the flour all together.
You'll then want to sear your pork chops on a medium high heat for about 4 minutes on the first side until it's golden brown, then flip it and cook for additional 3 minutes. Then you remove those chops out, as they will finish cooking in the sauce at the end of the process. The objective here is to make sure that your pork chops internal temperature is at 145F when done.
This white wine cream sauce is out of this world delicious! You're using the same pan as you seared your chops in, so the flavor is already there. Aromatics like garlic and dried thyme add the complexity to this humble sauce. White wine will deglazes your pan and cream will brings it all together.
If you don't want to or can't use wine, you can still make this recipe. Instead juice half a lemon and add half a cup of chicken stock. (I wouldn't recommend this wine substitute for drinking purposes).
If you'd like to lighten up this recipe, use half and half instead of heavy cream. Should your sauce be thinner, then you can mix 1 tablespoon of flour with some water and add it to the sauce to thicken it up.
If you want to make this recipe, head over to your local ShopRite and purchase Farm Promise Pork Chops and Slow Smoked Applewood Uncured Bacon and then you'll be one step closer to this awesome Pork Chops in White Wine Cream Sauce. Enjoy!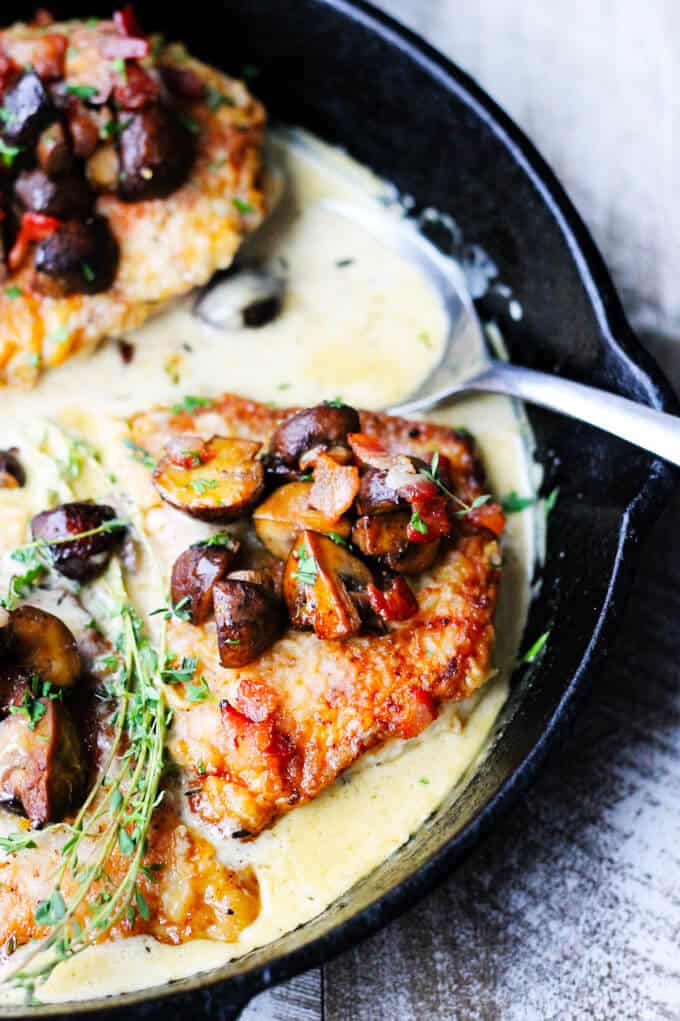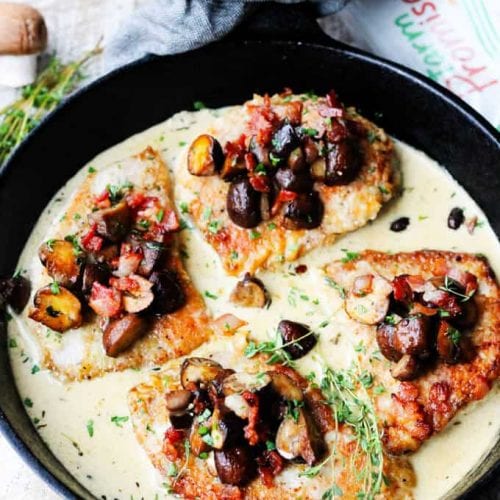 Mushrooms, Bacon and Pork Chops in a White Wine Cream Sauce
Edyta Hannas
Ingredients
4

Farm Promise Boneless 8 ounce Cut Pork Chops;

2

cups

Baby Bella Mushrooms cut in half or quarters;

2

slices

Farm Promise Slow Smoked Applewood Uncured Bacon

cut in little pieces;

1/4

cup

Quick dissolving flour or all-purpose flour

1/2

cup

White wine

dry

1

cup

Heavy Cream

3

cloves

Garlic minced

1/2

teaspoon

Dried thyme

you can use up to 1 teaspoon

1

tbsp

Butter or Ghee to sauté the mushrooms;

2

tbsp

Ghee or Cooking oil to sear the pork chops

1

teaspoon

Fresh chopped thyme + few springs

Salt & Pepper to taste
BRINE
3

tbsp

Kosher Salt

3

cups

Water
Instructions
Dissolve salt into water and bring to room temperature; add pork chops and brine for at least half-hour. If brining for more time, place chops in brine and then into a refrigerator. Take out from the fridge a half hour before cooking.

While your meat is brining, cut up bacon and add it to a clean pan on a low heat; cook until crispy for about 5 minutes; set aside;

Wash, dry and cut your mushrooms; heat up butter or ghee and then add your mushrooms. Do not add salt and do not move the mushrooms for about 5 minutes, in order to get a nice sear; after that, mix the mushrooms and add salt and pepper and then cook for another 2-3 minutes; remove from the pan.

Add more ghee or cooking oil to the pan; season your pork chops with salt and pepper on both sides; cover in flour and add to hot pan. Sear pork chops undisturbed for 4 minutes on first side and then 3 minutes on the other side; remove from the pan, set aside and cover with foil;

Add garlic and dried thyme to the pan and cook for a minute until garlic is fragrant but not burned; add wine and deglaze the pan; cook for about 2 minutes until reduced by half;

Add cream, mix and let cook for 2 minutes; then add salt and pepper to taste;

Finally add your pork chops back to the pan and cook for 2-3 minutes until internal temperature is 145F;

Top your pork chops with mushrooms and bacon and serve. Enjoy.
Edyta Hannas
Hi, I'm Edyta. I'm a recipe developer, photographer and the writer behind the Innocent Delight, a food blog of European and Mediterranean healthy and delicious recipes. I consider myself a home chef with a cultivated passion for amazing food.