Mushroom Lasagnette is a hearty, filling dish that's perfect for fall weather. Fill up and warm up with an Italian classic!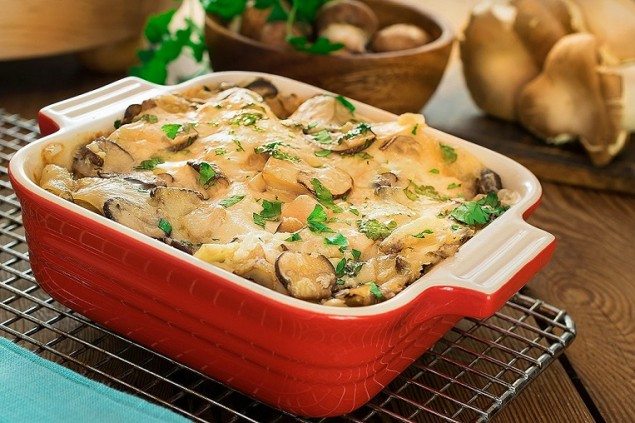 Just as there is no pepperoni on pizza in Italy, there is no ricotta cheese in lasagna either. The entire city of Bologna would riot if you brought them a lasagna with ricotta in it. They take their pastas extremely seriously and a besciamella sauce is the only sauce that is in a lasagna. With this recipe, instead of making the famous Lasagna Bolognese, that is filled with a meat ragù sauce, I made a mushroom besciamella that is every bit as rich and satisfying, but without the meat. The mushrooms are hearty, and the rich sauce with the fresh pasta is comforting. I love to serve these to my guests in individual-sized lasagna pans, Mushroom Lasagnette means "small lasagna", but the recipe is just as tasty served in a traditional pan.
Buon Appetito!
Francesco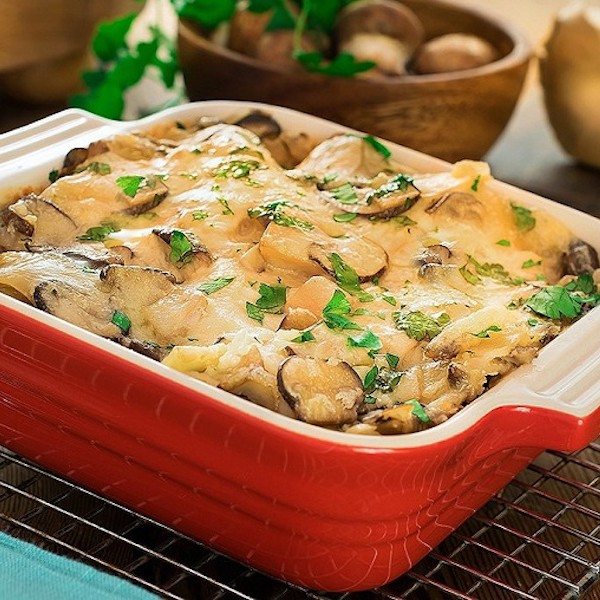 Francesco Romano
Ingredients
1

package of fresh pasta sheets

1

pound

cremini mushrooms thinly sliced

5

tablespoons

unsalted butter

1

cup

freshly grated mozzarella cheese

5

tablespoons

all purpose flour

3/4

cup

freshly grated Parmigiano-Reggiano

1

large shallot finely chopped

4 1/2

cups

milk

simmering (plus more if needed to thin out the sauce)

1/4

cup

fresh Italian parsley

finely chopped

Salt and pepper to taste
Instructions
For the Mushroom Besciamella Sauce
In a large non-stick skillet melt the butter over medium heat.

Add the shallots and sauté until soft.

Add the mushrooms and sauté until soft.

Add salt and pepper to taste.

Stir in the flour and incorporate with the mushrooms, cook for 2 minutes.

Gradually mix in the simmering milk and stir to combine.

Stir continuously, when the sauce is creamy and smooth, turn off the heat and add the Parmigiano-Reggiano.

Taste for salt and pepper, cover and set aside.
Assembling
Preheat oven to 350°F.

Layer each 6" x 6" individual lasagna pan, or a 9" x 12" baking pan with a ladle of mushroom besciamella sauce and add a first layer of pasta.

Spread another ladle of the mushroom besciamella sauce on top of the pasta.

Add 2 tablespoons of mozzarella on top of the sauce and sprinkle with 2 tablespoons of Parmigiano.

Repeat the steps twice.

Top with the remaining grated parmesan and besciamella sauce.

Bake at 350° uncovered for 35 minutes or until bubbling.

Remove from oven and let rest for 15 minutes covered with foil.

Sprinkle the top with the chopped parsley and serve warm.
Francesco Romano
Francesco Romano was born in Italy and has been living in America for 25 years. As he was growing up, he didn't realize how spoiled he was! He had two of the best chefs under one roof, his Grandmother Nonna Sara and his Mama Francesca, who made every meal from scratch and with love. As a kid, he would sit in the kitchen for hours while these women were hard at work, enjoying the smells, tasting when he was allowed to, and later being put to work to help make fresh pasta. It wasn't until he was a grown up, moved away from home, and later to America, that he understood how much of his heritage and family centered on food. It was always made from fresh seasonal ingredients and was a way of bringing the family together to savor, to bond and to enjoy. On his site you WILL find mouth-watering food that is fresh, easy and authentic Italian, straight from my Mama's kitchen to yours.