Wilson Mak travels to Hong Kong to be blown away by the Sichuan spicy chicken from celebrity chef Jacky Yu.
By Wilson Mak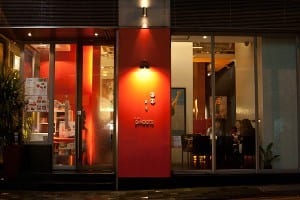 On my recent trip to Hong Kong , my friend introduced me to Xi Yan – a modern style Chinese restaurant run by HK Celebrity Chef : Jacky Yu. Xi Yan started as a private kitchen eleven years ago and currently has three other restaurants in Hong Kong and another private kitchen in Singapore. Chef Yu's private kitchen is one of the most difficult restaurants to reserve in Hong Kong. As I was introduced last minute by my friend, I didn't get to try his private kitchen. However, I did try out one of his restaurants during my visit : Xi Yan Sweets. One of his signature dishes that I tried really stuck in my mind : Chef Jacky Yu's modern rendition of mouth-watering Sichuan spicy chicken. In his Sichuan spicy chicken, he added roasted peanuts, century eggs and Shanghai's mung bean sheets which turned this classic Sichuan's dish into something new and interesting. The Cantonese century eggs compliment the spiciness while the Shanghainese mung bean sheet absorbs the delightful sauce to bring balance and texture. Just like what chef Yu mentioned in his book: "…Just by listening to or looking at all the ingredients used for this Sichuan's dish being mixed together will make your mouth water…"
His mouth-watering Sichuan Spicy Chicken dish was featured as a master chef signature dish at Bocuse d'Or in Lyon, France.
Xi Yan Sweets
Shop 1, G/F, 8 Wing Fung Street
Wanchai, Hong Kong
Ph: +852 2833-6299
Opening Hour : 12:00 – 11pm
www.xiyan.com.hk
I got two copies of his cookbooks and I recreated his recipe at home. Below is the recipe of his mouth-watering Sichuan spicy chicken. Enjoy !
See Also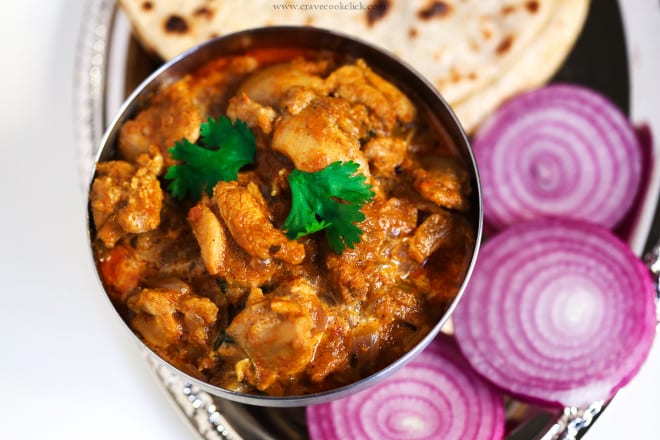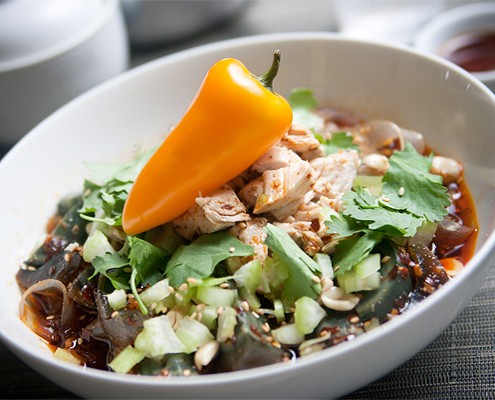 Recipe slightly modified from "Jacky Yu Xi Yan cuisine highlights"

Mouth-watering Sichuan Spicy Chicken
Modern rendition of Sichuan Spicy Chicken
Ingredients
1 chicken
3 century eggs ( preserved duck's eggs )
1 pack mung bean sheets
roasted sesame seeds
roasted peanuts
diced Chinese celery
few slices of ginger [ optional ]
3-4 stalks of green onion ( cut in half ) [ optional ]
Hot and Spicy Sauce
8 Tbsps ( 120 ml ) soy sauce
2½ Tbsps ( 37.5 ml ) Zhenjiang Vinegar
4 Tbsps ( 60 ml ) cold boiled water
2 Tbsps ( 30 gr ) sugar
1 tsp ( 5 gr ) ground Sichuan peppercorn
1 Tbsp ( 15 gr ) finely chopped ginger
1 Tbsp ( 15 gr ) finely chopped garlic
1 Tbsp ( 15 gr ) finely chopped Chinese parsley ( cilantro )
chili oil to taste
4 Tbsps ( 60 ml ) sesame oil
Instructions
Wash the chicken and blanch it in boiling water for 30 seconds. Removed immediately and soak in ice water for 1 minute. Return to the pot and bring to a boil. Turn the heat off at once, keep the lid on and leave the chicken to poach for another 45 minutes. Remove and leave to cool. ( Note: you can also throw in some slices of ginger and cut green onion in the boiling water to give extra flavor to the chicken ) Note : Do not overcook the chicken to keep the meat tender. The heat of the stove at each household is different so please regulate the boiling time
Dice century eggs. Cut mungbean sheets into strips and soak them in boiling water until transparent. Soak in iced water and drain.
Once the chicken is cooled, remove and shred the chicken meat and transfer to a deep dish.
Add the century eggs and the mungbean sheets into the dish.
Mix the hot and spicy sauce well and pour it into the deep dish along the rim. Add 4 tbsps of seasame oil and chili oil ( the amount of chili oil depends on personal preference )
Sprinkle sesame seeds, peanuts, and diced cilantro on top and serve.
Notes
If you want a stronger flavor, use more ground Sichuan peppercorn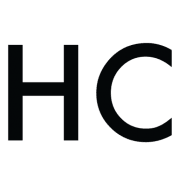 Wilson Mak
Wilson Mak is a Vancouver based food blogger, home cook and food photographer. His passion for food began at a young age and it was when he got his first digital camera that he started to document his foodie journey, sharing his experience with others through his blog La Petite Vancouver.