Moroccan-Spiced Carrot-Date Salad
This carrot salad is a bit of a surprise and nothing like the average picnic-staple carrot salad you might be more familiar with.
By Faith Gorsky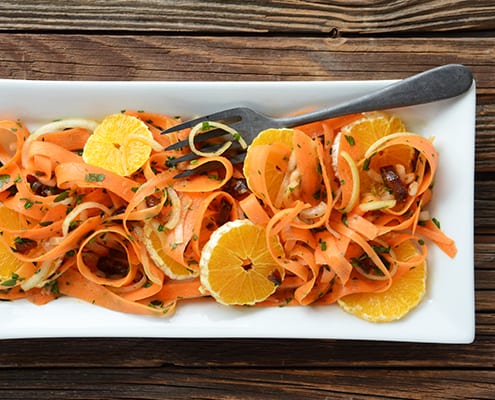 Where I live, we welcomed in April with snow flurries. We didn't get so much snow that any real amount accumulated, just enough so that a lovely light dusting graced the top of the streets and our lawns. For a single wistful fleeting moment, it made me long for winter to stay as I saw once again the beauty of newly fallen snow to cover up dirty streets and muddy grass that's been bereft of summer's sun and heat for far too long.
That was less than a week ago. For the past couple days and for the forecast for the rest of this week, temps are in the mid-60's. I have to say, I hope spring has sprung for good.
To help coax spring into staying, I've been getting my fill of fresh seasonal produce. Lighter fare is always welcome as days lengthen and warm. Asparagus has been on the menu twice in the past week, my fruit bowl has been perpetually full to the brim with citrus in a never-ending cycle of being enjoyed and replenished, and I can't wait for fresh fava beans to hit the market here. And I've been playing with carrot salad.
This carrot salad is a bit of a surprise and nothing like the average picnic-staple carrot salad you might be more familiar with. It boasts a citrusy Moroccan-spiced dressing, onion for a savory pungency, and sweet Medjool dates and navel oranges to add sweet balance. There is also raw garlic in the dressing, an ingredient that my Syrian mother-in-law very commonly adds to her salads. Its flavor shouldn't be overwhelming, but should just perfectly offset the sweet flavors of the fresh ripe produce.
Left to mingle for a couple hours, the flavors of this salad will marry. The carrots and onion will soften as the dressing seeps into the pores of everything. One look at it and you'll remember warmer, golden sunlight days. One bite and you'll be transported to far-off spice markets. And even if the weather does turn cold again, I have a feeling this dish will at least help to usher in spring at your table.

Moroccan-Spiced Carrot-Date Salad
This salad boasts a citrusy Moroccan-spiced dressing, onion for a savory pungency, and sweet Medjool dates and navel oranges to add sweet balance.
Ingredients
Salad:
1 lb (455 g; about 6 to 8 medium) carrots, scrubbed
30 g fresh flat leaf parsley, coarsely chopped (about ½ cup chopped)
1 medium white onion, halved and thinly sliced
4 medium Medjool dates, pitted, halved, and thinly sliced cross-wise
2 medium navel oranges, peeled and sliced cross-wise
Dressing:
3 tablespoons fresh lemon juice
3 tablespoons olive oil
2 medium cloves garlic, crushed using a mortar and pestle or grated on a microplane
½ teaspoon salt
½ teaspoon ground sweet paprika
¼ teaspoon ground coriander
¼ teaspoon ground black pepper
⅛ teaspoon ground cinnamon
Instructions
Use a vegetable peeler or mandolin to thinly slice the carrot into ribbons. Place the ribbons in a large bowl of ice water and let them sit until curled, about 15 to 20 minutes. Drain and pat dry.
Whisk together all ingredients for the dressing in a large bowl.
Add all salad ingredients to the bowl with the dressing and gently toss to combine.
Serve immediately (see note below).
Notes
To Make Ahead: You can make this salad up to a day ahead, just keep it refrigerated and hold off on adding the dates until right before you want to serve it. Note that the carrot and onion will soften the longer it sits.
Faith Gorsky
Faith Gorsky is the writer, recipe developer, photographer, and food stylist behind the blog An Edible Mosaic. Her recently-released first cookbook, An Edible Mosaic: Middle Eastern Fare with Extraordinary Flair (Tuttle Publishing), is a collection of authentic Middle Eastern recipes handed down to her from her husband's family during her extensive time spent in the Middle East. Faith loves to travel, especially to places steeped in rich culture and history.