A little sweet, a little spicy, and lots of color. These carrots are a beautiful side dish for any gathering.
By Vicky Cohen & Ruth Fox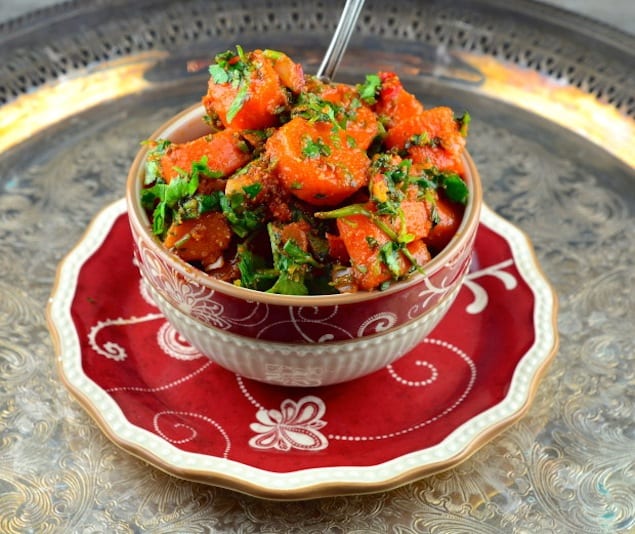 If you're anything like us, the Holidays (no matter which one) are never a simple affair. For us, they always means lots of people and, of course, tons of food.
As much as we try to make everything from scratch most of the time, often things get so hectic and crazy that shortcuts are definitely needed. In those cases, we always try to go for high quality, good tasting products. And Sabra is one of our go to brands.
With a huge selection of salads, dips and hummus, Sabra will make entertaining super easy on any occasion. You can serve them right out of the container, or use them as an ingredient, like we did here!
We put a twist on our traditional Moroccan Carrot Salad by adding Sabra Turkish Salad to the dressing. And the result as just delicious. A little sweet, a little spicy. Packed with flavor and vibrant colors.

Moroccan Carrots
A little sweet, a little spicy, and lots of color. These carrots are a beautiful side dish for any gathering.
Author:
Vicky Cohen & Ruth Fox
Ingredients
4 large carrots sliced
4 cups water
2 whole garlic cloves
1 teaspoon salt
2 tablespoons fresh squeezed lemon juice
½ teaspoon ground cumin DRESSING
3 tablespoons turkish salad DRESSING
¼ teaspoon salt DRESSING
1 tablespoon extra virgin olive oil DRESSING
2 tablespoons fresh squeezed lemon juice DRESSING
½ cup chopped fresh cilantro or parsley
Instructions
In a small pot add water, 2 tbsp lemon juice, 1 tsp salt and 2 garlic cloves.
Bring water to a boil
Add carrots, cook for 10-12 minutes or until carrots are tender.
While carrots cook, prepare dressing by mixing 3 tbsp Sabra turkish salad, 2 tbsp lemon, ½ tsp salt, ½ tsp cumin and 1 tbsp olive oil. Mix well
When carrots are ready drain water and discard garlic cloves. Do not rinse carrots.
While carrots are hot add dressing mix well and refrigerate.
Before serving add Fresh cilantro or parsley.
Vicky Cohen and Ruth Fox
We are two sisters born and raised in Barcelona, Spain, with Sephardic and Middle Eastern roots. We grew up eating the best, most flavorful, comforting home-cooked meals prepared by our mom, who taught us everything we know about cooking. When we moved here to the U.S. we felt it was really important to keep our traditions and background alive, and we've done so by sharing it with everyone we've met throughout the years. After all, what better way to make new friends and share our love and culture than through food, right? Our friends have come to enjoy our food and gatherings so much that are always asking us for our recipes. That inspired us to start a cooking blog called "May I have that recipe" where we share recipes we've created inspired by our multicultural background.