Cold winters and snowy weather do not keep the people of Montreal from taking to the streets to enjoy great art, music, and activities all with delicious food to accompany during the Montréal en Lumière festival.
By Annelise McAuliffe
Image by Annelise McAuliffe at XO Le Restaurant, Chef : Julien Robillard
The city of Montreal is scattered with a variety of innovative chefs and classic restaurants that together create an amazing food scene to satisfy any avid eater. For nine days in February, these same kitchen masters join with guest chefs to be a part of the fabulous Montréal en Lumière festival. With over 200 activities in districts throughout the city, the 2015 festival celebrated the cuisines of Montreal, Washington DC, and Switzerland during its 16th edition.
From special dinners ranging from art-inspired menus to a Pinot Noir paired meal where guests interacted with sommeliers to pick their favorite match, people have a chance to try restaurants around the city in a whole new and exciting way. Likewise, guest chefs from the featured regions serve up their local specialties, including an evening of Swiss fondue. The Université du Québec à Montréal offers talks and conferences highlighting important food topics and the science behind what we eat. This year, one favorite talk included a discussion by scientists and chefs concerning the oils we use in cooking and how they alter the flavor and nutrition of dishes.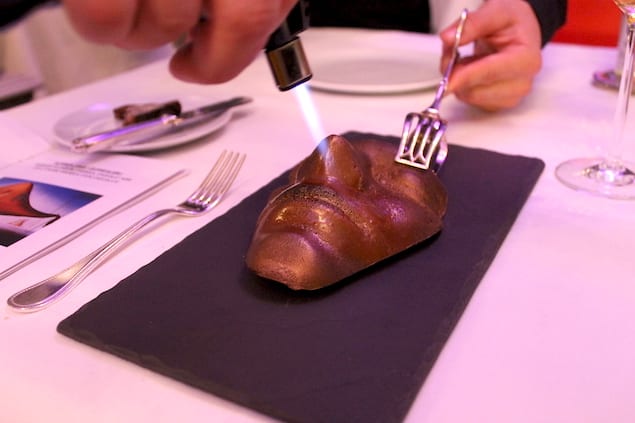 Image by Annelise McAuliffe at XO Le Restaurant, Chef : Julien Robillard
The main highlight of the festival, Nuit Blanche, or "sleepless night", gathers the young and old of Montreal for an entire night on the town complete with free activities, art, music, theatrical performers, and plenty of food. Open until as late as 4am, galleries and restaurants invite festival goers to explore new places of their city for little to no cost. At the center of the festival the MAC, or Musée d'art Contemporain, passes out mulled wine and hot beverages to warm the crowds as they enjoy the eventful night. People are able to roast sausages in fire pits all over the square as they watch musical performers on the outdoor stage, marvel at people as they zip line overhead or whiz by on the snow slide.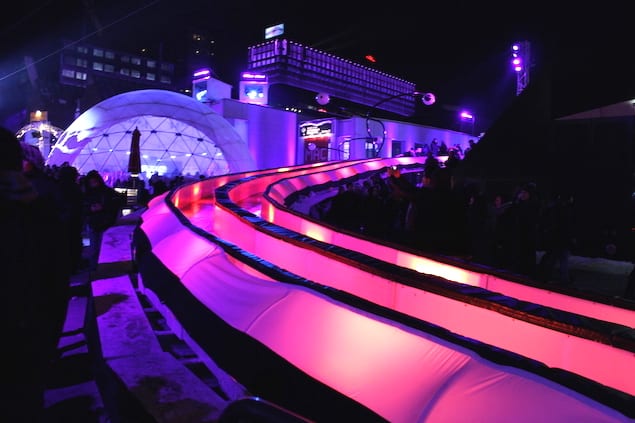 Popup booths around the square house delicious foods from restaurants that serve until the early morning to keep you fueled as you try out as many of the activities as you can. Cookbook lovers have the chance to explore a variety of inspiring culinary literature at Salon du Livre Gourmand, including some rare finds. For a bit of competition, people head a few blocks from the center of the festival to Accords Le Bistro for gourmet hot dogs, also called "Snob-Dogs", and a restaurant full of games. Beer lovers continue further north in the night to La Cuvée d'Hiver to discover the work of Montreal's microbreweries plus interesting whiskies and spirits all to the tune of live music. Cap off your night with one final drink and a stroll through the Belgo Building. The old commercial structure now houses a variety of dynamic art galleries and studios that is always sure to be an interesting way to conclude a Nuit Blanche.
Ignore the temperatures and head to Montreal in the winter not only for delicious poutine, smoked meat, and bagels, but also for an innovative twist on the classics as chefs and artists celebrate the Montréal en Lumière.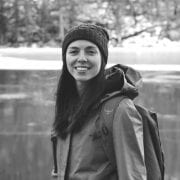 Annelise McAuliffe
Mandatory family outings to the Detroit farmers' market and nightly home-cooked meals cultivated Annelise's respect and curiosity for food. A graduate of The Culinary Institute of America, she spends her free time in New York City recipe testing, eating breakfast all day, and dreaming up international culinary adventures.