Mom's Pickled Red Chili Peppers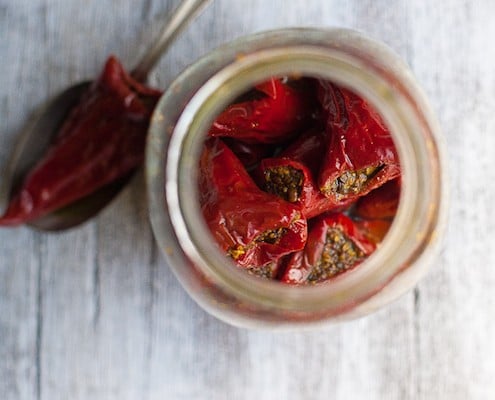 Prerna Singh is finally – after six years of trial and error – able to make her mom's pickled red chili peppers.
By Prerna Singh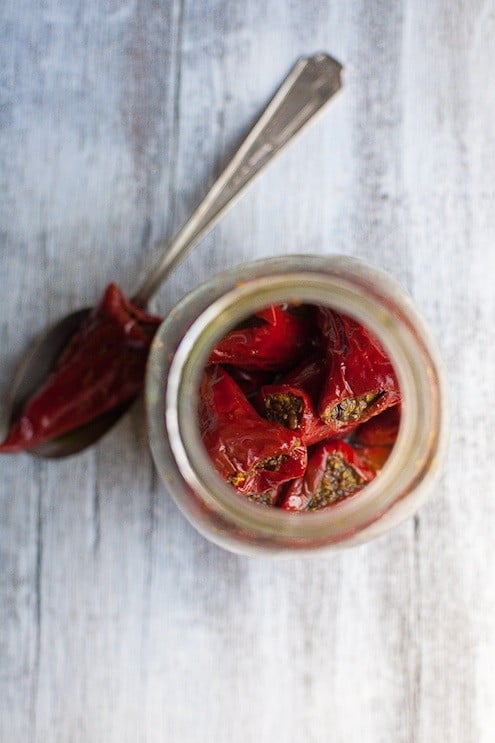 This is one of those recipes that no one can ever make better than my mom and I had always wanted to try. Sometimes I couldn't find the right peppers, sometimes the weather was not right and sometimes after all the pain they just won;t come out right. This time everything fell into place and I was finally after six years of trial and error was able to make my mom's pickled red chili peppers.
Pickled Red Chili Peppers
This time everything fell into place and Prerna Singh was finally - after six years of trial and error able to make her mom's pickled red chili peppers.
Ingredients
About 45-50 medium sized red chili peppers
1 tsp cumin seeds
2 tsp fenugreek seeds
1 tsp Nigella
50 grms fennel seeds (approx. 2 oz)
50 grms coriander seeds (approx. 2 oz)
50 grms mustard seeds (approx. 2 oz)
50 grms Aamchur (dried mango powder) (approx. 2 oz)
200grms Salt (approx. 7 oz)
8 oz virgin mustard oil.
Instructions
Thoroughly clean the peppers with water, pat dry them, spread it on a baking sheet or something similar and lay it out in open sun to dehydrate a little. 4-5 hours of nice hot sun or an hour in the oven at 170 deg. F should be just right. You just want the outer skin just to get a few wrinkles.
Clean the jars you are going to use for canning and let them air dry as well.
In a pan roast fennel seeds, cumin, fenugreek seeds and nigella over medium high heat just for 3-5 minutes until begin to smell the spices. Turn of the heat, set it aside and let it cool.
Coarsely grind all the spices mix it with half (around 4 oz) of oil.
To fill the peppers you can do it in two ways, either make a long slit lengthwise and fill it with the spices or chop the head off, take out the seeds from inside and then fill it with the prepared spices. I do the latter and I also mix the seeds I take out from inside of the peppers into the spice mix and fill it into the peppers.
After filling the pepers you can either dip each pepper in oil and then place it in the jar or fill the jar with the stuffed peppers and then pour oil over it.
Airtight the jars and store in cool, dry place.
Every couple days shake the jars a little so the oil slowly coats all the peppers.
You can dig into the pickles in a couple weeks time but ideal would be to open the jars not before at least a month.
Prerna Singh
Prerna is a food writer and photographer who contributes to sites like Menuism and WFAEeats (NPR Charlotte). With a goal of making Indian cuisine approachable, she created Indian Simmer, a blog nominated for 2011 Best Food Blogs by Saveur Magazine.