Molasses-Ginger Waffles topped with Roasted Pears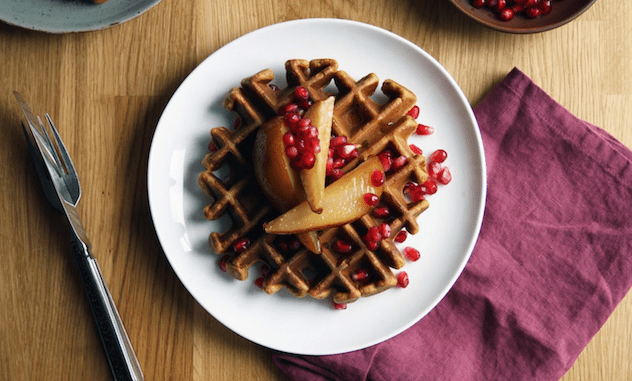 Ideal for a cozy winter morning, these waffles are packed with warm spices and are made even better with the addition of tart pomegranate seeds.
By Shelley Ludman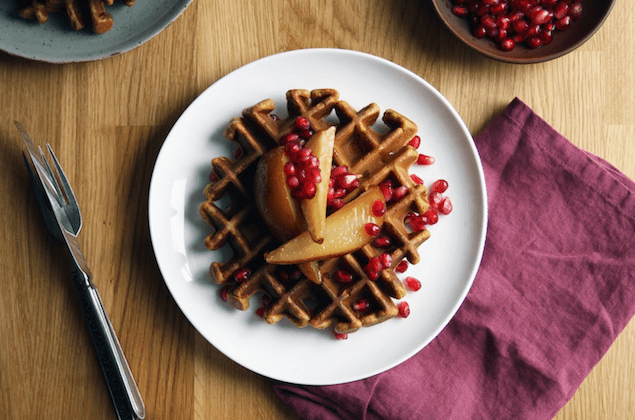 Packed with molasses and warm seasonal spices, then topped with roasted fruit and a sprinkling of festive pomegranates, these are a perfect for a January breakfast, or any other cozy winter morning really.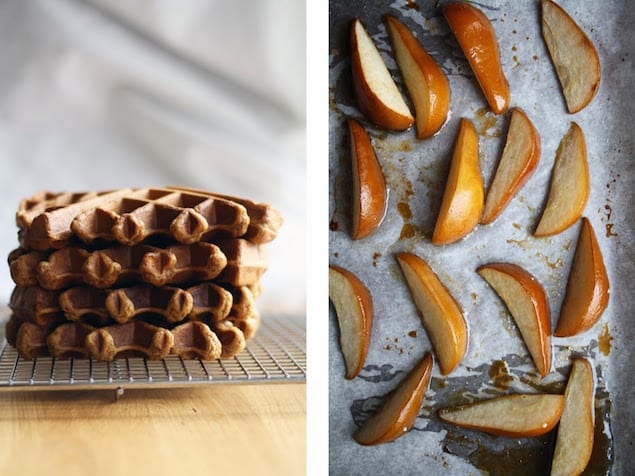 See Also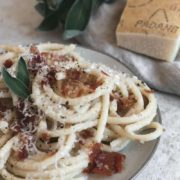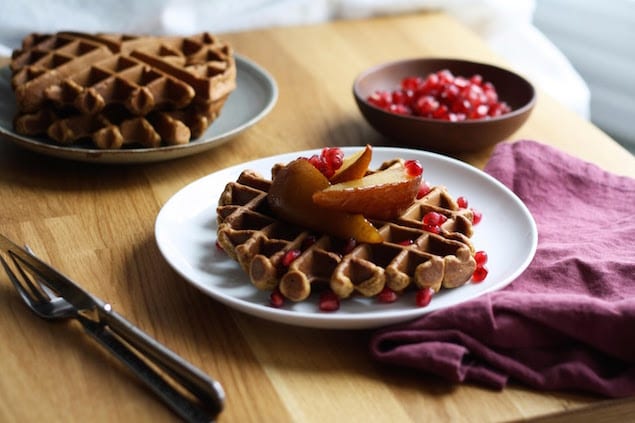 Molasses-Ginger Waffles topped with Roasted Pears
Ideal for a cozy winter morning, these waffles are packed with warm spices and are made even better with the addition of tart pomegranate seeds. Topping adapted from With Food + Love.
Ingredients
Waffles
¾ cup white flour
¼ cup spelt flour
¼ cup + 1 T brown sugar
½ T baking powder
1 tsp cinnamon
1 tsp ground ginger
¼ cup plain greek yogurt
1 egg
1 cup nut milk
2 T molasses
1 T canola or grapeseed oil
Roasted pears
2 pears, halved and cored
1 T coconut oil, melted
3 T maple syrup
½ tsp vanilla extract
Topping
seeds from half a pomegranate
extra maple syrup, for serving
Instructions
Start by preparing the roasted pears. Preheat the oven to 375 and line a baking sheet with parchment paper.
Combine the coconut oil, maple syrup and vanilla in a medium size bowl. Slice each pear half into roughly 4 slices and gently toss in the syrup, evenly coating each piece.
Lay the pieces skin side down onto the parchment paper. Roast for 5 minutes. Flip the pieces so the flesh is now facing down, and continue roasting for 10-15 minutes, until softened and lightly browned.
Now, onto the waffles.
Combine, and whisk the dry ingredients in medium size bowl. In a separate bowl, combine the wet ingredients. Pour the wet over the dry, and mix to incorporate, removing any lumps if need be.
Let the batter sit for 5 minutes while the waffle iron heats up. I use about ½ cup of batter per waffle.
Serve warm with 3-4 pear slices, a heaping spoon of pomegranate seeds, and a drizzle of maple syrup.
Shelley Ludman
Shelley is the voice and photographer behind the food and travel blog, Sevengrams. When not at her day job as an Architect in Toronto & Montreal, Shelley can be found cooking in her kitchen, strolling through the nearby market, or escaping on weekends with her boyfriend (aka the in-house taste tester).