Mojito Salmon with Peppers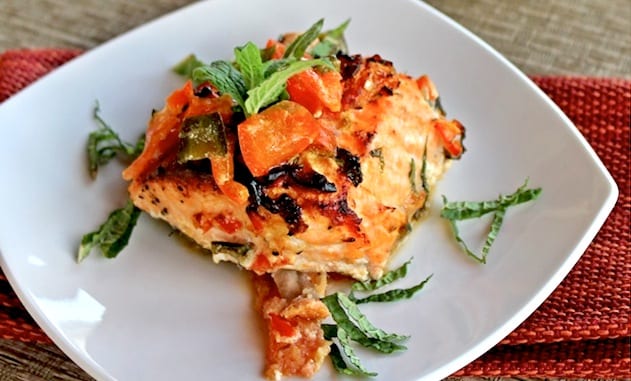 Based on the cocktail, the mojito salmon is doused in lime juice and sprinkled with a bit of rum and mint. To add a pop of flavor, three different peppers are used to marinate the seafood.
By Rinku Bhattacharya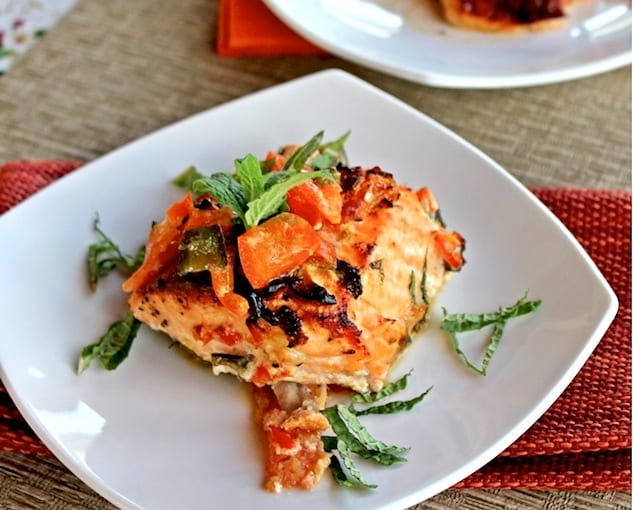 This recipe is sort of loosely based on the ingredients of the drink and what I think a Mojito gone savory would be like. It has rum and lime in fresh and generous proportions, and tasted delicious.

Mojito Salmon with Peppers
Based on the cocktail, the mojito salmon is doused in lime juice and sprinkled with a bit of rum and mint. To add a pop of flavor, three different peppers are used to marinate the seafood.
Author:
Rinku Bhattacharya
Ingredients
For the Marinade
⅓ cup rum
2 tablespoons coconut cream
6 pods of garlic, minced
1 jalapeno pepper, minced
1 teaspoon salt
2 poblano peppers, seeded and diced
1 red bell pepper, seeded and diced
2 shallots, finely diced
2 tablespoons cilantro minced
2 tablespoon mint, chopped
1 lime or lemon
2 tablespoon olive oil
To finish
2 pounds of salmon, cut into 4 inch pieces
⅓ cup chopped mint leaves
Instructions
Mix the rum, coconut cream, garlic, jalapeno pepper, salt, poblano pepper, red bell pepper, shallots, cilantro, mint and stir thoroughly.
Cut the lime or lemon, remove the seeds and squeeze in the juice and add the olive oil.
Place in a large zip lock bag, add in the salmon pieces and refrigerate overnight.
Pre-heat the oven to 350 degrees, place the salmon on a baking dish and bake for 8 minutes, broil on low for another 3 to 4 minutes until the salmon is lightly crisped around the edges.
Sprinkle with the remaining chopped mint leaves and serve.
Rinku Bhattacharya
Rinku Bhattacharya, is a teacher of Indian Cooking and the author of the blog, Spice Chronicles. A busy working mother Rinku is committed to offering a practical approach of flavorful, everyday cooking often with an Indian Accent. An author of three cookbooks, Instant Indian, Classic Foods for Every Region of India made easy in the Instant Pot, Spices and Seasons, Simple, Sustainable. Indian Flavors and The Bengali Five Spice Chronicles.Rinku's passion for food starts with cooking and trying new recipes and extends to pairing and drinking wine with food and trying usual combinations by fusing various culinary influences.Rinku and her family are very committed to a sustainable lifestyle, and she uses mostly local produce for her recipes. She is joined in this effort by her husband who is an avid gardener and her children, Deepta and Aadi.