Jessie Chien is a huge advocate of eating locally and seasonally, and finding a light stir fry recipe is her antidote to cravings of salads and pizzas while living abroad.
By Jessie Chien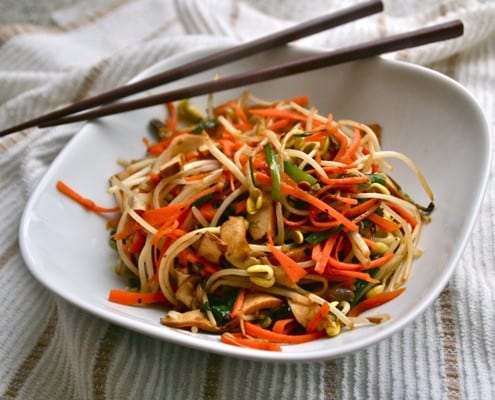 I shop at local wet markets when I can, but I'm going to admit: I also have an undeniable habit of going across town to the big Western supermarkets and stocking up on nutella, canned tomatoes, and Extra Virgin Olive Oil.
I have searched the darkest corners of this city to find the lady who sells mint and the man who sells the most zesty lemons. Unlike many other households in this city, we regularly eat salads for dinner. I've been guilty of spending $3 on an avocado, and have made guacamole that probably put me back $20. In my time abroad I've picked up a baker's knack for making bagels, bread, pizza, and any other carbohydrate-heavy indulgence you can think of. Despite living in China, I eat Chinese food only 25% of the time.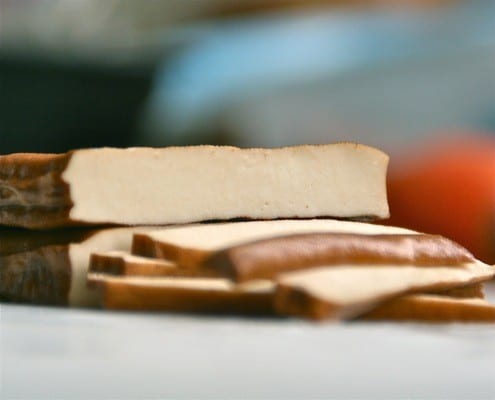 Don't get me wrong- I love Chinese food. From the most exquisite of dim sum brunches to the grittiest bowl of noodles off the street, I've consumed much of this country's cuisine in various forms and flavors. But Chinese food has a reputation both home and abroad for being oily, over-seasoned, and chock-full of MSG, and unfortunately I can say I've found this rumor to be proven true on many a dining occasion.
However, cooking Chinese at home can be a completely different experience. By focusing on vegetables that are readily available, trying new ingredients, and eliminating meat, fresh and light stir frys have recently made their way into my cooking routine.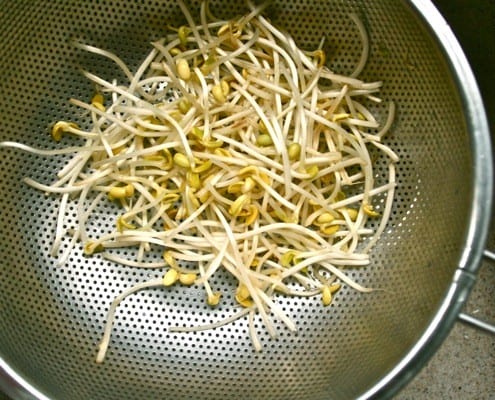 Stir frys can be as easy as throwing cloves of garlic with leafy Chinese greens into a sizzling hot wok. For a more interesting dish however, I offer a recipe that incorporates textures of smoked bean curd (tofu) and flavors of fermented black bean in addition to bright green chives, julienned carrots, and fresh bean sprouts for a flavorful, crunchy, and mouth-watering stir fry.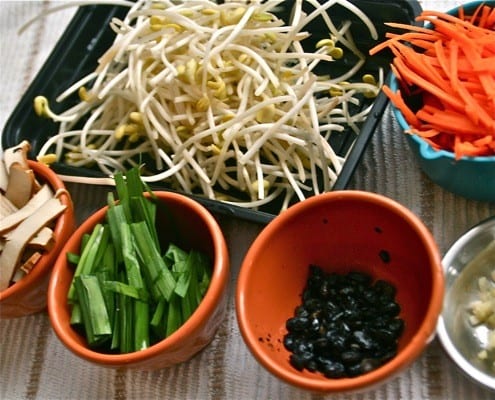 In an effort to develop my eating habits towards a reflection of my surroundings, these quick and easy stir frys have proven a worthy change-up in my salad-loving household, and is a recipe that will remain with me even after I leave China.
**The specific ingredients listed below can be easily found at any Chinese or Asian market. Smoked bean curd is a firmer, brown tofu that stands up to stir frys well, and not as "smoky" as one would imagine. The tofu is typically sold in vacuum-sealed packages of 6-8 square pieces. Fermented black beans are a tasty seasoning that makes it possible for the lack of many other seasonings in this recipe- the beans are processed soy beans and don't have any sharp flavor characteristics other than very salty (reminiscent of miso). Soak and rinse black beans before adding them to the stir fry. These also come packaged, usually in the dry goods aisles at Asian supermarkets.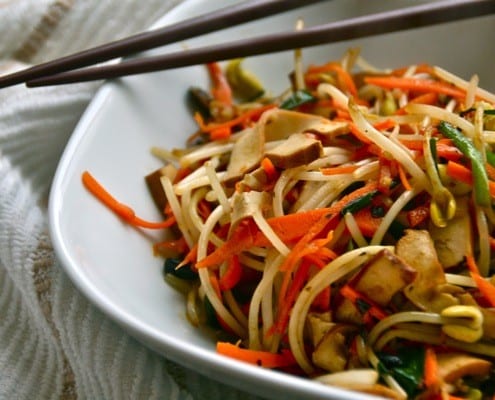 Ingredients
1 clove garlic, minced
1 tsp. ginger, minced
6 chives (approx. ¼ cup), cut into ½ inch pieces
½ cup (6 oz.) smoked bean curd (tofu), sliced thin
1 Tbsp. fermented black beans
½ carrot, julienned
1½ cup (5 oz.) bean sprouts
3 tsp. soy sauce
Instructions
Heat vegetable oil on high in a wok or nonstick skillet. When oil is hot, drop garlic, ginger, and chives in pan and vigorously saute.
When chives start to wilt (about 2 minutes), throw in bean curd and fermented black beans. Continue stirring and flipping in the pan for another 2-3 minutes.
Add carrots and bean sprouts, then soy sauce. Saute well, cook for an additional 2-3 minutes or until bean sprouts become softer but still remain crisp.
Serve hot or warm, with rice and/or other sauteed greens
Notes
The addition of soy sauce is mainly to impart color and a little flavor. The dish will already be seasoned due to the addition of the fermented black beans, so feel free to omit the soy sauce- making this a very friendly low-sodium option.
Jessie Chien Bryson
Jessie Chien Bryson grew up spending sunny California Thanksgivings eating 20lb. free-range turkeys along with sides of Chow Mein, which is what she thinks cemented her insatiable interest of food cultures and sustainable methods as an adult. She recently spent two years in Guangzhou, China, where the locals were said to eat anything with four legs but a table and anything that flies but a plane. She's now on the other side of the world in Dar es Salaam, Tanzania, where she keeps a diary of food, travel, and expat adventures at www.jessbopeep.com