This veggie-heavy dish is a great way to bounce back from a weekend of over-indulgence.
By Anamika Sharma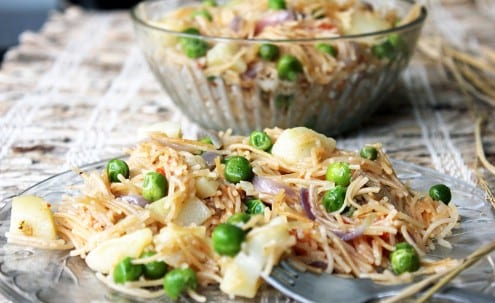 Mixed Vegetable Vermicelli
This veggie-heavy dish is a great way to bounce back from a weekend of over-indulgence.
Ingredients
Vermicelli – 1 cup
Potatoes – 2 medium
Green Peas – ½ cup
Onion – 1 large
Tomatoes – 2 medium
Carrot – 1 large
Salt to taste
Red chilli Powder – ½ teaspoon
Garam Masala – ½ teaspoon
Oil – 2 tablespoons
Instructions
Take a non stick pan, add oil and heat it on medium flame, add onions sliced, potatoes diced to it, saute for about 5 minutes on low flame and add green peas, dry spices to them.
Let it cook on low flame with closed lid for another 7 minutes, stir and check if potatoes and peas are done, then add the tomatoe puree and stir well for few minutes, add vermicelli to it and mix well.
Now add water and let it simmer till the vermicelli and veggies absorb entire water.