Miso Butter and Garlic Chicken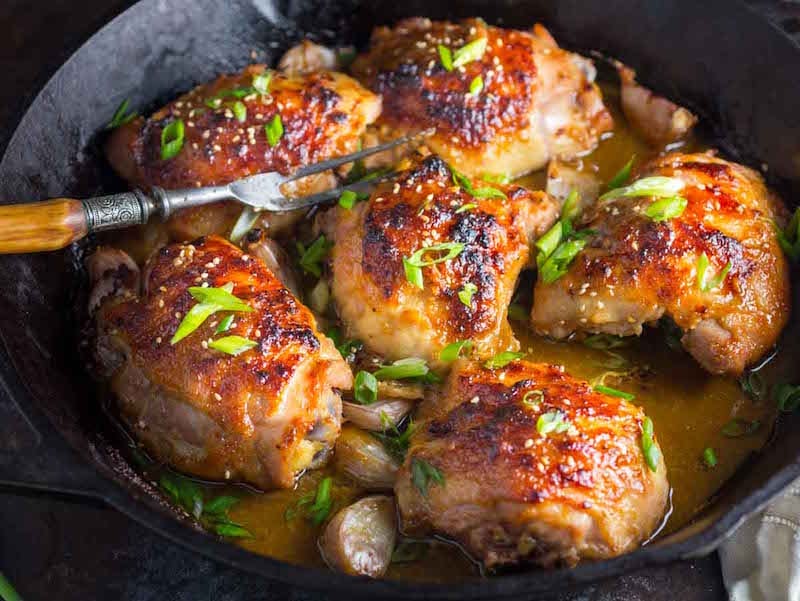 Make a miso butter and you are on your way to a mouth-watering and easy meal of crispy skinned miso butter and garlic chicken.
If you've never cooked with miso before, this is the perfect recipe to start with. If you love it and cook with it all the time, this is probably going to end up on your monthly recipe rotation. It definitely has for us.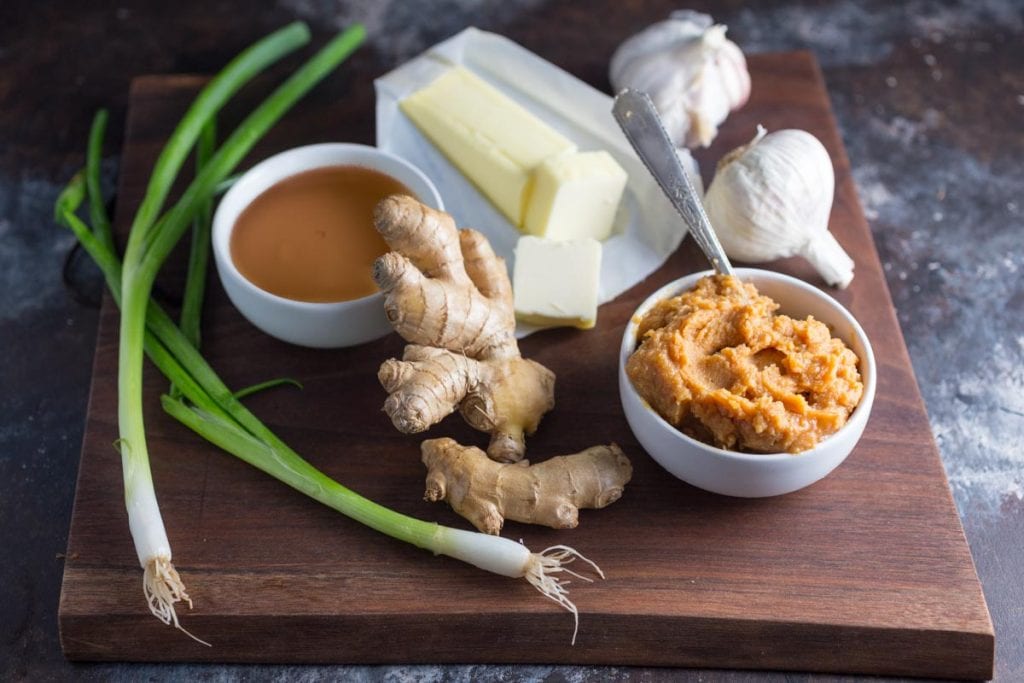 There's very little work involved so when you pull it out of the oven and find perfect, crispy bronzed chicken skin, tender meat and a delicious sauce, it almost feels like cheating. "Did I really do that," you might be tempted to ask yourself. Yes, you did. Now go eat your dinner before any goblins attracted by the glorious smell of chicken, miso and garlic steal it from you.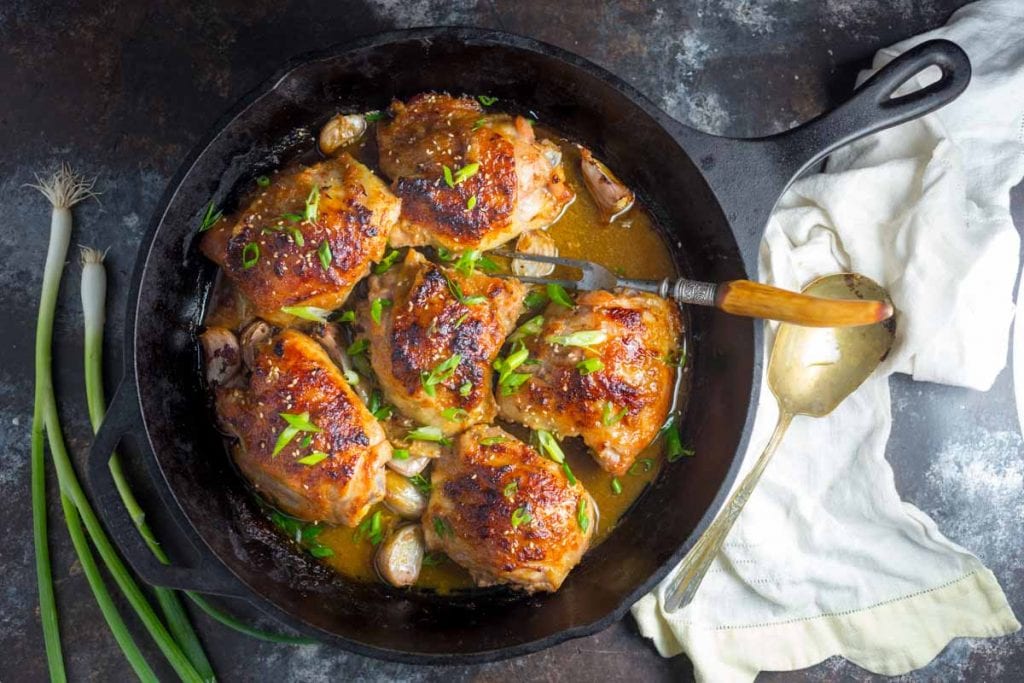 Miso compound butter is so simple. It's so simple, but completely genius and it changed the way I cook. I use variations of it on everything. Grilled shrimp, sautéed spinach, charred green beans, baked tofu.
In this version I've added some extra flavorings like garlic and ginger. A little sweet and sour from maple syrup and rice vinegar. Once you mix it all together, you want to rub it all over the chicken and also get a little of it under the skin. Be gentle. You don't want to pull the skin off, just lift up a corner and tuck some under.
If the meat is cooked before the skin is brown enough, place it under the broiler for a minute or two but watch it carefully. The sugar in the marinade can burn easily.
Tips:
We served this with brown rice and these dead-simple Quick-Pickled Cucumbers.
This Teriyaki Brown Rice Salad would also be a great side.
A large cast iron pan is great for a dish like this. Whatever pan you use, make sure it's oven safe and has a heavy bottom so the sauce doesn't scorch.
If gluten is an issue for you, make sure you use gluten free miso. Our Asian Pantry Basics page lists some GF options as well as our favorite brands.
Chicken breasts work perfectly well this way too, just be careful not to overcook them. Start checking them for doneness after 20 minutes or so.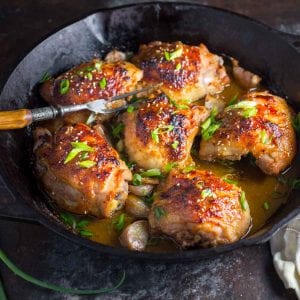 Emily Clifton
Ingredients
8

skin-on

bone-in chicken thighs, approximately 2½ to 3 pounds

4

tablespoons

unsalted butter

softened

1/2

cup

white miso

3

tablespoons

maple syrup

1

inch

piece ginger

grated

8

garlic cloves

unpeeled but lightly smashed

1

tablespoon

rice vinegar

Black pepper

to taste

2

scallions

finely sliced, for garnish

2

teaspoon

toasted sesame seeds

for garnish
Instructions
Heat oven to 400 degrees. Combine butter, miso, maple syrup, rice vinegar, ginger and black pepper in a large bowl and mix until well combined.

Add chicken to the bowl and massage the miso-butter mixture all over it. Gently lift up the skin of each piece and, using your fingers, rub some miso butter under the skin. Place the chicken in a single layer in a roasting pan or heavy oven-proof skillet, add the garlic cloves and place it in the oven. Roast for 30 to 40 minutes, basting the chicken once or twice, until the skin is golden brown and crisp, and the internal temperature of the meat is 160 to 165 degrees. If the chicken is cooked before it's brown enough, place it under the broiler for a minute or two. Watch carefully or it can burn.

Remove the garlic skins and mash them into the pan drippings. Sprinkle chicken with sesame seeds and scallions and a spoonful or two of the garlic pan sauce.
Emily Clifton
I love to cook and learn about food. I was born and raised in New York City and I was exposed to a lot of different food cultures as a kid though I was weirdly picky. I hated mashed potatoes but I loved kim chee. Hated fish, loved escargot. I said I was weird, don't judge me.My mom is a great cook but I definitely don't have any "passed down from grandma" types of recipes. Both my grandmothers were horrible cooks. I mean really, truly bad. I give my mom a lot of credit for knowing that string beans are not actually supposed to be gray.In real life I'm a film/TV editor which just might be the most fun job in the world. Occasionally it can be the most annoying job in the world which is why I really appreciate it when I get to take a break and do my other favorite things which is cook, take photographs and write.