These crunchy, slightly sweet, slightly savory biscuits make a great snack with a cup of tea or coffee.
By Ann Low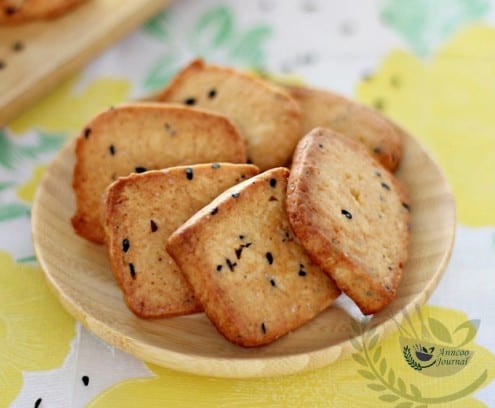 Miso Biscuits
These crunchy, slightly sweet, slightly savory biscuits make a great snack with a cup of tea or coffee.
Ingredients
200g Plain flour, sieved
1 Egg (60g), lightly beaten
100g Butter, softened
80g Sugar
25g White miso paste
1 tbsp Black sesame seeds, toasted
Instructions
Put the butter in the mixing bowl and beat in low speed for 1 minute then add in sugar and miso into it and continue beating until light.
Add the beaten egg gradually and mix well, then pour in all the flour and black sesame seeds. Continue to mix at low speed for about 30 seconds. Then fold batter gently with a rubber spatula to become a soft dough.
Place the soft dough on a greasedproof paper and shape to long length and roll it into a pole or square shape and roll it up. Place in the freezer for 30-45 minutes for the dough to harden for easier cutting. Alternately you can freeze the dough for 20-25 minutes, then cut the dough into cubes and roll it into ball and press flat to about 5mm thick before baking.
Bake at preheated oven 180 degrees C for 15 - 20 minutes until slightly browned.
Leave to cool on baking pan and store in an airtight container.
Ann Low
Ann Low is the author of Anncoo Journal, and loves to bake and cook for both family and friends. She acquired a strong passion for culinary skills from a very young age by watching her grandmother prepare delicious meals for the family. Ann believes that baking is an art and she wants to share her baking and cooking experiences with everyone in the world.