Chutneys, like this one, are a great way to add an extra something to your everyday meals very easily.
By Nagalakshmi Viswanathan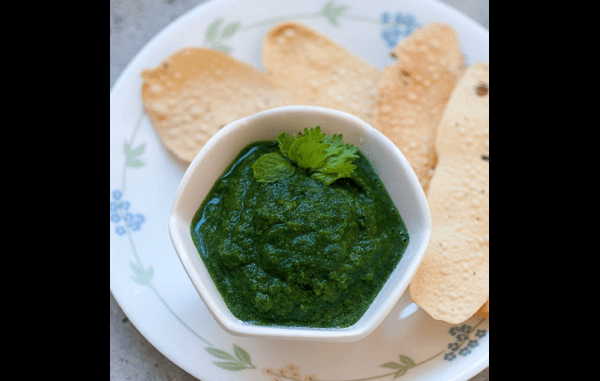 Mint Coriander Chutney
Chutneys, like this one, are a great way to add an extra something to your everyday meals very easily.
Author:
Nagalakshmi Viswanathan
Ingredients
2 cups of fresh coriander leaves (cilantro)
1 cup of mint leaves, packed
2-3 of green chillies (I like a less spicy green chutney - adjust to your taste)
¼ cup of chopped onions
2 cloves of garlic (the large kind, if smaller, use more)
1 pinch of roasted cumin / jeera (optional)
1 heaping tsp of chaat masala
¼ tsp of sugar
A squeeze of lemon or lime juice
Instructions
Grind all ingredients together with enough water and salt to a smooth chutney. Adjust ingredients and taste as you grind because from what I have seen, personal preferences change a lot with this chutney.
These proportions make a perfect chutney to me and I have nailed it down in my head and make no changes anymore. You can store this chutney in the refrigerator for up to a week but freshly made chutneys always taste better.
Nagalakshmi Viswanathan
Nagalakshmi, aka Nags, is the cook, writer, and photographer behind Edible Garden. She loves most things edible, loves traveling to places just for the food, and hardly ever leaves home without her camera. Her specialties are Indian food, making baking look easier than it actually is, and finding new and unique ways to use her Kitchenaid. She lives in Singapore with her husband and a small herb garden in her balcony.