Mini Pumpkin Baked Donuts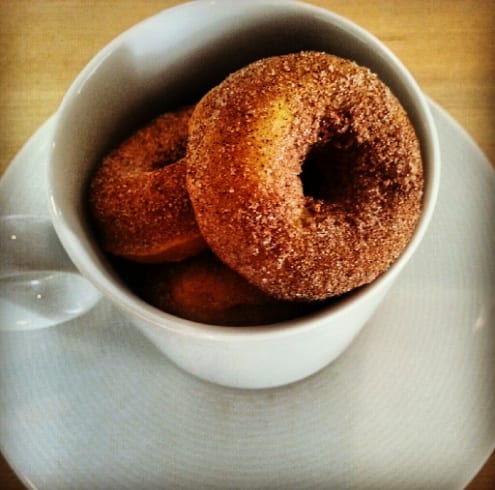 Feeling a little depressed with the colder weather? Mini Pumpkin Donuts – one bite donuts to the rescue.
By Deena Wacthel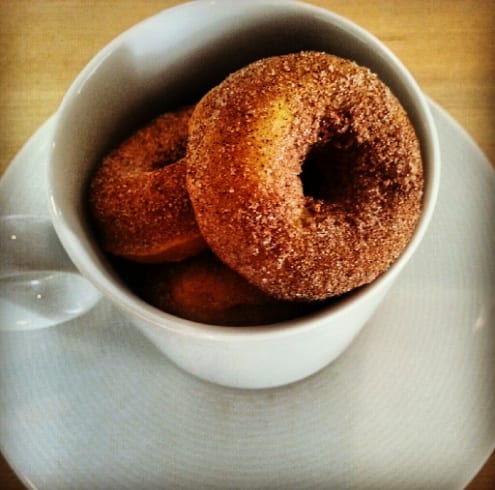 It's FINALLY feeling a little like Fall here in SoCal (not really, but I like to pretend) and I'm starting to whip out the pumpkin puree. The other day, when faced with a crazy carpool schedule, a Donut Cookbook that I wanted to review and a can of pumpkin puree, I decided to bake up a batch of mini pumpkin donuts.
What?  That wasn't a good decision?  I beg to differ.
You see, a few weeks ago I was magically sent this amazing cookbook: "150 best donut recipes, fried of baked" by George Geary.  (It's scheduled to come out October 2012, so you should be able to get your hands on it.)  Sure, I had requested the cookbook, but I'm always amazed when publishers actually send me something.  Really.  It's like Christmas every time a books-shaped package arrives at my door.
Well, when I saw that the title included baked donuts, I jumped at it.
The book arrived a few weeks ago and I've been sifting through the recipes, figuring out which one to try first.
The yeasty fried dough donuts sound amazing, the beignets look like little clouds of fried-dough heaven.  But today, I just didn't have time to let a dough rise.  Today, amdist running to the bank, Target, the grocery store, a few coffee shops to beat the 100 degree heat, I needed a little quick reminder that it's actually Fall.
Mini Pumpkin Donuts – one bite donuts to the rescue!
Mini Pumpkin Baked Donuts
Preheat oven to 325 degrees F. You'll need two 12-well mini-donut pans, sprayed with nonstick spray. Excerpted from 150 Best Donut Recipes by George Geary © 2012 Robert Rose Inc. www.robertrose.ca Reprinted with permission. All rights reserved.
Recipe Type:
dessert, breakfast, treat
Ingredients
2½ cups all-purpose flour
¾ cup packed brown sugar
2 tsp baking powder
1 tsp salt
1 tsp ground cinnamon
½ tsp freshly ground nutmeg
¼ tsp ground allspice
⅛ tsp ground ginger
2 large eggs, beaten
¾ cup whole milk
½ cup pumpkin puree (not pie filling)
1 tbsp unsalted butter, melted
1 tsp vanilla extract
Instructions
In a large bow, whisk together flour, brown sugar, baking powder, salt, cinnamon, nutmeg, allspice and ginger. Set aside.
In a medium bowl, whisk together eggs, milk, pumpkin puree',butter and vanilla. Add to flour mixture and mix with a rubber spatula just until incorporated.
Place batter into a resealable freezer bag or pastry bag and fill each prepared well two-thirds full.
Bake in a preheated oven until donut springs back when lightly touched, 10-14 minutes.
Let donuts cool in pans on a rack for 5 minutes. Turn out of pans onto rack and toss with Autumn Spiced Sugar, if using, or let cool completely prior to icing.
Notes
Notes
Excerpted from 150 Best Donut Recipes by George Geary © 2012 Robert Rose Inc. www.robertrose.ca Reprinted with permission. All rights reserved.
Deena Wachtel
Deena is a stay at home foodie, obsessed with food and intent on changing her finicky family into a foodie family. She lives by a set of FOODosophies and has pledged to get her kids into the kitchen to teach them how to cook and love good tasting food. It's not always pretty and there are nights when the kids go hungry. But, for her, it's all for the greater good. She blogs daily at stayathomeFOODIE.com.