PARTNER POST: We've teamed up with Bonne Maman to bring you the best homemade breakfast and brunch recipes to show Mom you care this Mother's Day and all spring long.
Light and crisp mini Dutch baby pancakes and strawberry mascarpone make the perfect breakfast in bed recipe for Mother's Day.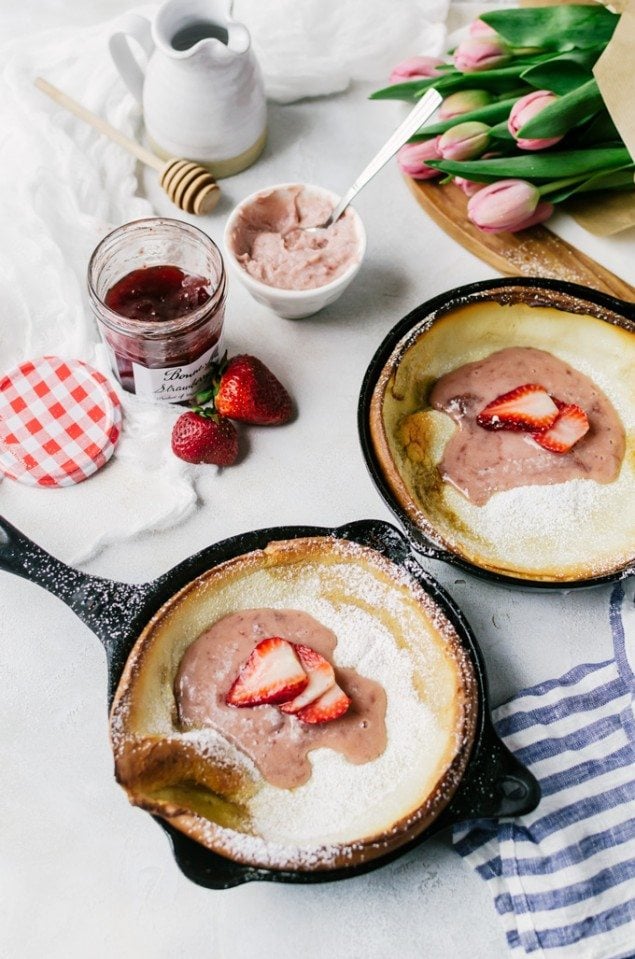 I don't remember the first time I heard of Dutch baby pancakes, but I remember the first time I made one. To say it was love at first bite would be a understatement. I couldn't get over how it puffed in the oven and the edges became airy crisp. It quickly became my favorite breakfast for a solid month. I loved that it took a few minutes to prep and I could leave it to bake while I got ready for work. Any leftovers would quickly become my lunch. My mother, who had her first Dutch baby experience the same time I did, is equally in love with this breakfast.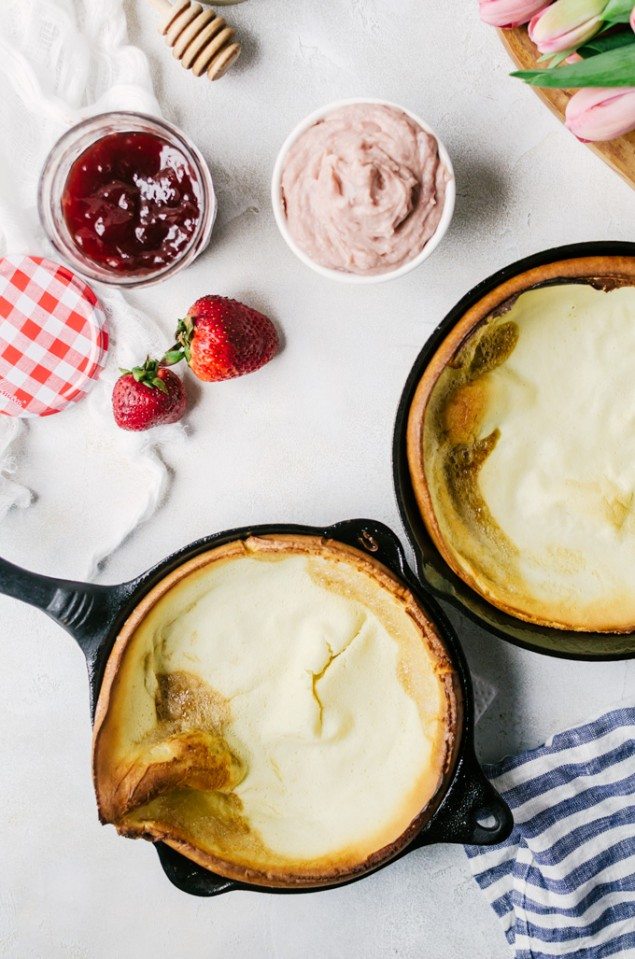 My mom and I are a lot alike when it comes to food. We both love trying new things and we both have a pretty hearty appetite, especially when it comes to sweets. So on days she is off from work, I will usually make a nice breakfast for us, including these single serving Dutch baby pancakes with strawberry mascarpone, which she also requested for Mother's Day.
What I love about this recipe is the strawberry mascarpone which is like an elevated cheesecake sauce that feels like you are having a bit of a treat for dessert. To make the whipped mascarpone, I prefer to use the strawberry preserves from Bonne Maman. I love that it is real fruit preserves with simple ingredients. It has a wonderful flavor and just enough sweetness for breakfast. Bonne Maman translates to grandmother which is so fitting because my daughter and I are planning a sweet breakfast in bed for my mother – her grandmother. And these single serving Dutch baby pancakes is the star of the show.

What makes this Dutch baby pancake recipe perfect is that it makes two single serving Dutch baby pancakes. That means you can make one for breakfast in bed for mom, and one for you while you clean the kitchen before mom makes it out of bed.
The good thing is that making Dutch baby pancakes doesn't require a lot of equipment or mess. Usually I use two small bowls, a blender, and the cast iron skillets. Easy. Peasy.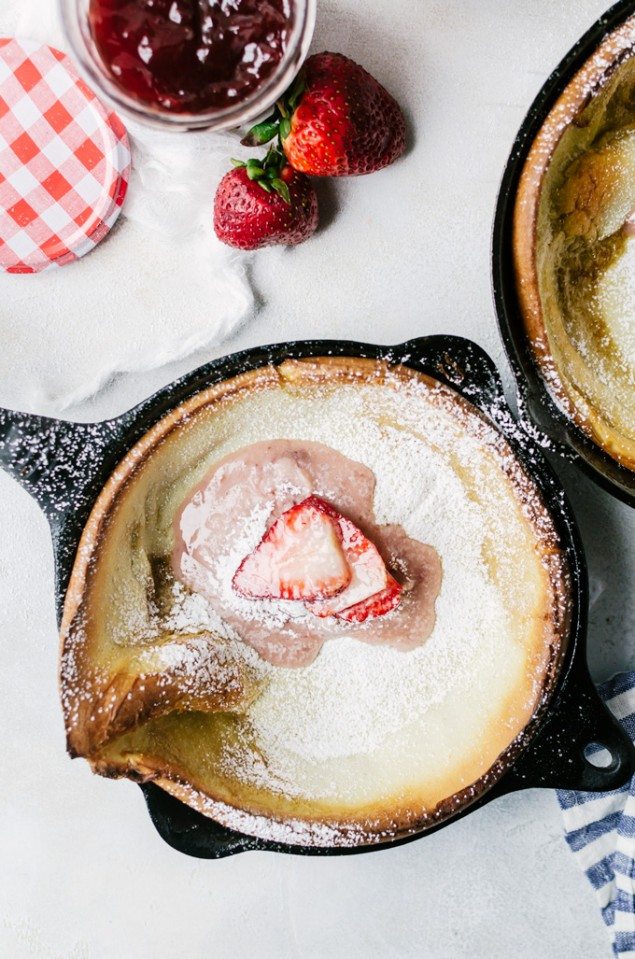 P.S. Don't forget to enter Bonne Maman's sweepstakes, click the image below! There are some great prizes for Mom.
For another recipe idea, check out these strawberry muffins.
Click here for the written recipe.
Mini Dutch Baby Pancakes and Whipped Strawberry Mascarpone
Light and crisp mini Dutch baby pancakes and strawberry mascarpone make the perfect breakfast in bed recipe for Mother's Day.
Ingredients
3 tablespoons melted unsalted butter, divided
½ cup all-purpose flour
3 tablespoons granulated sugar
2 tablespoons cornstarch
½ teaspoon salt
2 large eggs, room temperature
½ cup skim milk, room temperature
1 teaspoon vanilla extract
½ cup mascarpone, room temperature
5 tablespoons Bonne Mann strawberry preserves
2 tablespoons powdered sugar
1 teaspoon vanilla extract
fresh strawberries
Instructions
Preheat the oven to 400 degrees F.
Spread a tablespoon of butter on two 6-inch cast iron skillets (you can also use 8-inch cast iron skillets). Place the skillets in the preheating oven.
In a blender add the flour, sugar, cornstarch, and salt. Pulse to combine. Add the eggs and blend until it forms a paste. Scrape the sides of the blender as needed.
In a small bowl, mix together the milk, remaining butter, and vanilla. Pour the milk mixture into the blender and blender until everything is fully incorporated - about 2 minutes on high, scraping the sides as needed.
Take the skillets out of the oven (taking care to remember to use an oven mitt). Evenly divide the batter between the skillets and promptly place back in the oven. Bake for about 18 - 20 minutes, or until the edges are crisp and the pancake is puffy.
While the dutch baby pancakes are baking, whip the mascarpone, Bonne Mann strawberry preserves, powdered sugar, and vanilla extract together until light.
Top the finished Dutch pancakes with the whipped mascarpone and fresh strawberries, and more preserves as desired.
Enjoy immediately.