These mimosa egg and chive verrines are a simple and original way to serve eggs for breakfast or brunch.
By Rachel Bajada
Simply made by hard-boiling and separating free-range eggs, you can serve these verrines in small drinking glasses, martini glasses or similar. This recipe is an adaptation of Oeufs mimosa en verrine from the September issue No, 135 from Cuisine et Vins de France Magazine.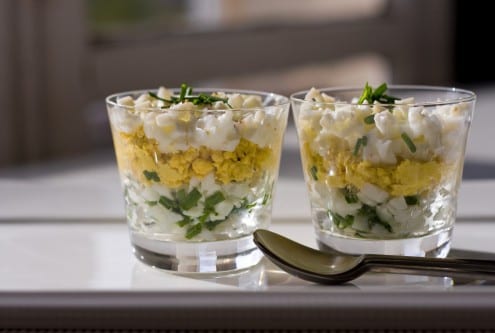 'Mimosa' Egg and Chive Verrines
Recipe Type:
Breakfast, brunch,
Ingredients
3 large free range eggs
½ tsp curry powder
1 heaped teaspoon medium Dijon mustard
1 tbsp fromage blanc/low fat thick greek yoghurt
½ tsp wholegrain seeded mustard
1 tsp lemon juice
3 tsp finely diced chives
Sea salt
Fresh cracked black pepper
Instructions
Bring a saucepan of salted water to the boil with a dash of white vinegar.
Hard boil whole eggs (in shell) for ten minutes and then remove from boiling water.
Place eggs into a bowl of iced water and leave for 10 minutes. Drain water then gently peel away and discard the egg shells.
Delicately slice open the 3 eggs and separate the yolks, placing the yolks in a small separate bowl.
Finely chop the egg whites into small, even squares using an egg slicer if you have one. Separate the chopped egg whites into two small bowls.
In one bowl, add to the egg whites and the chopped chives. To the other whites mix in the seeded mustard, yoghurt, lemon juice, and sea salt to taste.
Gently crush the egg yolks with a fork and mix in the curry powder and Dijon mustard.
Arrange evenly in a verrine or cocktail glass starting with the chive mix, then the egg yolk, then the egg white with mustard.
Top with cracked pepper and chives to serve.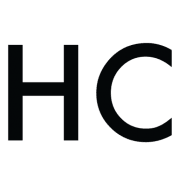 Rachel Bajada
Rachel Bajada is an Australian food writer and French cheese addict. Based out of Paris, she sources and tests the best of modern and classic French food from talented chefs in top Paris restaurants and home kitchens across France. You can follow Rachel's entertaining culinary adventures at her blog www.frenchforfoodies.com