Juicy, light, and delicious with lime-whipped yogurt, these meatballs are anything but dull and dry.
By Jill Nammar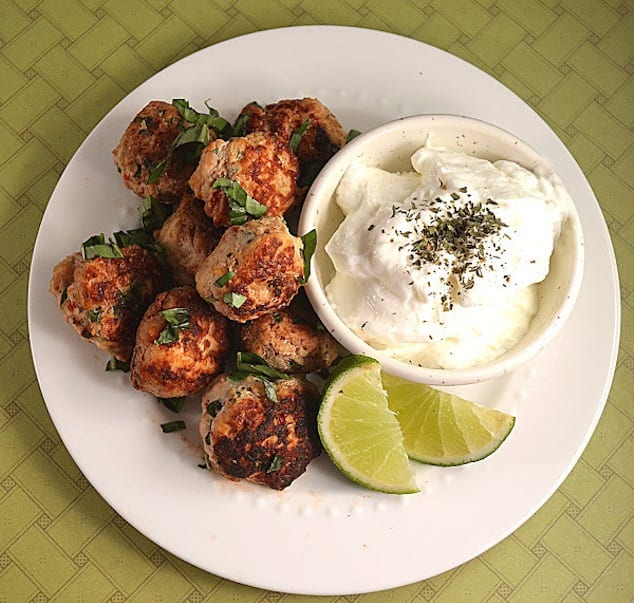 I've been making these bite-size meatballs for years in many different ways. The basic recipe always remains the same. I play around with different herb combinations. These meatballs are my husband's absolute favorite. He's been asking for them for as long as we've been married. He even learned to cook them when I was working long hours. They're light and bouncy. They're just delicious with the lime-whipped yogurt.
There are a few tricks to keeping turkey or chicken meatballs moist. I'll talk about that in The Notes section before the recipe. For now, remember to….relax…let all the nightmares of dry meatballs leave your mind. Be patient when rolling the meat into balls, add moisture to the mix and last but not least….with all your will and might, resist, resist, resist the urge to overcook them into something that resembles sawdust marbles. This is going to be hard at first, but trust me, it gets easier with practice and letting go. Even if you overcook them a little (this happens from time to time) they'll still be full of flavor.

Middle Eastern Meatballs with Lime Yogurt and Orange Almond Couscous
Juicy, light, and delicious with lime-whipped yogurt, these meatballs are anything but dull and dry.
Ingredients
Meatballs
2 lbs of ground turkey or chicken
1 medium red or white onion, grated
2 garlic cloves minced. I use a microplane or a garlic press.
1-2 tiny green or red Thai peppers, minced (optional). A small minced jalapeno pepper, a dash of sriracha or some dried red pepper or chili pepper flakes will work too.
A generous handful of fresh mint or basil, chopped. Any herb of your choice will likely work including dill and parsley.
2 limes, zest one of them and reserve the zest
2 eggs
2 teaspoons of dried oregano
⅔ cup of plain bread crumbs
⅓ cup of pine nuts (optional but good)
Drizzle of honey
Olive oil for cooking
Sea salt to taste
To Serve: Lime wedges and lime-whipped yogurt or plain Greek yogurt
Orange Almond Couscous
1 box of Original Plain Near East Couscous, cooked according to package directions.
½ cup slivered almonds, toasted.
2 oranges, zest one and reserve the zest. Cut one orange into segments and chop the segments into small pieces.
3 scallions, chopped
A handful of both fresh parsley and dill, chopped. Any herb of your choice would work here like basil or chives or cilantro.
Sea salt to taste
Serving suggestions: A scattering of quickly defrosted frozen peas, a drizzle of olive oil
Instructions
Meatballs
Using the small holes of a box grater, grate the onion directly into a large bowl. Add the ground turkey or chicken, the eggs, the breadcrumbs, the minced garlic, Thai peppers (if using), fresh mint, and pine nuts (if using), drizzle of honey, dried oregano and salt to taste. Mix to combine all the ingredients. Wet your hands with cold water and form the mixture into small balls the size of large marbles or walnuts.
Heat a large nonstick pan on medium high heat with some olive oil. Drop the meatballs in the pan and saute until they're golden brown on all sides and cooked through. Do not overcrowd the pan. Fry in batches if you have to. Be careful not to burn them as the honey will help to caramelize the outside of the meatballs, helping them brown and crisp. You can cover the pan occasionally to cook them. But, keep a close eye on them and remove the cover when almost done. They cook rather quickly. Try not to overcook or they'll become dry. Remove them from the pan as they're done cooking. Serve with lime wedges and lime-whipped yogurt. Enjoy!
To make the lime-whipped yogurt: Mix into 2 cups of thick Greek yogurt with the lime zest, adding a pinch of salt.
Orange Almond Couscous
Toast almonds in a small fry pan until golden brown, be careful not to burn them.
Add the cooked couscous, toasted almonds, orange zest, orange segments, scallions, parsley and dill into a bowl.
Add the juice of one orange, drizzle of olive oil and season with salt to taste. Stir and fluff with a fork to combine.
Serve with the meatballs and lime whipped yogurt.
Notes
The small size of these meatballs gives you more control and less of a chance to overcook them. Remember, they'll continue to cook once they're out of the pan. They should be juicy but not raw inside. Test one. Some will cook faster than others. Take them out of the pan as they're done and place on a plate.
A chili pepper gives a spicy kick. The sweet/spicy combo is always a winner in my book. Honey helps to caramelize and brown the outside of the meatballs. Herbs and lime lend freshness and tang. Grated onion lends more moisture helping to keep them from drying out.
I like to serve them with my Persian Salad and Orange Almond Couscous (recipe below)