To say we were beyond excited to bring this over to Honest Cooking would be an understatement. Care of the team at Canteen, this Middle Eastern themed granola with pomegranate pears is arguably (but justifiably) the best granola you'll ever eat. Seriously. It's that good. And what makes it THAT good? It comes does to three things…
By Pepper Passport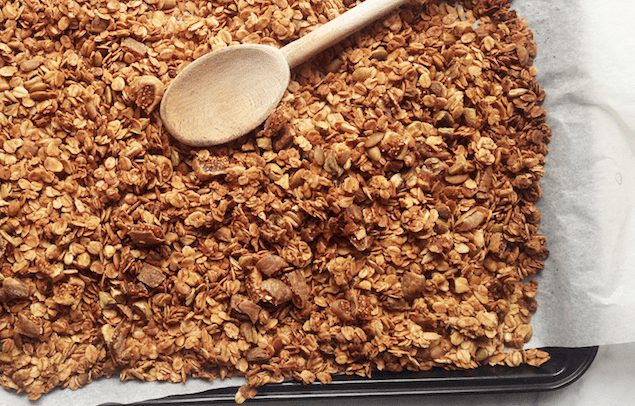 1. Goodness: It's packed with it, from the oats to the nuts, it's all rather nutritional* and a solid combination of proteins and carbohydrates to get the day going right.
2. Sweet Tang: There's a wicked tang at play from the pears, figs and the sheep milk yoghurt. It combines with the cinnamon and  carries through some seriously superb flavours. It's a little transportive – if you try really hard you might picture yourself sitting in a courtyard in the Lebanon of old – ignoring that if you were in Damascus, you wouldn't be having granola. But, you get where we're going with this.
3. Pomegranate: The pomegranate presence does two things; it poaches the pears ridiculously well, and when that's done, it reduces down into a gorgeous tart syrup to drizzle over the dish.
Print

Middle Eastern Granola & Pomegranate Pears
---
Author:

Pepper Passport

Yield:

1

4

1

x
Description
This Middle Eastern granola with pomegranate poached pairs is addictive. So print out this recipe. Go to the kitchen. Then double the amount you make. High supply levels are very much recommended. So too is hiding your stockpile in the pantry from others.
---
600G

rolled oats

150G

pistachios, roughly chopped

100G

sunflower seeds

100G

pumpkin seeds

1 teaspoon

cinnamon

1/2 teaspoon

salt

4 tablespoons

canola oil

1 cup

maple syrup

1 cup

dried diced figs

5

pears, peeled

400

ML pomegranate juice

1/3 cup

sugar
---
Instructions
Preheat oven to 150c and line either two small, or one large baking tray.
Mix oats, seeds, cinnamon, salt, canola oil and maple syrup together in a large bowl – if slightly to wet, just add more oats. Place on baking tray(s) spreading evenly.
Transfer to oven, and bake for 30 minutes. Be sure to check every 15 minutes and give a quick move around to ensure even toasting.
Remove from oven, mix in pistachios (carefully) and return to oven for another 30 minutes.
Remove from the oven and check the oats are golden brown and toasted to your liking.
Once the oats are removed, add the chopped dried figs and mix through while they're still warm. Cool and store in an airtight container.
To make the poached pears, combine the pomegranate juice, sugar and pears in a saucepan and bring to the boil.
Once boiling, turn the heat down, and cook covered at a gentle simmer. Continue to cook until the pears are crimson in colour and softened – check their firmness with a skewer. You want to retain texture and ensure they don't soften too much.
When the pears are to your liking, remove with a slotted spoon and transfer to an airtight container to cool. Reduce the liquid down to make the pomegranate syrup.
To serve, combine place granola in bottom of breakfast bowl, top with two good dollops of good greek yoghurt (not sweetened) and place pears on top.
See Also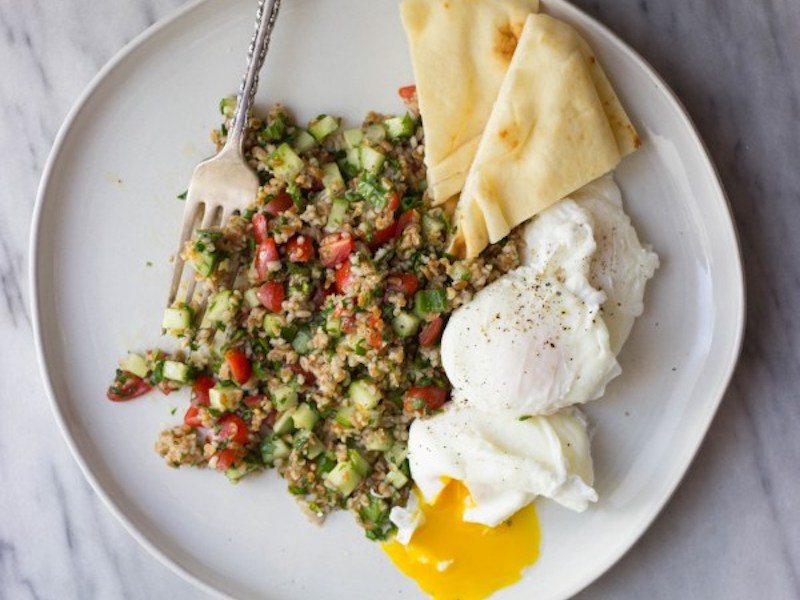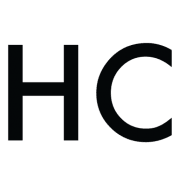 Pepper Passport
Pepper Passport delivers and shares stories that showcase 'the good' found in food and travel. We're a destination for the avid cook, discerning & curious traveler, lover & sharer of good things, both at home & while away. Australian based, but globally focused, our office dream about where we'll eat and what we'll consume long before that mealtime arrives. We love to know more and strive to be a source of information and inspiration for those who share an interest in exploring, eating and other associated delights.