Brenda Benoit visited the Old Lisbon Restaurant in Coral Way some time ago, and decided to try the newer location on Sunset Drive.
By Brenda Benoit
It turned out to be a very good idea indeed as the food made both me and Miss Issa happy. The flavors were down-to-earth, savory-rich and just simply memorable in a way that would remind you of Mommy's food. The interior of the Old Lisbon is very warm and inviting with dark wood furniture, white tablecloths and red flowers sprinkled here and there.
Codfish Croquettes with Black-Eye Bean Salad
The Portuguese name is Pastéis de Bacalhau com Salada de Feijão Frade. Unusual combination of ingredients, we thought. Codfish croquettes are something we really adore as my Mother made the best so I was a little disappointed when I first tried them as they were on the salty side. The disappointment quickly turned into joy once the croquettes were mixed with the bean salad: the taste-balance was perfect and totally killed the excess saltiness we first tasted.  The salad was a combination of black-eye beans, onions, green peppers and basic vinaigrette. A bite of croquette and a bite of salad on the same fork made magic happen.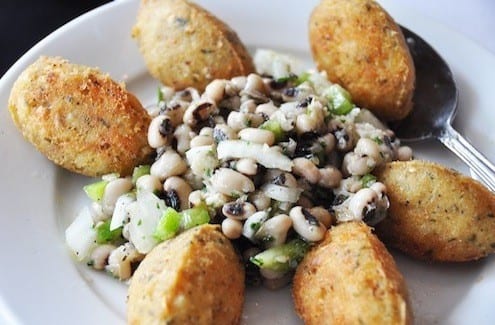 Parrilhada de Mariscos
This we had for our main dish and we were like…wow! This was a seafood party on a plate that consisted of Jumbo Scallops, Florida Shrimp, Mussels, Salmon, Lobster Tail, Squid and steamed Potatoes grilled and sautéed in a White Wine and Garlic Sauce. The seafood was delicious and fresh and the dark-brown sauce just divine. Of course the favorite was the lobster, grill-marks adding a charred flavor that contrasted very well with the soft and delicate inside of the lobster. The scallops were not far behind, sweet and juicy and oh so tender. Honestly, I am tired of fighting with Issa for the best bits of food, she is always trying to hog the lobster and scallops, but who can blame her?  Sharing is ideal for this dish, the two potatoes accomplishing the mission of making us feel full and extremely satisfied.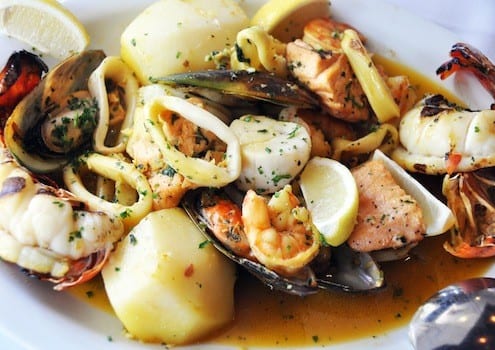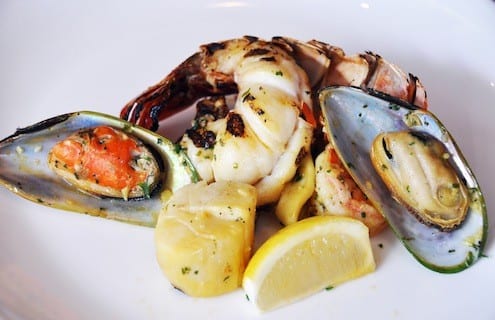 Pastéis de Belém – Custard Pastries
On the Old Lisbon Restaurant menu it says Pastéis de Nata which are custard pastries doused liberally with cinnamon. It is believed that pastéis de nata were created before the 18th century by Catholic nuns in Lisbon, Portugal. All I can say that they were served warm, the pastry literally melting in the hand as our mouths got a first bite of custard nirvana. We were full so we took one home and put it in the refrigerator. I thought they were even better cold.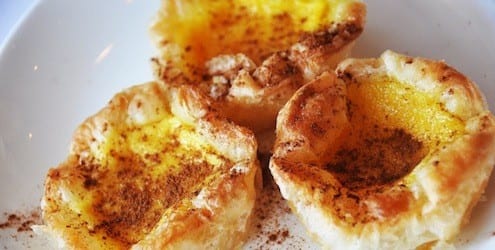 We cannot wait to go back: The food was just plain good. Special commendation to the staff who went out of their way to please us and make us feel like if we were at home.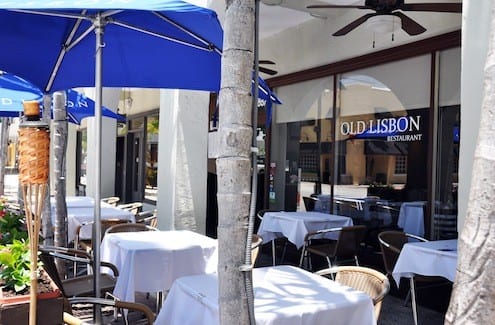 OLD LISBON RESTAURANT – SUNSET
5837 Sunset Drive
South Miami, FL 33143
Tel: (305) 662 7435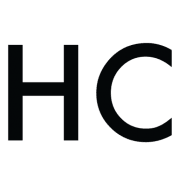 Brenda Benoit
Brenda Benoit was born in the city of St. George's in Grenada and grew up in Caracas, Venezuela. She has been living in Miami for over 20 years, loves to cook, eat and to try new restaurants & cuisines - always with her camera as a companion. She's a dedicated cookbook collector and is in the process of writing one of her own.