A Mexican Tostada is a corn tortilla that has been toasted or fried and topped with all sorts of ingredients.
By Nancy Lopez-McHugh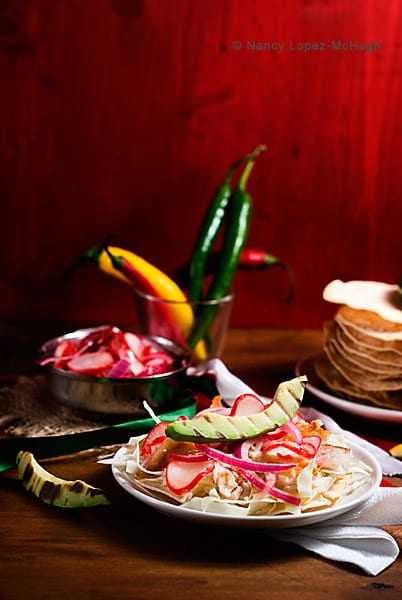 Tostada (toes-ta-da) is Spanish for toasted, which depending on the Latin American country or Spain it can mean a slice of toasted bread, a fried plantain or a toasted corn tortilla. I'm talking about the Mexican Tostada, which is a corn tortilla that has been toasted or fried and topped with all sorts of ingredients. It can be as simple as spreading beans or maybe just crema and salsa to ones I like to call "loaded" topped with beans, meats, fish, vegetables, salsas and chiles – we are talking a big satisfying meal.
As you can see these tostadas were made using Nile Perch fillets. You could of course substitute it with a different firm fish of your choice. Wanting to keep the meal light I opted for grilling the fish in a grill pan. If you're lucky and have an outdoors grilled that would be even better. For the toppings again I kept it light and simple. The pickled red onion and radish salsa is the same one that I used to top my Cochinita Pibil tacos. Please feel free to use your favorite Mexican salsa and toppings for the tostadas. There really isn't much of a recipe, as it can work with whatever you have in your refrigerator or whatever you are craving. Here's my non-recipe recipe.

Mexico On My Plate: Nile Perch Tostadas
A super simple recipe, that is almost not a recipe at all.
Author:
Nancy Lopez-McHugh
Ingredients
Nile Perch fillets
salt
ground black pepper
olive oil
shredded cabbage
pickled red onion salsa
grilled avocados
salsa
sour cream
tostadas (store bought or home made)
Instructions
Heat a grill pan or large frying pan, until very hot heat. Rub the fish with salt, pepper, and olive oil. Grill until fish is cooked all the way through. Cut fish into bite size pieces.
To Assemble: Spread a little bit of sour cream on tostada, if desired, arrange the grilled fish pieces on top. Then continue topping with desired toppings.
See how easy it is? I feel silly giving you a recipe, so use it more as a guide and have fun creating your own grilled fish tostadas. Buen provecho or enjoy!
Nancy Lopez-McHugh
Nancy Lopez-McHugh is a food blogger, photographer and published author. Most recently she has published "Yummy Pics: A Food Blogger's Guide To Better Photos".