Mexico On My Plate: Leftover Chicken Sopes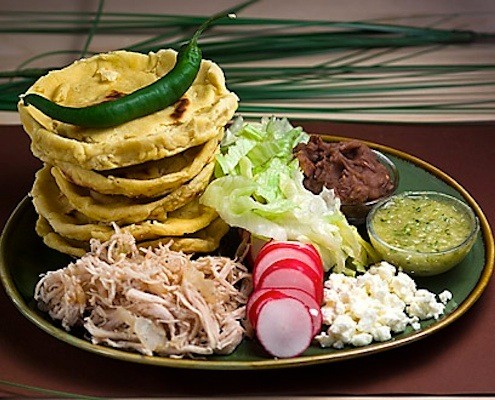 A super easy Mexican sopes dinner using leftovers from your refrigerator.
By Nancy Lopez-McHugh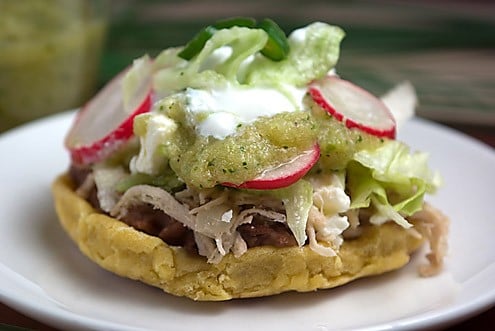 There are nights where the idea of being in the kitchen for even an hour seems like a huge task. Perhaps it is out of pure laziness, lack of time or simply just not in the mood to cook. On those nights we either go out to eat or I rummage through the refrigerator for left overs or quick meal ideas. I've said it many times, many a good meal has been the result of refrigerator rummaging. These easy sopes were one of those meals.
Every now and then I will make batches of tortillas, tostadas, sopes and gorditas to have ready for meals during the week. This project takes a few hours but then the majority of the work for our weekly Mexican dinners is done ahead of time. The whole idea behind this dinner was to make it hassle free and quick, so that is when those sopes I had made earlier in the week really came in handy. Okay if you actually don't have ready made sopes in your refrigerator that will be the most time consuming part of the meal. But they are super easy and relatively fast to make. The recipe for sopes can be found in my archives here, Gorditas and Sopes a Mexican Treat. By the way sopes and gorditas are made with the same dough so you could also change these chicken sopes to chicken gorditas.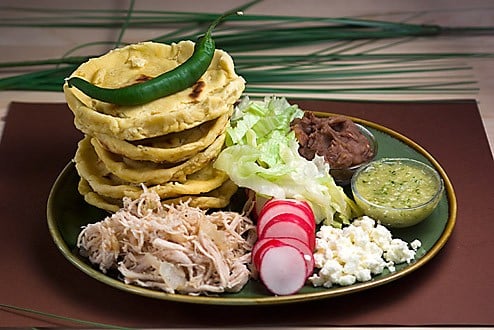 Keeping in mind that this meal needed to be brainless and take up very little of my time, I wasn't too concerned about making the salsa in the most traditional way. I simply boiled the salsa ingredients to soften then placed in the blender. Easy and brainless but still tasty enough to give the sopes a little kick. Now just because we want easy and brainless meals that doesn't mean they have to also be tasteless. Adjust the salsa ingredients, or if you can purchase a tasty ready made salsa then just use that to save yourself some time. The chicken here was from leftover boiled chicken or you could also use roasted chicken. The beans were also leftovers from homemade beans. In my opinion canned refried beans are awful but if you like them then go ahead and use them, no judgement.
Mexico On My Plate: Leftover Chicken Sopes
Easy Mexican sopes dinner using leftovers from your refrigerator.
Author:
Nancy Lopez-McHugh
Ingredients
Sope Ingredients:
sopes
Chicken, cooked and shredded
queso fresco or Feta as substitute
refried beans
shredded lettuce
slice radishes
sour cream
extra chiles, if desired
Salsa Verdeish:
2 large green wax or banana peppers (Cubanelles would also work well)
1 hot green pepper (I'm using a Holland/Dutch pepper )
¼ of a medium onion
2 whole garlic cloves
1 medium tomato
a handful of cilantro
½ tsp. salt
¼ tsp. black pepper
1 tsp. dried Oregano
1.5 tsp. cumin seeds
Instructions
Cut the stems off the peppers and remove the seeds off the banana peppers, leave the seeds on the hot pepper. In a pot add the peppers,onion,garlic and tomato add enough water to cover. Boil these ingredients until the peppers have become tender, about 10-15 minutes. Strain the ingredients, allow to cool. Remove the skin off the tomato.
Place the drained ingredients in a blender, pull add the remaining spices and cilantro. Blend into a smooth sauce. Taste and adjust if necessary. Allow to cool down to room temperature or store in refrigerator until ready to use.
To assemble:
Spread a layer of beans on top of the sope. Add some shredded chicken, lettuce, radish slices, crumbled cheese, and drizzle with salsa and sour cream. You can also add slices of jalapenos if desired.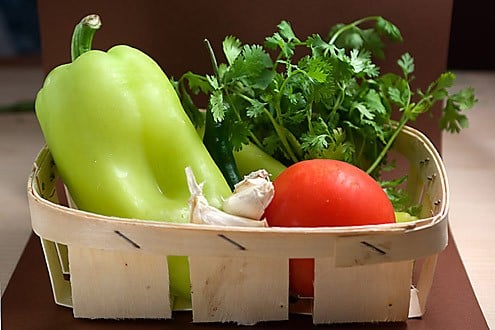 That's really all that went into this meal. So simple and fast but without sacrificing your health with bad food choices. Best of all I think this proves that you don't need a lot of time to prepare a delicious meal. Enjoy and please play around with whatever ingredients you may have in your refrigerator or pantry. Buen provecho!
Nancy Lopez-McHugh
Nancy Lopez-McHugh is a food blogger, photographer and published author. Most recently she has published "Yummy Pics: A Food Blogger's Guide To Better Photos".