Cajeta, also known as dulce de leche, is a hispanic sweet thick milk caramel sauce or syrup.
By Nancy Lopez-McHugh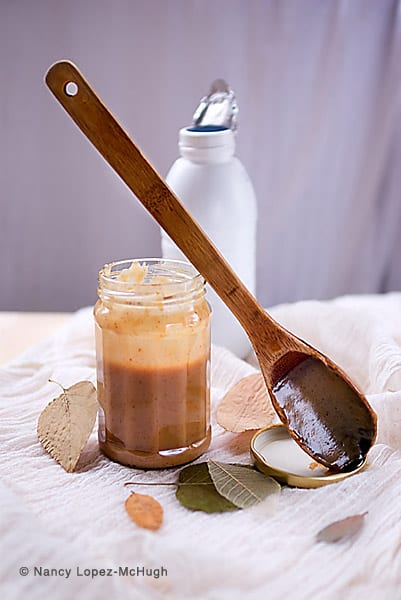 Cajeta, also known as dulce de leche, is a hispanic sweet thick milk caramel sauce or syrup. In Mexico this sweet confection is know as cajeta and in other Spanish speaking countries it is called dulce de leche. I grew up calling it cajeta so that's the name I prefer, but I do realize that in some other Spanish speaking Latin American countries the word cajeta is considered an impolite word.
The word cajeta can also mean little wood boxes, and traditionally the cajeta was packaged and stored in wood boxes. So as you can see it has many different meanings and uses depending on the region or dialect of Spanish. There are several areas in Mexico that claim they invented or that cajeta originated there. But since the indigenous people did not really consume dairy products, most likely the sweet originated in Spain and brought to Mexico or introduced by the conquistadores.
See Also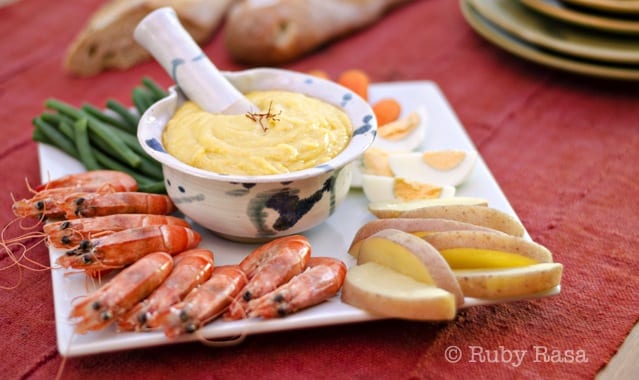 My family uses cajeta as a topping on almost anything we want, there are even popsicles and lollipops made with it. My personal favorite is to eat it right off the spoon like peanut butter or Nutella. One of the most popular ways of eating cajeta, in Mexico, is by spreading it on a piece of bolillo, a Mexican bread, just like you would spread jelly on a piece of toast. Another of my favorite ways of eating it is on "hot cakes" or pancakes, it's like an American-Mexican fusion treat.
There are many different uses for cajeta and it's pretty much something to use as you like. Here is the recipe, I make the small portion for the two of us but if you have a larger family you could try the larger version. Either way these are standard recipes that are used by many people.
Print
Mexico On My Plate: Cajeta or Dulce de Leche
Mexican cajeta or dulce de leche.
Author:

Nancy Lopez-McHugh

Prep Time:

5 mins

Cook Time:

1 min

Total Time:

6 minutes

Yield:

2

-8

1

x
Small Portion Ingredients:
2 cups

or

16 oz

. or 500 ml goat milk*

1/3 cup

or up to 1/2 cup white sugar

1/2 tsp

. vanilla extract or

1/4 tsp

bourbon vanilla powder

one

cinnamon stick
pinch of salt

1/4 tsp

. baking soda

2 tbsp

whole fat cow milk
Large Portion Ingredients:
2 quarts

or

1.90

liter goat milk

2 cups

white sugar

1 tbsp

vanilla extract 3/4 tsp bourbon vanilla powder

one

cinnamon stick
pinch salt

1 tsp

. baking soda

2 tbsp

whole fat cow milk
Equiptment Needed:
large heavy pot
wooden spoon
clean jar
Instructions
Pour the goat milk, sugar, salt, vanilla and cinnamon (if using) into a large heavy pot and bring to a light boil over medium heat. Stir to make sure all of the sugar has dissolved, remove from heat.
In a separate bowl mix the cow milk and baking soda until the baking soda has dissolved. Remove pot from burner, pour baking soda mixture into the goat milk, stirring fast, be careful because the liquid will quickly froth and overflow. Stir until the bubbles have subsided then turn the heat to medium and bring the pot back to the heat.
Continue to cook the goat milk mixture, stirring very frequently because the mixture may bubble and pour over the pot. After another 20-30 minutes the mixture should begin to a darken and start thickening into a thick sauce consistency. Continue simmering and stirring frequently until the mixture turns a dark caramel color and coats the wood spoon, this may take another 20-40 minutes depending on liquid left in the pot. The cajeta should the same consistency as maple syrup.
Pour into a jar and allow to cool completely. Store in the refrigerator until ready to use. The cajeta will keep fresh in the refrigerator for a couple of weeks.
The cajeta taste best if warmed up a little bit before using as desired.
Notes
*Whole fat cow milk may be substituted for the goat milk. Or a mixture of half goat milk, half cow milk may also be used.
**The process is the same wether making the small or large version. The only difference is that it may take a bit longer for the larger version.**
Nancy Lopez-McHugh
Nancy Lopez-McHugh is a food blogger, photographer and published author. Most recently she has published "Yummy Pics: A Food Blogger's Guide To Better Photos".