Methi Thepla – one of the many popular flat breads in the Indian Cuisine. It comes from the region of Gujarat and is a staple in many homes.
By Dassana Amit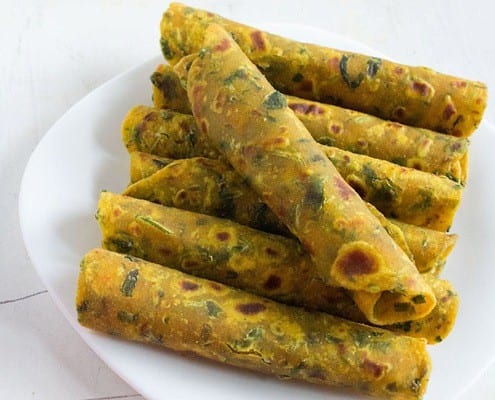 Methi Thepla is amongst one of the many flat breads that is popular in the Indian Cuisine. It originally comes from the region of Gujarat in India and is a staple in Gujarati homes.
They are healthy as they are made with fresh fenugreek leaves also called as 'Methi' in the Hindi language.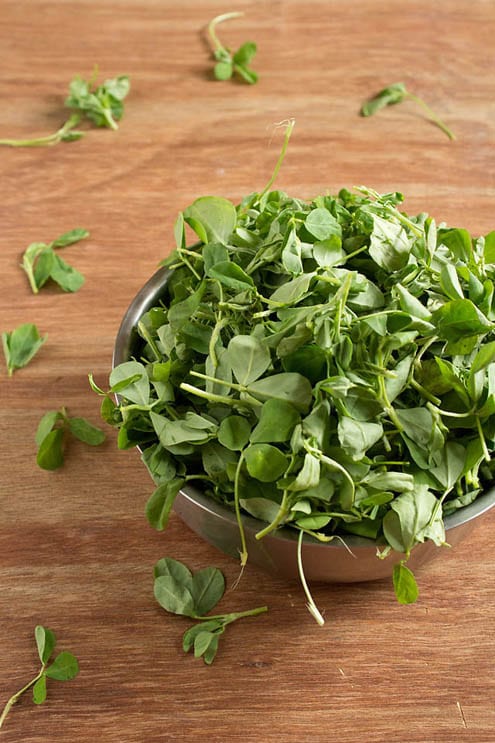 See Also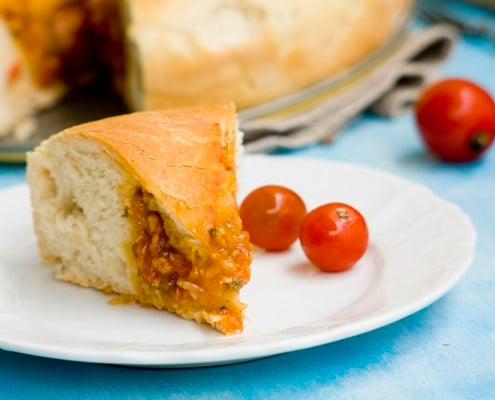 The flours that are added are whole wheat flour and gram flour. Traditionally the dough is kneaded with yogurt. But here I have veganized the recipe and kneaded the dough with a little water.
Easy and simple to make, these flat breads can be had anytime with some sweet mango pickle or just plain. They also pair off beautifully with the Indian chai.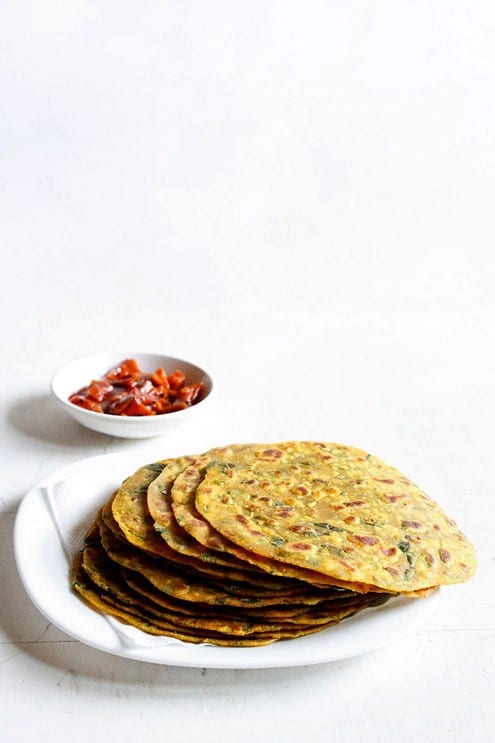 Recipe Type:
Breads, Snacks
Ingredients
1 cup whole wheat flour/atta
1 cup gram flour/besan
1 cup chopped fresh fenugreek leaves
1 tsp cumin powder or whole cumin
1 tsp coriander powder
½ tsp turmeric
1 tsp red chili powder
1 tsp green chilli-ginger paste
2 tbsp oil
1 to 2 tbsp water or 1 to 2 tbsp curd/yogurt
salt as required
oil for frying
Instructions
Mix all the ingredients except water.
Start kneading without adding water first.
The fenugreek leaves leave a lot of water.
Just add 1 tbsp or 2 tbsp water if required.
If the dough become sticky, then just add some more wheat flour.
Keep the dough aside for 15-20 minutes covered with a kitchen towel.
Now make medium sized balls from the dough.
Roll each ball thinly into flat discs.
Heat a frying pan or tava.
Place the thepla on the pan.
When one side is half cooked, flip it.
Apply ½ or 1 tsp oil on the cooked side.
Now again flip and apply ½ or 1 tsp oil on the other side.
Flip again twice.
Once the thepla is cooked as well as browned, remove from the pan.
Make all the theplas this way.
Stack them up and keep in a roti basket or covered in a kitchen napkin.
Serve them with mango or lime pickles, or potato sabzi or you can just have them plain with Indian chai.
Notes
Instead of water you can also add yogurt for kneading the dough. For frying instead of oil you can use ghee (clarified butter) if you want. If you do not get fenugreek leaves, then also you can make these breads with spinach, amaranth or any other greens.
Dassana Amit
Dassana never intended to start a food blog. She never ever thought about blogging in her wildest of dreams. Her only passion in her life was meditation. As she went deeper in meditation, she realized that her inborn gift of cooking delicious & healthy food needs some creative expression. So she started her blog " Veg Recipes of India " as an outcome of creative flowing energy. Now she has also combined her another gift i.e photography with cooking. When not blogging & food photographing - she works as a web developer and seo expert.