Most Italians BBQ over wood fires, and while they are more trouble than flipping the switch on a gas grill, the results are also much more flavorful.
By Judith Klinger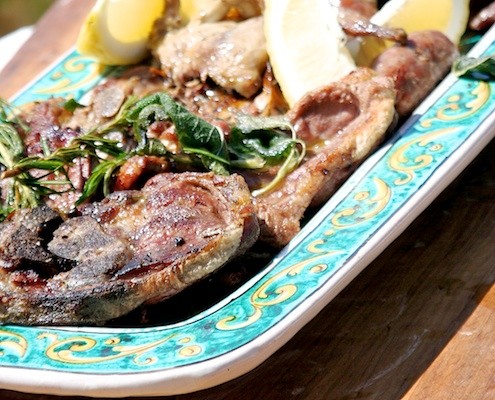 The grilling season is upon us. Everyone is heading outdoors,  firing up the BBQ, cleaning off the picnic table and getting ready for the good life that comes with summer.
It's no different in Italy, they are obsessed with living al fresco. As soon as it is remotely possible, cafe tables are moved outdoors with patrons basking in any small patch of sun and spontaneous BBQ parties just start happening.
Most Italians BBQ over wood fires, and while they are more trouble than flipping the switch on a gas grill, the results are also much more flavorful. Sure you can throw some wood chips onto the gas or charcoal grill, but you will never get the flavor that comes from using a 100% wood fire.
The other difference between Italian and US style grilling is the Italians don't use BBQ sauces. They want the pure flavor of the meat, mostly seasoned with salt and wood smoke, and finished with a drizzle of good olive oil.   Don't get me wrong, I love a tangy BBQ sauce as much as any American, but the Italian way of grilling meat is also pretty darn satisfying!
Serve with a young red wine, or a cold beer and lots of paper towels because everyone will be eating with their hands.
Buon appettito and Happy Memorial Day!
Print
Italian Mixed Grill BBQ
Easy summer mixed grill, finished with a fresh herb olive oil. Good for pork, lamb, chicken, sausage and beef. Mix it up and have fun!
Author:

Judith Klinger

Prep Time:

5 mins

Cook Time:

15 mins

Total Time:

20 minutes

Yield:

4

-6

1

x
Lamb Chops
Pork Chops or Sliced Pork Shoulder
Chicken Legs or Breast, cut into pieces
Sausage
Small Rib Eye Beef Steak
Olive Oil
Salt
Pepper
Fresh Herbs: Rosemary, Thyme, Sage, Parsley

2

–

3

Cracked, Unpeeled garlic cloves
Lemon wedges for garnish
Instructions
Choose thinner cuts of meat that have a bit of fat and bone. Extra lean pork or beef will turn hard and tough on a grill so you need a bit of fat and bone to keep things succulent. You can figure on having one piece of each type of meat per person, so each piece should not be that large.
Generously season the meats with salt and pepper and layer the slices with fresh herbs like rosemary, sage and thyme. You can do this the morning of the BBQ. Let the meats come up to room temperature before grilling.
Get the grill good and hot. You'll know it's hot enough if you can't hover your hand above the grill for less than five seconds.
Cook the meats until done, but remember, you'll be cooking in batches, and keeping the meats warm, so pull them off the grill slightly under done.
Warm up 1/4 cup of olive oil in a deep sauce pan. Toss more of the fresh herbs and a few cracked cloves of garlic into the pot. Be careful because the herbs will make the oil bubble, hiss and steam. Let the herbs cook for about 30-45 seconds then pour the herb scented oil over the grilled meats and eat immediately!
Judith Klinger
Judith Klinger is a culinary events producer, former Director of Operations for the International Association of Culinary Professionals. Judith and her husband, Jeff Albucher are the creators of Aroma Cucina, an Italian lifestyle blog. She is the author of Cooking Simply The Italian Way.