Use farro instead of rice in your summer sides for a nutrient-rich and delicious dish. Balsamic vinegar brings the salad together and wraps around the sweet tomatoes for a perfect finish.
By Veronica Lavenia
Photos by G. Giustolisi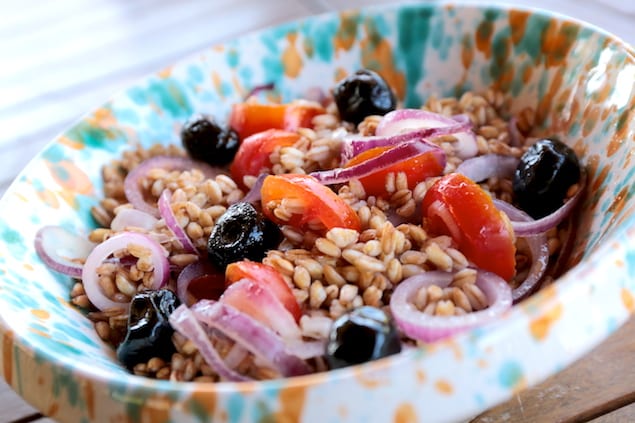 One of the typical dishes of the Mediterranean Italian diet is Farro cooked in various ways, depending on the season. Farro is an ancient grain from the rich properties, with a rich protein content, higher than other cereals. Very valuable is the Tuscan Farro, it is often used in traditional winter soups. In summer, it can be used as an alternative to rice. Farro requires a very minimal cooking time and is readily available in Italian specialty shops (look for "Farro" and not "Spelt", because Farro is not Spelt).

Mediterranean Farro salad
Use farro instead of rice in your summer sides for a nutrient-rich and delicious dish. Balsamic vinegar brings the salad together and wraps around the sweet tomatoes for a perfect finish.
Ingredients
300 g (10½ oz) Farro
6 ripe tomatoes
2 red onions
black pitted olives to taste
balsamic vinegar to taste
extra virgin olive oil to taste
salt and pepper to taste
Instructions
Wash and cut tomatoes and onions. Add the pitted olives and season with salt, pepper, balsamic vinegar and extra virgin olive oil to taste.
In a saucepan, boil salted water.
Rinse carefully the farro and pour into the pot of water.
After 10 minutes, drain and season with vegetable salad.