California Love – Meaty, Smokey Vegetarian Cornmeal Crust Pizza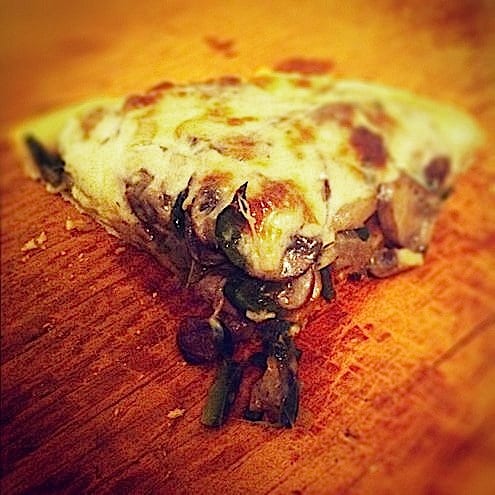 A vegetarian style pizza disguised under layers of meaty mushrooms and smoky provolone.
By Olivia Caminiti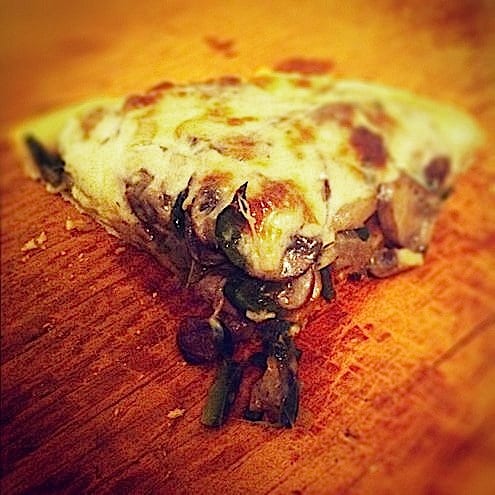 San Francisco's favorite, Vicolo's Cornmeal Pizza Crusts, strikes again. This time vegetarian style disguised under layers of meaty mushrooms and smoky provolone. Anaheim green chili peppers drew me in as an unusual ingredient for a pizza though it brought the exact elements I was looking for: color, mild heat, and a southwestern flavor.
With the crust all-ready to go, these pizzas allow the pizzaiolo to come out in all of us. It's too easy! The only way I foresee being able to really goof up on this pizza would be in cooking the mushrooms. One of the most valuable things I learned in cooking is how to use salt. Mushrooms hold so much water that if they are salted when first hitting a hot pan they will steam in their own liquid but if they are browned before salting they take on a whole other meaty flavor. Don't have a soggy pizza… treat your mushrooms right.
California Love- Meaty, Smokey Vegetarian Cornmeal Crust Pizza
Another Vicolo cornmeal crust pizza though this time I'm sticking to veggies with a southwestern flavor.
Ingredients
1 Vicolo cornmeal crust, thawed
⅓ cup (2.75 oz.) red sauce
2 Tbls. (1 oz.) olive oil
16 oz. crimini mushrooms, sliced ¼" (.635 cm)
1 Anaheim green chili pepper, sliced ¼" (.635 cm)
½ white onion, sliced ¼" (.635 cm)
8 oz. smoked provolone, shredded
red chili flakes, to taste
salt & fresh cracked black pepper, to taste
Instructions
Preheat oven to 425*F (218*C) with rack in the center.
In a medium large saute pan over medium, heat olive oil then add mushrooms.
Saute till liquid has released and evaporated then add onions, peppers, salt & fresh cracked black pepper to taste.
Saute till peppers and onions have softened and remove from heat; Meanwhile, add tomato sauce to cornmeal crust
Add saute mix on top of pizza sauce and then over with smoked provolone.
Put crust directly on the rack for 12-15 minutes and bake until cheese starts browning and crust is crispy.
Remove and let sit for minimum of 5 minutes.
Cut into quarters. Enjoy & repeat.
Olivia Caminiti
Olivia's passion for food is rooted in California's Bay Area though now regrowing in Austin, Texas. She mixes with her travel experience, eye for beautiful food and intuition to find the next ingredient to keep a balance in life. See what she incorporates next and check-out her website at oliviacaminiti.com