[adrotate banner="44"]
Hosting a romantic tapas dinner for two is easy and inexpensive. Throw in a nice bottle of Rioja red and you've got yourself a gourmet dinner.
By
Nancy Lopez-McHugh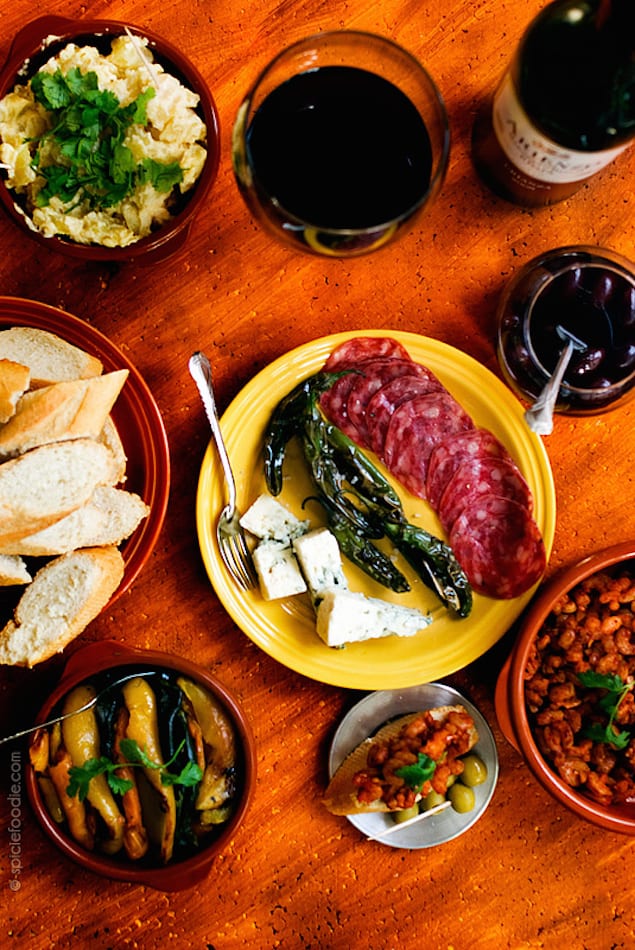 When I want to prepare a special meal for us, tapas and a good bootle of red wine are always high on the list. Tapas are fun to prepare, eat and share with the ones you love.
What are tapas exactly? They are small snacks (canapés) served in Spanish bars alongside drinks. Even though they are meant as little bites, I love eating several tapas with a high-quality Spanish wine as a main meal. There is something so enjoyable about getting to eat small servings of many different flavours and textures in just one meal. Maybe my tastebuds are a bit greedy, but good food and wine are two of life's little pleasures.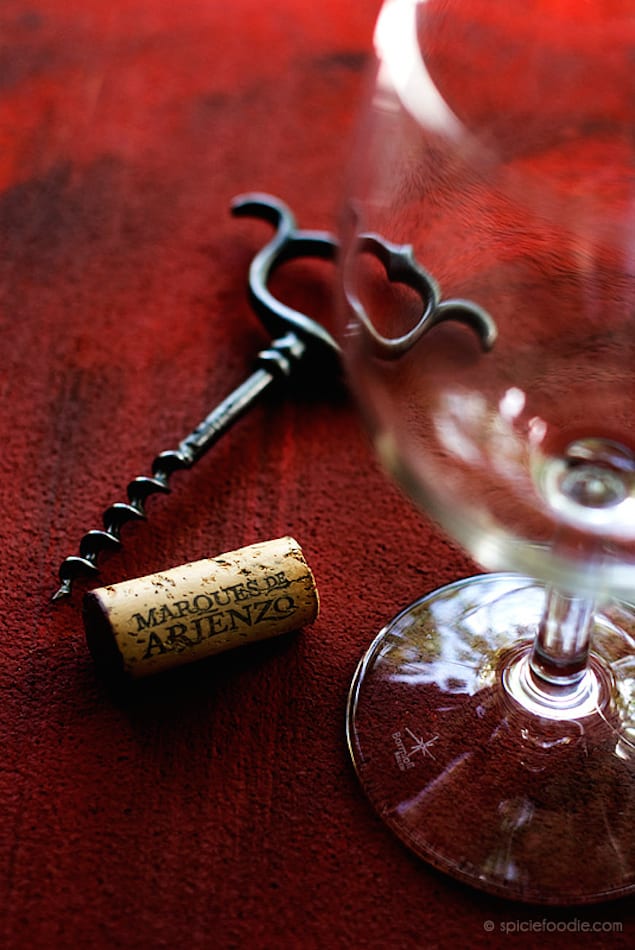 The concept of tapas is not only a popular one in Spain, nowadays people around the world have incorporated traditional Spanish tapas with their own local cuisines. Tapas have long been high up on the food pedestal and their modern evolution has skyrocketed them into spectacular culinary heights. If you've never eaten tapas then you are seriously missing out.
See Also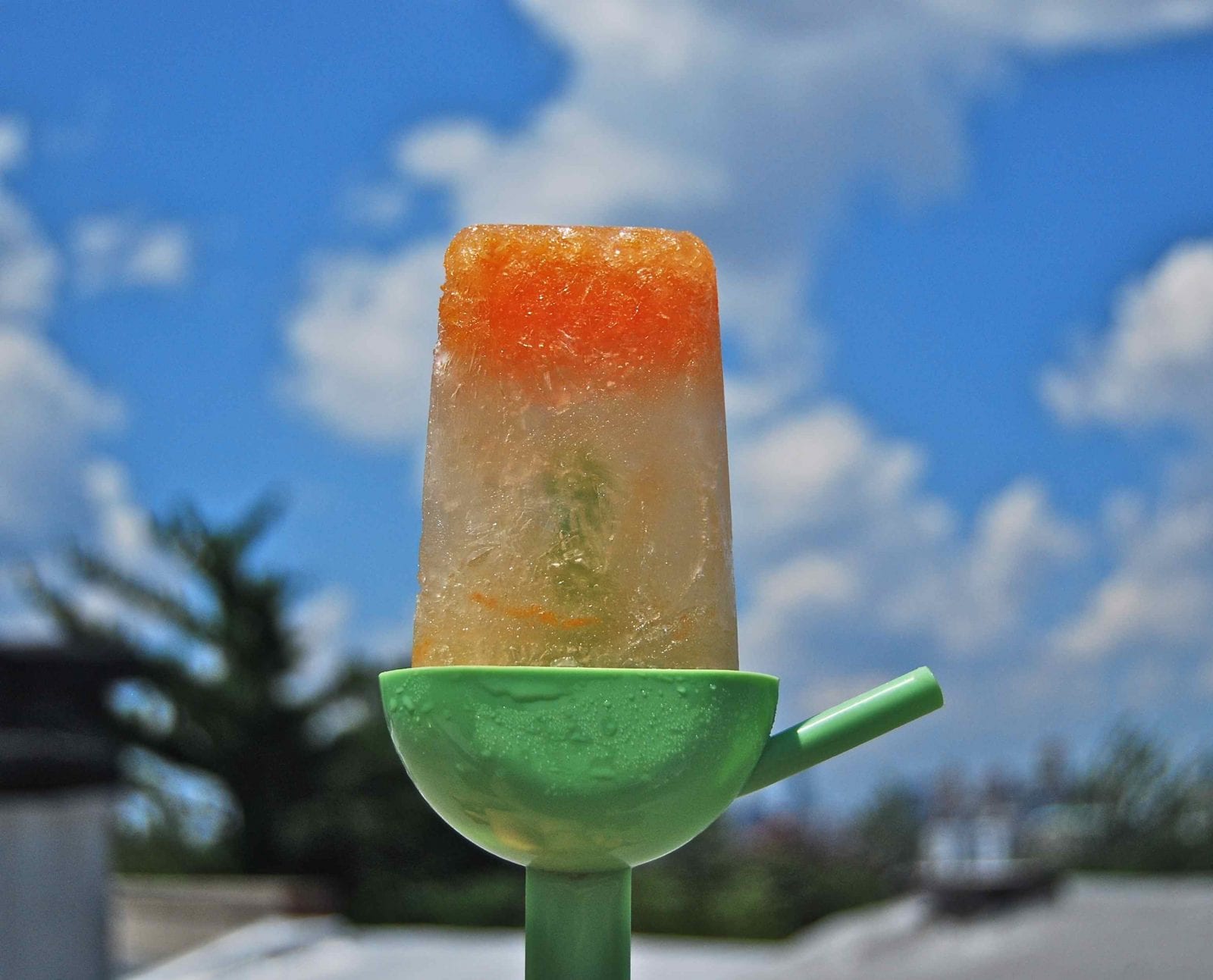 For our latest romantic tapas dinner I incorporated traditional Spanish flavours with touches of Mexico and Denmark. I served patatas alioli (or alioli potatoes) with cilantro instead of parsley, a type of cured Spanish sausage (salchichon español), fried Serrano peppers sprinkled with sea salt (in lieu of Padron peppers), creamy Danish blue cheese, pimento asado (roasted sweet peppers), chopped shrimp cooked with smoked paprika (to make for easier servings on bread), black and green olives, slices of a crunchy baguette from the bakery and an excellent bottle of Rioja red wine. The meal consisted of salty, spicy, sweet, tart, creamy and crunchy tastes and textures. The meal was an absolute success — it was a match made in foodie heaven!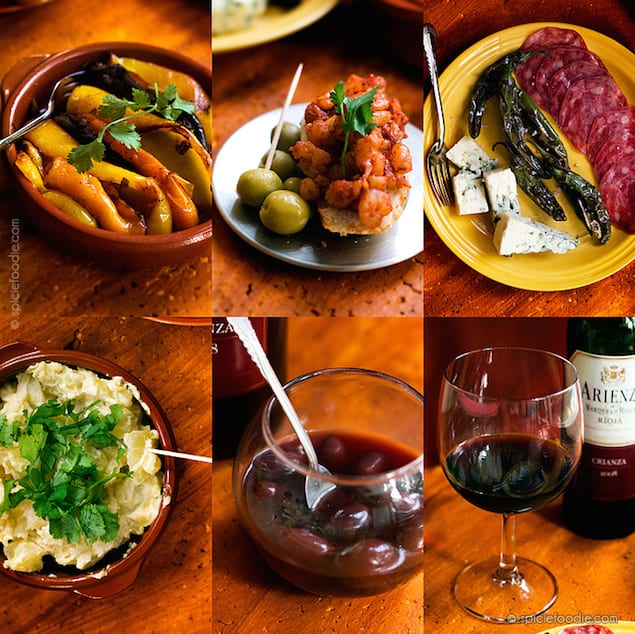 Print
A Match Made in Heaven — Tapas with an International Touch
Hosting a romantic tapas dinner for two is easy and inexpensive. Throw in a nice bottle of Rioja red and you've got yourself a gourmet dinner.
Author:

Nancy Lopez-McHugh

Prep Time:

20 mins

Cook Time:

1 min

Total Time:

21 mins

Yield:

2

1

x
Category:

Appetizer, Main

Cuisine:

International, Spanish
No prep tapa ingredients:
1

large baguette, sliced
black and green olives
Spanish cured sausage or Serrano ham
Danish blue cheese
For the roasted sweet peppers:
1

large yellow bell pepper, stem and seeds removed and cut in half

1

large orange bell pepper, stem and seeds removed and cut in half

1

large poblano pepper, stem and seeds removed and cut in half

2 tbsp

olive oil
large pinch of sea salt and of ground black pepper

1 tsp

granulated garlic
pinch of oregano
For the patatas alioli:
half a

batch of this alioli potato recipe (substitute parsley for cilantro)
For the chopped shrimp with smoked paprika:
250

gms shrimp, cleaned, tail removed and chopped

4

cloves of garlic, minced

1.5 tbsp

olive oil
large pinch of sea salt

1

heaping tbsp smoked paprika
For fried Serrano peppers:
fresh Serrano peppers, cleaned and patted dry

2 tbsp

olive oil
fine sea salt
Instructions
Instructions for the roasted sweet peppers:
Heat the oven to 190c or 375f and line a baking sheet with baking paper, set aside. Mix all of the spices and oil until well combined. After cleaning the peppers rub the oil and spice mixture until each pepper half is well coated. Place on baking sheet with inside of pepper facing down and roast 20 minutes then flip and roast for another 10-15 minutes until they are completely soft. (Pay extra attention to the poblano because they are thinner and it can burn.) Remove from the oven and baking sheet and place on a plate. Allow to cool then peel away the skin, plate and set aside until ready to serve.
Instructions for potatoes:
Thoroughly wash the potatoes. Put them unpeeled in a saucepan and cover with cold water.
Add the salt and the bay leaf.
Put on high heat, bring to a rolling boil and cook uncovered for 15-20 minutes, depending on the quality of the potatoes. Add more water if needed before the potatoes are cooked. Prick with a knife to check for doneness.
When cooked, turn off the heat and leave the potatoes to temper in the water another 20 minutes. Then rinse and leave to cool completely.
Prepare the garlic mayonnaise while the potatoes cool down: peel the garlic cloves, cut them in half and pry out the germ (the sprout in the center of the cloves), as it is supposed to be the cause of the garlic's digestive aggressivity. Dice the cloves.
Mash the garlic cloves in a mortar with a pinch of salt or process them to a puree in a food processor (if it can handle such a small amount of ingredients).
Put the egg, which should be at ambient temperature, in a blender or food processor.
Add the garlic, the salt and a dash of lemon juice. Pulse to mix.
Switch on the blender and start adding the oil in a steady thin stream through the lid, till you finish all the oil and the mixture has thickened and emulsified. When done, test for seasoning. If you find the sauce too garlicky for your taste, you can always add a ¼ cup more of oil, but not more as one egg yolk can only emulsify a certain total amount of oil. Also I recommend to keep the sauce on the salty side, as you need the sauce to outweigh the blandness of the potatoes.
Peel the potatoes and cut into chunks, put them in a salad bowl or in individual small bowls. Add the sauce to the potato chunks and toss to cover well.
To finish, finely chop a few sprigs of parsley and sprinkle on top of the potatoes.
Instructions for the chopped shrimp with smoked paprika:
Heat the oil and sauté the garlic until soft. Next add the shrimp and cook until firm and when they have turned pink. Quickly mix in the paprika and sea salt and stir until they have coated the shrimp well. Allow to cook another 4 minutes, turn heat off and place inside serving container until ready to serve.
Instructions for fried Serrano peppers:
Heat the oil in and once hot add the chiles. Allow to brown and softened — about 5-8 minutes. Remove from pan and sprinkle with sea salt right before serving.
How to serve the tapas:
Arrange a plate with the fried Serrano peppers, blue cheese slices and Spanish cured sausage. Place the bread slices in a large container or basket. The sweet roasted peppers too should be placed inside a serving bowl/plate — as should be the cooked shrimp. Make sure to have plenty of serving utensils for each tapa. Allow each person to assemble their tapas as desired and serve with a glass of your favourite Rioja wine.

[adrotate banner="43″]
Nancy Lopez-McHugh
Nancy Lopez-McHugh is a food blogger, photographer and published author. Most recently she has published "Yummy Pics: A Food Blogger's Guide To Better Photos".