[adrotate banner="44″]
Spiced bison kebabs with nutty couscous and a glass of Rioja wine is a blissful combination. Make a mint and yogurt dipping sauce for a complete meal.
By
Tian Lee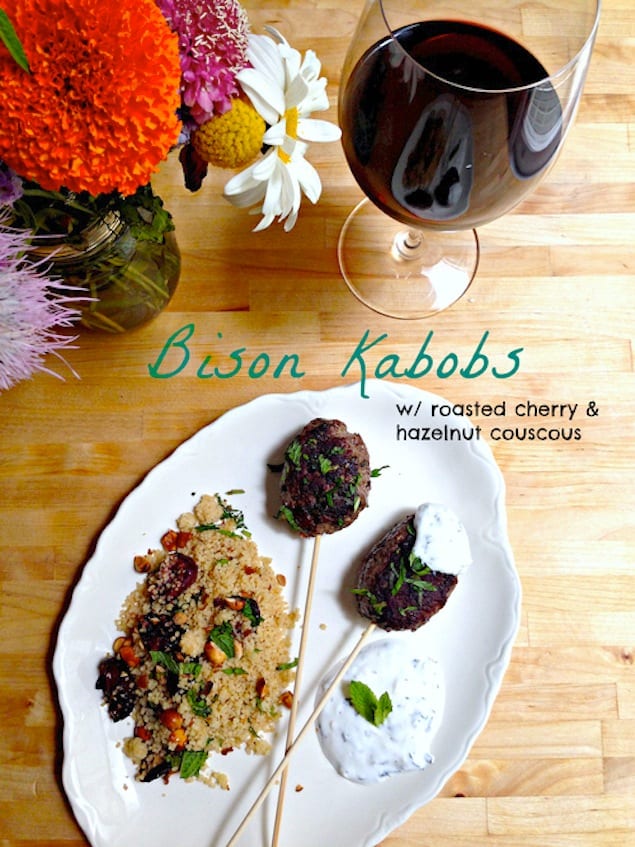 On of my favorite weeknight meals are bison kafka kabobs. I serve it with a side of whole wheat couscous with roasted hazeulnuts, cherries, mint, and a yogurt mint dipping sauce. It's one of those meals where you scratch your head and wonder how "healthy food" could taste so good and be so satisfying.
If you've never tried bison, it's a fantastic alternative to beef – with more protein, less fat and calories. Also, bison raised in the U.S. feed solely on grass and hay, and are not fed hormones or antibiotics. It's a bit pricier at the store, but if you're going to consume meat, I think it's always worth it to opt for the higher quality kind.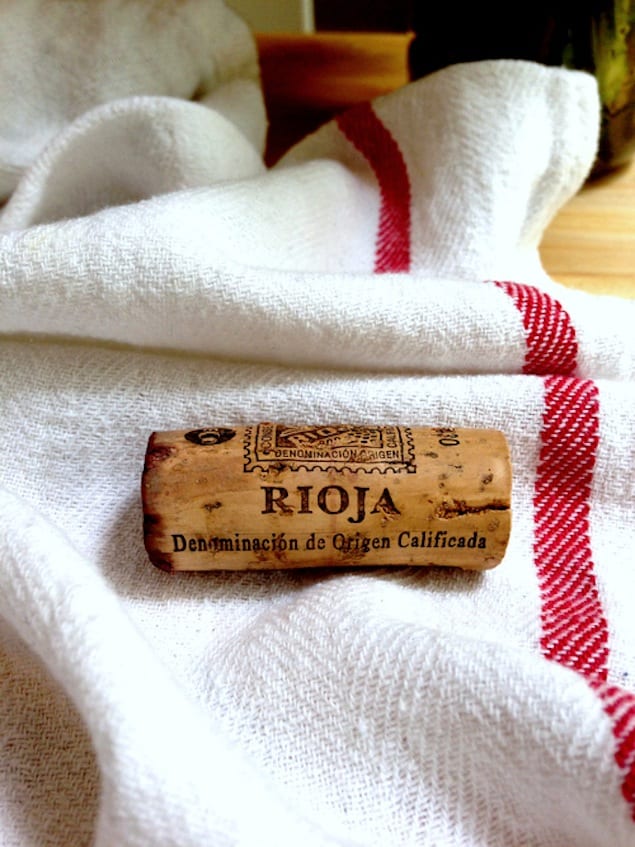 To pair with this wonderful meal, I picked Campo Viejo's Rioja Reserva 2008 red – an incredibly versatile and balanced wine that has notes of cherry (perfect with my roasted cherry couscous!) and a nice finish. It also paired very well with the bison, bringing out all the different spices in the meat.
Known for their flagship red wine grape Tempranillo, Rioja offers some of the best 'food' wines in the world – but their true beauty is that they pair well with everything from fish to veggies to meats and cheeses.
Print
A Match Made in Heaven — Bison Kebabs with Roasted Cherry and Hazelnut Couscous
Spiced bison kebabs with nutty couscous and a glass of Rioja wine is a blissful combination. Make a mint and yogurt dipping sauce for a complete meal.
Author:

Tian Lee

Category:

Main, Appetizer
For bison kabobs
3 tablespoons

finely chopped mint

3 tablespoons

finely chopped cilantro

1/2 teaspoon

ground cumin

1/4 teaspoon

ground allspice

1/4 teaspoon

ground cinnamon

3/4 teaspoon

salt

3/4

pound ground bison
For couscous
1 cup

whole wheat couscous

1 cup

water

1 tablespoon

butter

1/2 teaspoon

salt

1.5 cups

fresh cherries (pitted, halved, and roasted in oven until caramelized ~

5

–

10

minutes)

1/2 cup

raw hazelnuts (toasted in oven ~

5

–

7

minutes)

1 tablespoon

olive oil

1 tablespoon

lemon juice
For mint yogurt dipping sauce
1/2 cup

fat-free Greek yogurt

2 tablespoons

chopped mint, divided

1/2 teaspoon

minced garlic

1 tablespoon

fresh lemon juice

1/2 teaspoon

brown sugar

1 tablespoon

water (to thin out if it's too thick)
Instructions
Soak 12 wooden skewers in water for 20 minutes.
Whisk together yogurt, 2 tablespoons mint, garlic, lemon juice, sugar and water. Cover and chill.
Pit, halve and place cherries on pan with cooking spray. Roast for 10 min or until carmelized. Roast raw hazelnuts and let it cool for 15 minutes. When cool, roughly chop with knife.
Prepare whole wheat couscous (use Trader Joes – it's delish) according to box. Mix in cooled roasted cherries, leftover chiffonated mint from the yogurt dipping sauce, and add in chopped hazelnuts. Drizzle with olive oil and lemon juice.
Mix mint and next 6 ingredients in a bowl. Form into 12 football shaped meatballs. Coat grill pan (or regular pan) with cooking spray; preheat over medium-high heat. Cook kebabs, turning, 3 minutes for medium. When done, poke wooden skewers through meat and finish for a 1-3 minutes in the oven to make sure the meat is cooked through.
Serve bison kabobs medium or medium rare with side of couscous.
[adrotate banner="43″]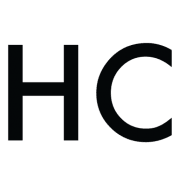 Tian Lee
I'm author of The Juicy Peach Diaries. I believe that being healthy can taste delicious and be awesome. I am not strictly gluten-free, diary-free, or meat-free. I believe we can get all of the nutrients we need from a variety of foods, and that life is all about joy & balance. When I'm not blogging, you'll likely find me on a kayak, in new countries & tasting foods I've never had, or hand-picking fruit on a farm.