Panettone was first made in Milan but now is eaten all over Italy to celebrate Christmas and the New Year.
By Paola Lovisetti Scamihorn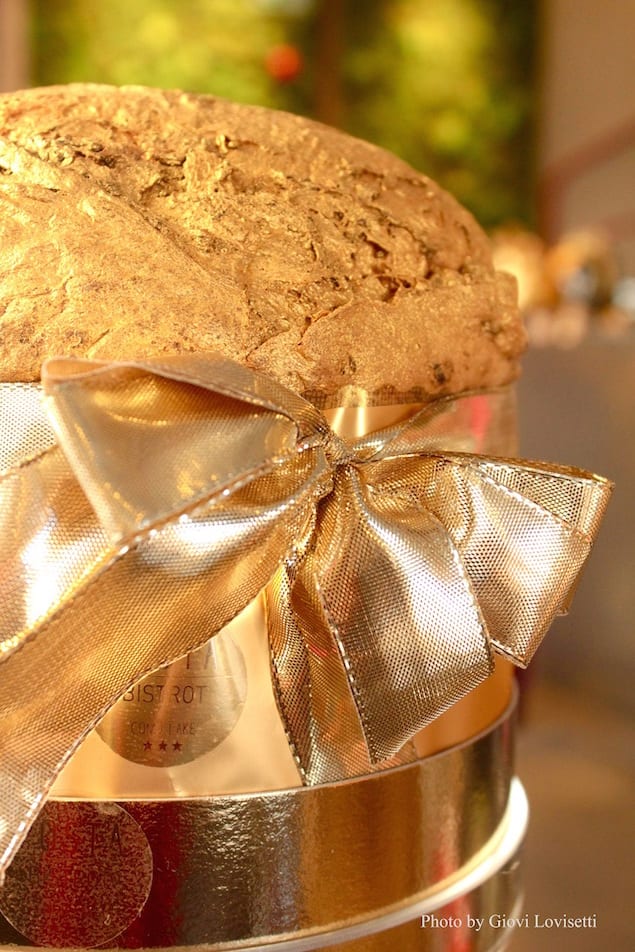 Panettone is Italy's cake for the Holidays, a delicious dessert somewhere between a cake and a loaf of sweet bread. It's this cake's dome shape that makes it uniquely identifiable. The dough is very soft and the ingredients very simple: flour, eggs, yeast, butter, sugar, candied orange and lime, raisins … but the taste is mouth-watering.
Panettone was first made in Milan but now is eaten all over Italy to celebrate Christmas and the New Year. Some legends say that panettone was a creation of love: A 15th-century legend attributes the invention to the nobleman Messer Ughetto degli Atellani, who was in love with the daughter of a poor baker named Toni. He disguised himself as a baker and prepared this sweet bread to conquer the lovely maiden. Instead, another, somewhat less-romantic legend says that during a Christmas lunch at the court of Ludovico il Moro in Milan (15th century), the cook burned the Christmas cake he was supposed to serve. Seeing the cook's despair, a scullion named Toni proposed to serve the sweet and simple bread loaf that he had prepared that morning. The dessert was enthusiastically received by all the guests present. The cook congratulated Toni and name the cake after him, Pan di Toni, Toni's Bread.
Since then panettone became the Christmas cake, and nowadays many variations are available, such as with chocolate, flavored cream or dried berries. Panettone is served with sparkling sweet wine such as Moscato d'Asti and Passito of Sicily. You can enjoy it with a cream of mascarpone flavored with any one of a variety of liqueurs: fruity ones such as limoncello (lemon liqueur), mandarinetto (mandarin liqueur) and Gran Marnier, or perhaps Amaretto or rum. My favorite is Mandarinetto made of juicy Sicilian mandarins, exceptionally flavorful and refreshing.

Mascarpone Cream
Panettone was first made in Milan but now is eaten all over Italy to celebrate Christmas and the New Year. Serve it with a flavored mascarpone.
Author:
Paola Lovisetti Scamihorn
Ingredients
225 g (½ pound) fresh mascarpone cheese
55 g (2/3 cup) powdered sugar
3-4 tablespoons Mandarinetto or other liqueur
Instructions
Place the mascarpone and sugar in a medium mixing bowl
Use an electric mixer to beat for 1 minute or until sugar dissolves. Stir in the liqueur. Depending on the type of mascarpone cheese, you might have to add 2-3 tablespoon of cream to make the mascarpone cream smoother. You can serve the mascarpone either on top of the Panettone slice or aside, decorating with some mandarin or orange zest.
Notes
Panettone should be served warm. In Italy it is customary to set it on the radiator for half an hour or so before serving. Panettone is a simple cake but the preparation is laborious because the raising time occurs in different stages and the temperature of the room is very critical. It is very common and easier to buy the Panottone rather than make it at home, unless you are a pastry chef! There are so many good brands available on the market and each bakery produces its own panettone, called "Panettone Artigianale", Artisan Panettone.
Paola Lovisetti Scamihorn
Paola is Italian and cooking has always been her passion. In October of 2012 she founded her cooking blog "Passion and Cooking" to collect her recipes and give friends a sampling of true Italian cuisine. She collaborates with several Italian and American magazines and just published her first book - Love is Eating - Healthy and Tasty Italian Recipes for Family Meal (click on http://www.passionandcooking.com/book/).