Homemade marshmallows are easier than you think to make — and with this sweet and salty butterscotch sauce, they taste way better than the store-bought variety.
By Ruth Kirwan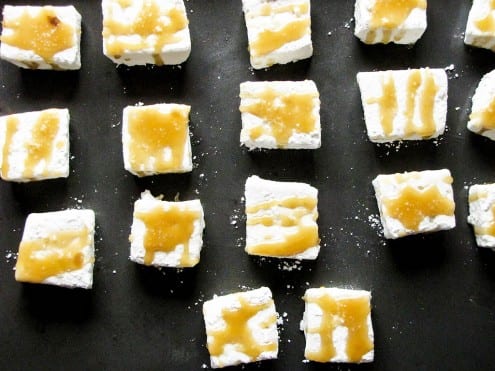 Marshmallows with Salted Butterscotch
Homemade marshmallows are easier than you think to make -- and with this sweet and salty butterscotch sauce, they taste way better than the store-bought variety.
Author:
Ruth Kirwan, adapted from Martha Stewart
Ingredients
for the marshmallows
2 envelopes unflavored powdered gelatin
1½ cups white sugar
⅓ cup light corn syrup
pinch coarse sea salt
1 teaspoon vanilla extract
½ cup powdered sugar
you will need: one candy thermometer
for the butterscotch sauce
½ cup white sugar
½ cup dark brown sugar
½ cup heavy cream
6 tablespoons butter
1 teaspoon salt
1 teaspoon vanilla extract
coarse sea salt, for sprinkling
Instructions
make the marshmallows:
Brush an 8"x13" pan with olive oil, then layer with parchment paper. Grease the parchment paper with olive oil, making sure all the sides are coated.
Pour ½ cup cold water into a bowl and sprinkle the water with the gelatin, making an even layer. Set aside and allow the gelatin to "bloom", and get thick.
While the gelatin is thickening, heat the white sugar, corn syrup, salt and ½ cup water over medium heat, stirring to dissolve the sugar. Allow this to cook down until the temperature measures 240*F, about 8 or 9 minutes.
Remove the syrup from the heat. Using a hand mixer set to low, slowly beat the syrup into the gelatin. Gradually raise the speed of the mixer, beating and scraping down the sides of the bowl as necessary. Beat for about 10 or 12 minutes, until the mixture is in stiff peaks. Stir in the vanilla.
Pour the marshmallow batter into the prepared baking dish, smoothing out the top. Set aside and let sit, uncovered, for at least 3 hours or overnight.
When ready, remove the marshmallows from the pan by lifting them out with the parchment paper and peeling the paper away from the marshmallows. Slice the marshmallows into squares and toss in the powdered sugar.
make the butterscotch sauce:
Combine both sugars, heavy cream, butter, salt and vanilla in a saucepan over medium heat. Stirring often, boil until the mixture has thickened, about 5 minutes. Remove from heat and allow to cool for a few minutes.
When the sauce is cool but is still liquid enough to pour, drizzle it over the marshmallows and sprinkle with a layer of coarse sea salt. Allow the sauce to set for at least 20 minutes before serving.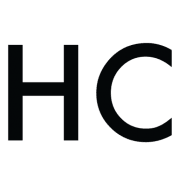 Ruth Kirwan
Midwestern transplant living in New York City. I live in a teeny apartment in NYC with my husband, whom I call the Big Man. I'm a food writer, recipe developer and tester, cooking school instructor, and total cheese lover. I'm happiest whenever I'm in front of a hot stove with a wooden spoon in my hand.