Marinated Tofu Tacos with Mini Roasted Peppers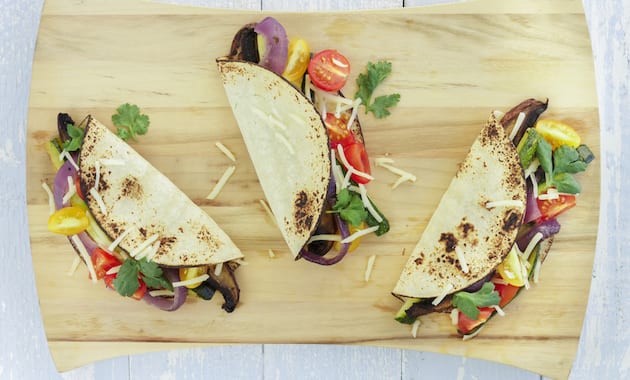 Sliced avocado, sweet roasted peppers, and tasty marinated tofu make these tacos refreshing and flavorful. They are an original creation from The Rainforest Inn, an ecologically minded bed and breakfast in El Yunque rainforest in Puerto Rico. The Inn serves homemade vegetarian breakfasts each morning, and these tacos are a specialty for lunch or dinner, best enjoyed after a hike through the tropical jungle or a dip in the waterfall.
By Kate Devine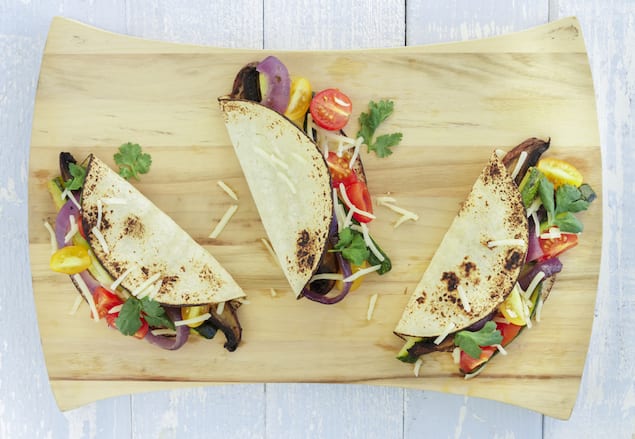 Shutterstock: Leigh Anne Meeks
Marinated Tofu Tacos
Ingredients
1 block extra firm tofu
¼ cup orange juice
1 tbsp honey
1 tbsp hot sauce
2 tbsp olive oil
24 mini multi-colored pointed peppers
1½ cups cooked quinoa
2 cups kale
2 large avocados, sliced
2 medium vine ripened tomatos, sliced
½ cup finely shredded red cabbage
1 cup sunflower sprouts
12 wheat tortillas
Instructions
Preheat oven to 400. Coat peppers in olive oil, salt and pepper, and roast for 20 minutes until soft.
Massage and lightly sauté kale in olive oil. Mix kale with cooked quinoa in a separate bowl.
Cut tofu into 1 inch squares. In a sauté pan, cook tofu in orange juice, honey and hot sauce until juices have evaporated, approximately 5 minutes.
To assemble tacos: Place quinoa and kale on the bottom, then tofu, roasted peppers, tomato slices, and sliced avocado. Top with shredded cabbage and sunflower sprouts. Serve with a fruity hot-sauce of your choice for added sweetness and a kick.
Kate Devine
Kate Devine began cultivating her culinary insight at the age of 13 during her first trip to Italy. While studying at Rutgers University, she spent a semester traveling through Spain sampling the regional fare. As an editorial intern for Honest Cooking, Kate couples her love of good food with her love of writing.