Maple-Pecan Date Spice Cake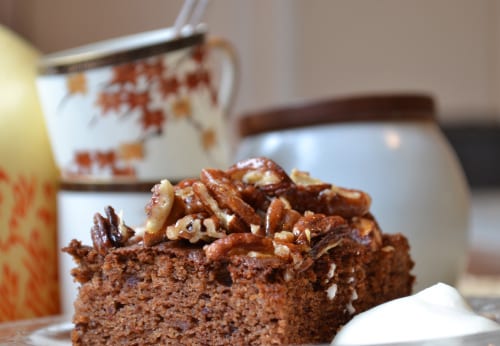 The pecan nut topping became slightly caramelized in the oven under its maple syrup coating, and added great crunch to the cake in contrast to the soft sponge.
By Helena Berthon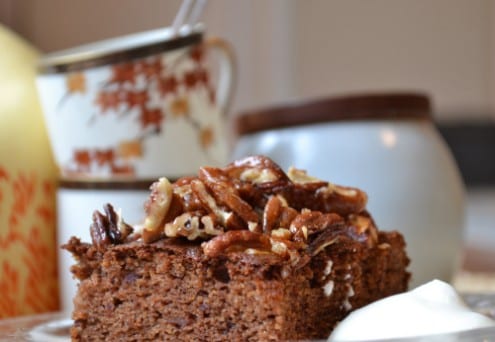 This cake is loosely based on one from the petite kitchen blog. I'm not going to say that it's the best cake I've ever eaten, but the simple joy of cake after a few weeks of self-restriction was enough to give it serious brownie points. The dark sponge was bouncy, light, and redolent of a homely gingerbread. The dates added sweetness, but no overwhelming date flavour, the ground almonds lingered fragrantly adding depth and structure, but the real punch came from the cinnamon and ginger – warming and autumnal (even if it is nearly spring). The pecan nut topping became slightly caramelised in the oven under its maple syrup coating, and added great crunch to the cake in contrast to the soft sponge. Served with crème fraîche (almost like icing…) and an extra drizzle of maple syrup, it was a highly successful, saintly pudding.
Maple-Pecan Date Spice Cake
The pecan nut topping became slightly caramelized in the oven under its maple syrup coating, and added great crunch to the cake in contrast to the soft sponge.
Author:
Helena Berthon, adapted from petite kitchen
Ingredients
170g dates (soaked for a couple of hours, then drained)
200g ground almonds
4 tbsp maple syrup
5 eggs
1 tsp pure vanilla extract
1 tsp baking soda
1 tsp ground ginger
1 tsp cinnamon
For the topping
100g pecan nuts, roughly chopped
2 tbsp maple syrup
Crème fraîche and more maple syrup to serve.
Instructions
Preheat the oven to 160°C and grease a 20cm square (or round) cake tin with butter. Line the bottom of the tin with greaseproof paper.
Place the soaked dates, ground almonds, maple syrup, eggs, vanilla, baking soda and spices into a food processor and blitz until smooth.
Pour the mixture into the prepared cake tin. Mix together the chopped pecans and the maple syrup and then scatter them over the surface of the cake. Bake for 60 minutes or until a skewer comes out clean. Allow the cake to cool completely in the tin before removing it. Serve with crème fraîche and maple syrup.
Helena Berthon
Helena is a huge foodie making the most of the explosive gastronomic scene in London, England. She has had her own food blog, http://hellyfillsherbelly.com, for almost two years in which she combines recipes and food styling, with witty and engaging stories. At the moment, she's working all hours in the world of food television, which although hard work, is the perfect opportunity to taste some top notch food. She loves eating, restaurants and cooking, and can't imagine a life that doesn't revolve around food.