These little guys bake in only five minutes. Seriously, in five minutes you will have donuts topped with a smooth maple glaze.
By Angie Wright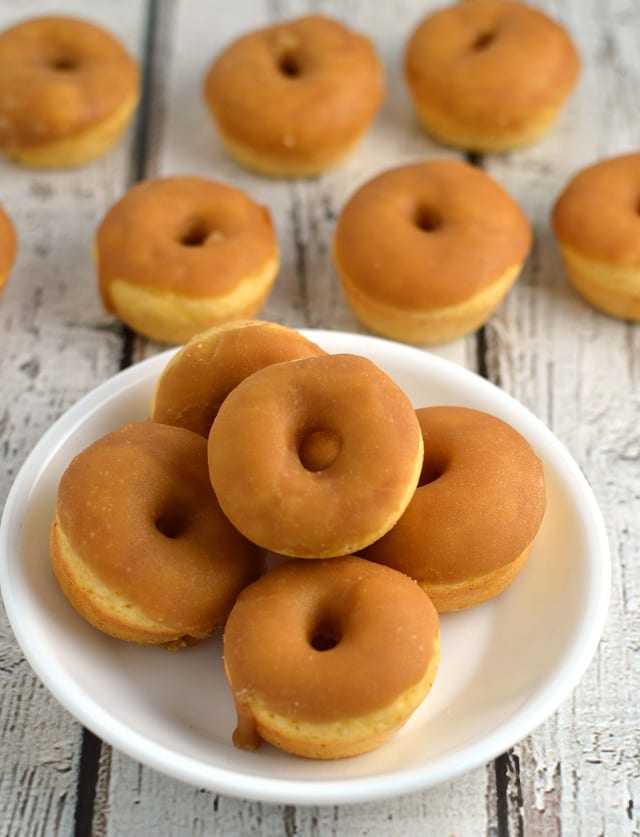 Listen mini donuts, you're not fooling me.  You may appear all little and cute but in reality you just pop into my mouth easier.  Makes it pretty convenient to keep going back for more.  Ok, just one more.
I bought this mini donut pan last month while I was on a weekend getaway with my daughter.  Stuffed it into my hoarder baking pan cupboard and forgot about it until I was thinking about what to do with some pumpkin in the fridge.
Can it be January already?  I feel like I'm a bit out of control with the pumpkin this year.
I guess this is what happens when you don't use it all year.  Fall rolls around and I'm all over it!
It's hard not to make mini donuts when they're this easy.  Using a piping bag gets the job done in no time!
See Also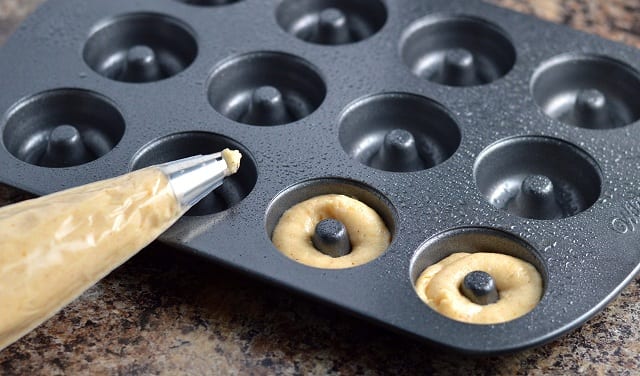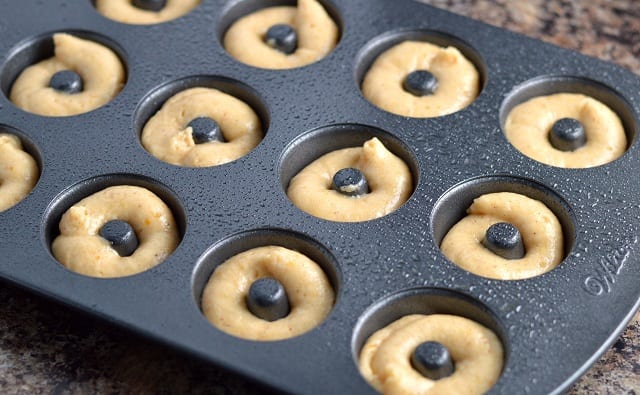 These little guys bake in only 5 minutes.  Seriously, in 5 minutes you get donuts.  Baked pumpkin donuts with maple glaze.  Keyword:  Baked.  We're going to wink here and claim healthy. 

Baked pumpkin donuts with maple glaze
Ingredients
1¼ cup cake flour
½ cup sugar
1¼ tsp baking powder
½ tsp salt
¼ tsp pumpkin pie spice
½ (1.2dl) cup buttermilk
2 tbsp pumpkin puree
1 egg, lightly beaten
1 tbsp melted butter
For the glaze
¼ cup butter
½ cup brown sugar
2 tbsp buttermilk
2 tbsp maple syrup
1 tsp vanilla
1½ cups powdered sugar
Instructions
Preheat the oven to 425 degrees.
In a large bowl combine the flour, sugar, baking powder, salt and spice.
Add the buttermilk, pumpkin, egg and melted butter.
Stir until all combined.
Fill each donut cup ½ full using a spoon or piping bag.
Bake the donuts for 5 minutes. Let them cool in the pan for a few minutes before placing them on a cooling rack. Repeat for the rest of the batter.
For the glaze
In a medium pan melt the butter and add the brown sugar until fully dissolved.
Stir in the buttermilk, maple and vanilla.
Slowly add the powdered sugar until fully combined.
Dip one side of the donut and place them back on the cooling rack.
Angie Wright
It's no surprise to most that Angie loves cake. In fact, she has labeled most Friday's around her home Cake Friday. She have three built in taste testers, my husband and two kids. She resides in Northern BC and loves to travel, trying new recipes, and baking. She may not be an expert on everything cake, but she knows a lot and has the extra ten pounds to prove it.