Maple Garlic Roasted Vegetables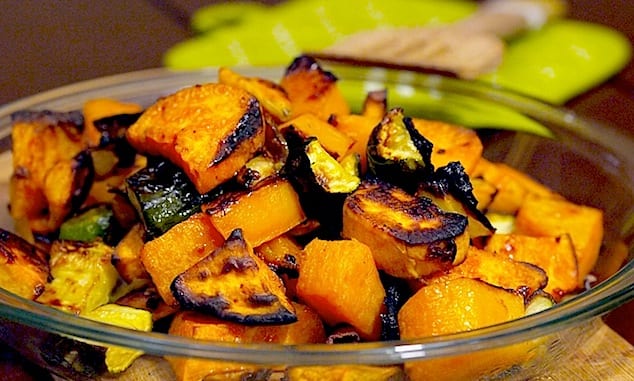 A great twist on plain roasted vegetables. Just add that touch of maple sweetness and the tangy garlic and you've got yourself a hit.
By Maya Moscovich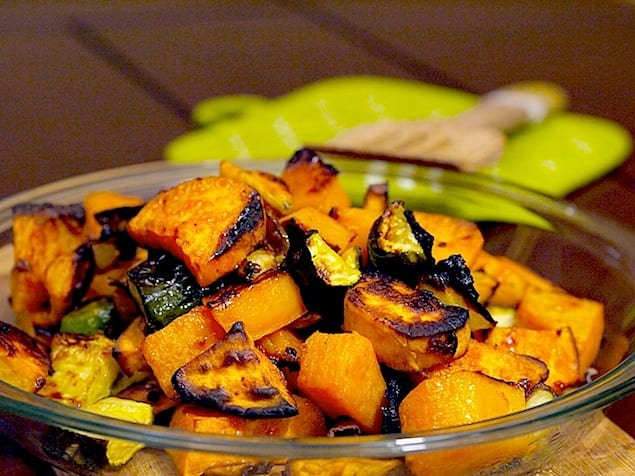 Isn't it the easiest thing in the world? roasted vegetables that is. You just cut them, mix with their sauce, place in the oven and wait. And the more veggies the merrier your dish will look. And after 30-40 minutes you got your perfectly nutritious side dish.

Maple Garlic Roasted Vegetables
A great twist on plain roasted vegetables. Just add that touch of maple sweetness and the tangy garlic and you've got yourself a hit.
Ingredients
2 Sweet Potatoes – Cut into large cubes
2 Zucchinis – Cut into large pieces
½ Butternut Squash – Cut into medium pieces (because it takes a bit longer to roast)
½ Onion – cut into large pieces
1 ½ Tbsp Maple Syrup
3 Garlic Cloves – Minced
3 Tbsp Olive Oil
Kosher (coarse) Salt
Instructions
Preheat oven to 400F (200C) and layer a baking sheet with parchment paper (you can also make these in a Pyrex oven proof glass dish).
Place all the cut vegetables in a mixing bowl.
In a small bowl, mix together the maple syrup, olive oil and minced garlic until evenly mixed.
Pour the maple mix on top of the vegetables and stir it using a wooden spoon until the vegetables are fully covered with the mix.
Place the vegetables onto the baking sheet (or Pyrex) and sprinkle with some kosher (coarse) salt on top.
Bake in the preheated oven for 35 minutes or until you test the veggies with a fork and they've reached your desired tenderness.
Maya Moscovich
Being born and raised in Israel, Mayas nutrition always consisted of food that's spiced well, light on the stomach and includes a lot of vegetables, fruits and olive oil. Now residing in Halifax, Nova Scotia, she is on a quest to reconnect with the food traditions of her home country.