Pulpy and juicy mangoes paired with oats for a healthy and tasty dessert.
By Prathima Rao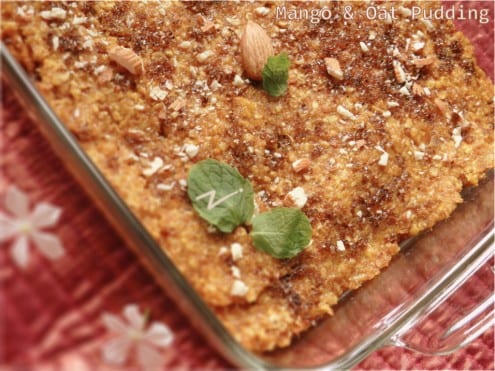 The texture is quite soft yet firm. The smooth texture comes from the fruit and the firmness from the oats and bread crumbs. The brown sugar topping gives a nice crunch as you bite into this deliciously healthy pudding!
Mango and Oat Pudding
Pulpy and juicy mangoes paired with oats for a healthy and tasty dessert.
Ingredients
Butter (softened) – 50 gms (4 tbsp)
Castor sugar – 75 gms ( ½ cup)
Vanilla essence – 1 tsp
Fresh mango puree – 1 cup (about 1-2 mangoes)
Oats – 1 cup
Fresh bread crumbs – 1 cup (about 2 to 3 slices)
Baking powder – ½ tsp
For topping
For garnish
Mint leaf, chopped almonds
Instructions
Spread oats in a single & even layer in a pan & roast till a bit crisp, keep stirring in between. Or you could spread & roast in microwave for 3 mins on a micro safe plate.
Wash, peel, chop mangoes and blend to get 1 cup puree. Remove bread crust and powder to get 1 cup crumbs.
Grease an 8" micro safe dish.
Beat butter with sugar with hand whisk till fluffy. Add vanilla essence and beat again.
Add puree, mix well. Add roasted oats, mix well.
Sprinkle baking powder, mix well. Add breadcrumbs, beat to mix well.
Transfer to greased dish and spread evenly. Sprinkle brown sugar on top. Microwave for 4 mins without covering at 80% power. The mixture looks set when done. Let stand 5 mins.
Garnish and serve hot or cold with vanilla ice cream, mango sauce.
Notes
The color does not change after cooked, so don't over cook the pudding. You could replace mango with other fruits like apples, peaches, pears, strawberries. The method is the same for all. After roasting oats, you could coarsely crush them if desired. But see that they are not powdered fine. You need to have some bite left in them. Use juicy mangoes for a soft pudding consistency.