Small tarts made of sweet, crisp pastry crust are filled with a tangy orange custard. A beautiful one-bite dessert, they are topped with a juicy mandarin orange slice.
By Ann Low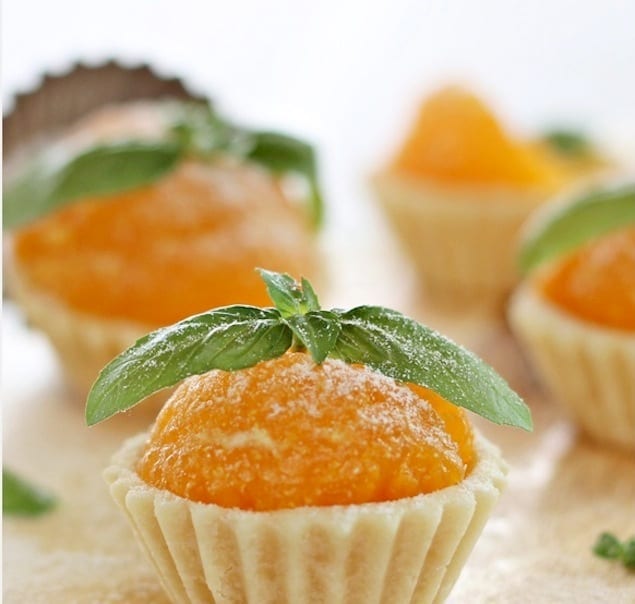 These cute little tarts are made of sweet crust pastry and tangy orange custard. They are wonderful and taste delicious with a mandarin orange garnish. You can make the crust and shape it into tart shells a day ahead, refrigerated. As for the filling this can be done the following day. They look very impressive and are a perfect treat to serve at a birthday party or any other occasion.

Mandarin Orange Tarts
Small tarts made of sweet pastry crust are filled with a tangy orange custard. A beautiful one-bite treat, they are topped with a mandarin orange slice.
Ingredients
Sweet Tart Pastry
110g Plain flour
55g Cold butter, cut to cubes
20g Icing sugar
pinch of salt
1 tbsp Ice water
Filling
3 Eggs (60-65g each)
100g Caster sugar
100ml Fresh orange juice
zest of 1 orange
½ tbsp Green lime juice
2 cans mandarin oranges, drained and blotted to remove excess liquid
Instructions
Pastry Crust
Sift flour and icing sugar into a bowl. Add cold butter and rub with your finger tips till mixture becomes sandy.
Add in ice water and knead mixture to form dough. Add a little more ice water if the dough is too dry.
Shape it into ball and wrap it with foil then store in freezer for about 10 minutes.
Press a small piece of dough (about 12g) into tart tin. Trim the edges with a sharp knife. Prick the pastry at the bottom of the case with a small fork.
Bake at preheated oven at 180C for 20 minutes till pale yellow. Remove and set aside.
Filling
Mix all the fillings ingredient in a measuring cup, stir gently till sugar dissolved and strain through a sieve.
Pour fillings into baked tarts till 90% full and bake at 180C for 15-20 minutes and leave to cool on wire rack.
Top with some mandarin oranges and dust with icing sugar/snow powder or brush with some apricot gel.
Ann Low
Ann Low is the author of Anncoo Journal, and loves to bake and cook for both family and friends. She acquired a strong passion for culinary skills from a very young age by watching her grandmother prepare delicious meals for the family. Ann believes that baking is an art and she wants to share her baking and cooking experiences with everyone in the world.