PARTNER POST – Be inspired to create beautiful cheese boards with Castello cheese. And what goes better with cheese than wine? Enter to win a trip for two to Napa, California.
Here's how to create a simple, romantic Valentine's Day cheese board with a recipe for pear chutney, a delicious cheese accompaniment.
By Amanda Powell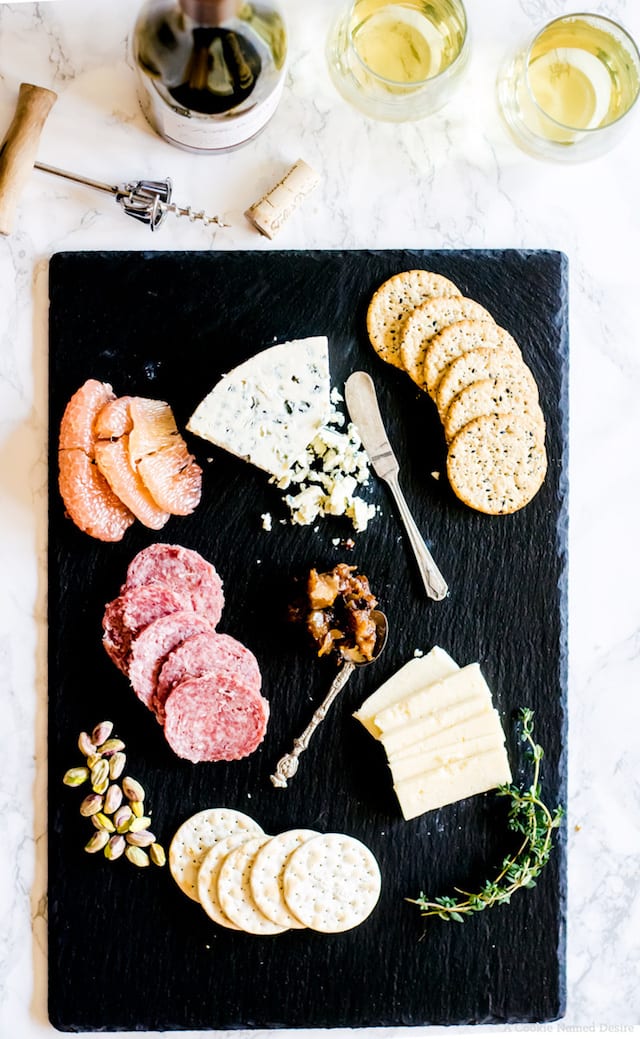 Building a Valentine's Day cheeseboard is fun to do, and really simple, especially if you stick to a brand like Castello Cheese who has a really great variety of cheeses for every palette. Ideally, you want to have a variety of cheeses that fall into different categories of soft, aged, hard, or blue. For a cheeseboard meant for two, I prefer to keep things lighter and choose two cheeses instead of trying to get all four.
I've never been a huge fan of blue cheese, but Castello's blue cheese I actually really like. And it works here for a romantic cheeseboard because it has so much flavor that it brings the board to life. To balance out the strength of the blue cheese, I recommend a multigrain cracker and something sweet. I prefer a pear chutney. This pear chutney recipe is great because it is like a umami bomb. Sweet, a little spicy, a little acid… it's perfect. Add a touch of thyme on your cracker and you have the perfect bite. If you make the pear chutney, you will need to plan ahead as it needs time to chill. I recommend making it the day before, but you can also make it in the morning and allow it to chill until ready to serve that evening.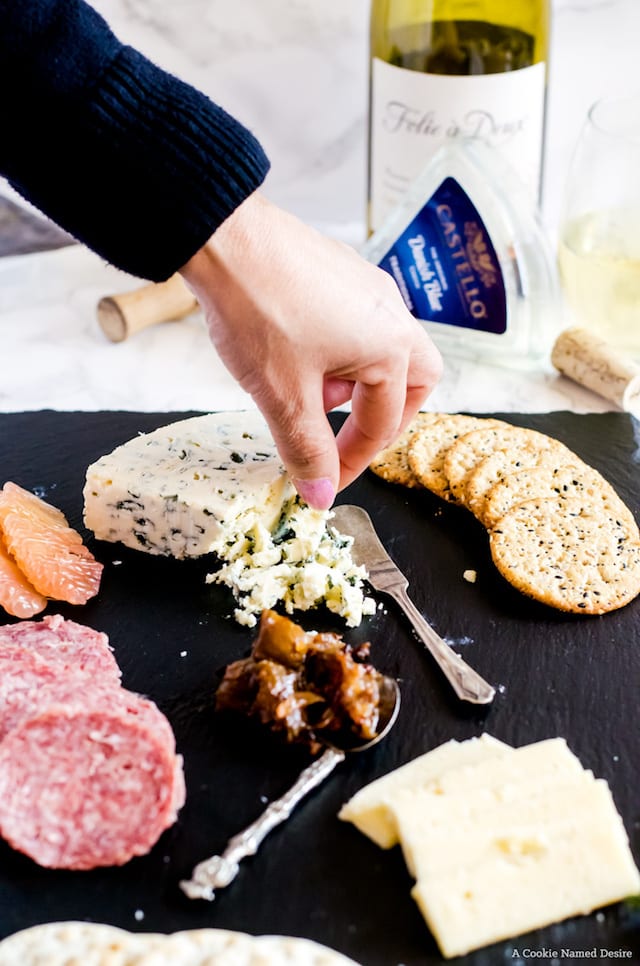 I also like to add in fresh fruit, nuts, and a harder cheese – Havarti is my favorite because it hard, but so creamy- and another cheese that Castello does really well. I also add a bit of Italian salami if you crave a bit of meat, personally, I don't need it. Just give me the cheese, chutney, and crackers in my Valentine's Day cheeseboard and I am happy!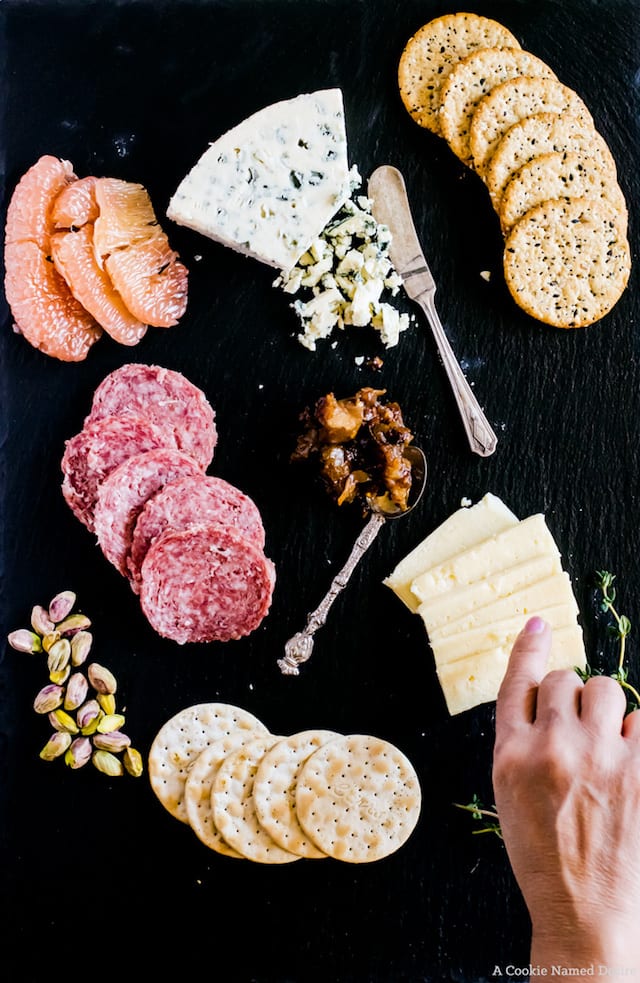 As for drinks to pair with the Valentine's Day cheeseboard, white wine always wins my vote. I am more of a red wine person, but the crispness of the white wine pairs with the cheese so much better, in my opinion. I really fell in love with Folie a Deux white wine. It is smooth and refreshing and pairs really well with the blue cheese.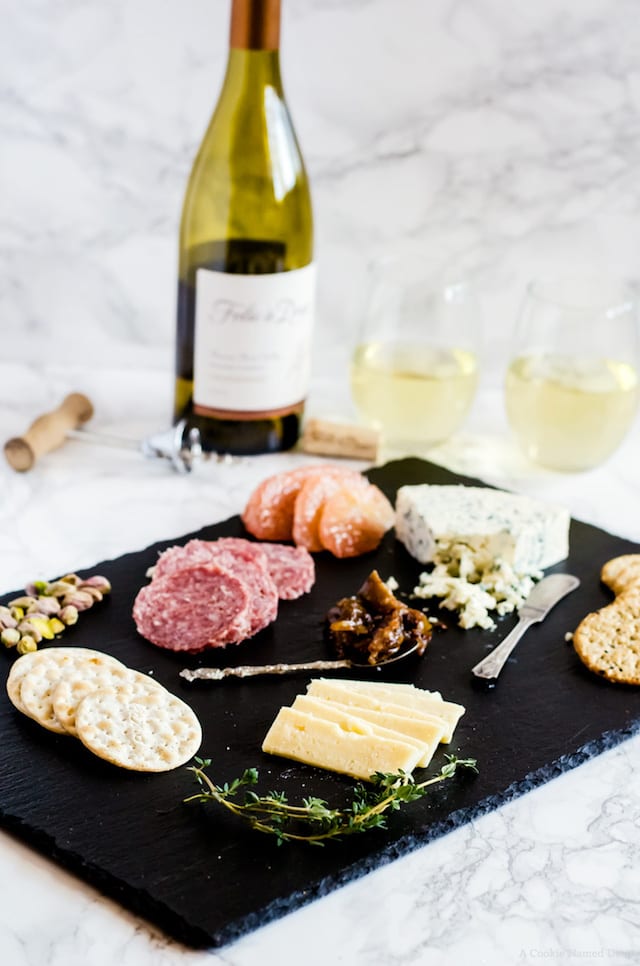 If you love cheese and wine then you must enter to win a trip for two to Napa Valley from Castello. Enter here.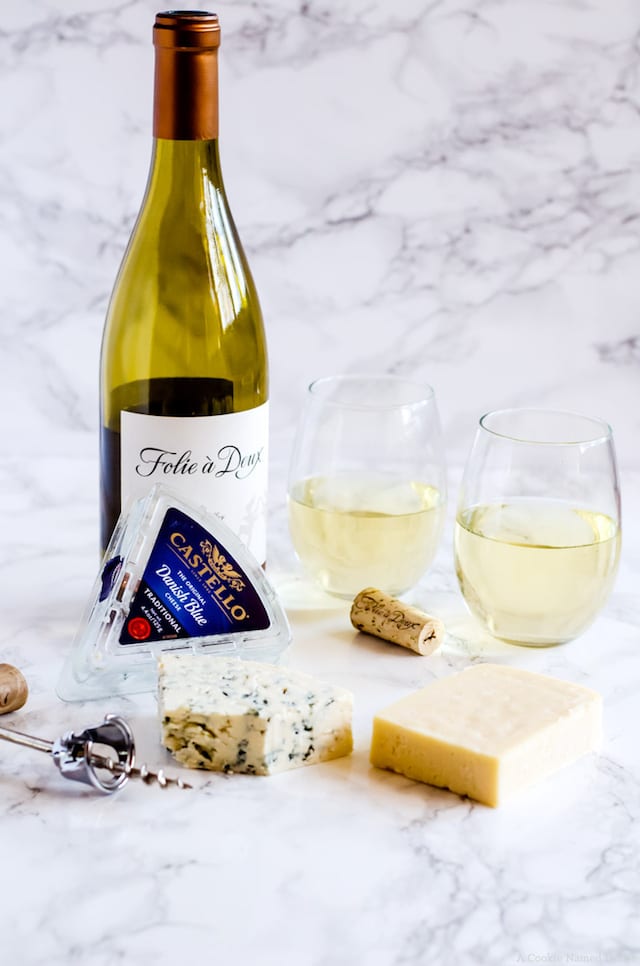 For a sweet and savory cheese board component, try this carrot chutney recipe.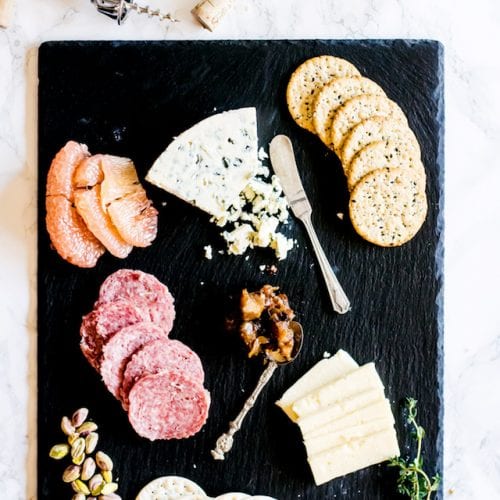 Pear Chutney
Amanda Powell
Here's how to create a simple, romantic Valentine's Day cheese board with a recipe for pear chutney, a delicious cheese accompaniment.
Ingredients
2

medium pears

cored and sliced

2

teaspoons

sugar

¼

teaspoon

cinnamon

2

teaspoons

lemon juice

1

tablespoon

extra virgin olive oil

1

shallot

finely diced

½

garlic clove

finely diced

1

teaspoon

fresh grated ginger

¼ - ½

teaspoon

red pepper flakes

6

tablespoons

apple cider vinegar

3

tablespoons

agave nectar or honey

3

whole cloves

salt and pepper to taste
Cheese Board
2

sprigs of fresh thyme

washed and dried

½

pomelo

or other favorite citrus, peeled and sliced

multigrain seeded crackers

plain salted crackers

Castello havarti cheese

Castello blue cheese

½

oz

pistachios

½

recipe pear chutney

recipe below

2

oz

Italian salami

sliced.
Instructions
Preheat the oven to 375 degrees F. Coat the pears in the sugar, cinnamon, and lemon juice. Place on a baking sheet and roast in the oven for 25 minutes, or until fork tender.

Meanwhile, heat a skillet on medium-high and coat with the olive oil. Add the shallots and the garlic, then cook until fragrant. Add the ginger, red pepper flakes, apple cider vinegar, agave, and cloves and simmer, stirring occasionally while the pears cook.

When pears are finished roasting, allow to cool slightly, and cut the slices into cubes. Remove and discard the cloves. Add to the skillet as well as salt and pepper. Fold the pears in well, then transfer the mixture to a container. Leave to cool down to room temperature, then chill in the refrigerator for at least 4 hours, preferably overnight.
Cheese Board Assembly
Arange all of the ingredients on a slab board, or marble board. Cut slices of the havarti cheese, and break up some of the blue cheese, leaving the rest on the board for easy access.

Enjoy in different combinations with Folie a Deux wine.
Amanda Powell
Amanda is a self-taught baker and photographer. Her passion for food began when she started college in London and was able to experience authentic food from across Europe. She loves being in the kitchen with her daughter and developing her skills in the kitchen.